Falstaff, Opera North review - going green and having fun |

reviews, news & interviews
Falstaff, Opera North review - going green and having fun
Falstaff, Opera North review - going green and having fun
Verdi's comic masterpiece with a retro feel of its own
Friday, 29 September 2023
Equally mischievous: Henry Waddington as Falstaff and Louise Winter as Mistress Quickly in Opera North's production of Verdi's Falstaff
There's a charmingly retro feel to Opera North's new Falstaff, which comes from it being done as part of their new "green", i.e. ecologically conscious, season.
Leslie Travers' set is made of bits from other productions and – most notably – shows Falstaff's home as a worn-out little 1970s caravan, actually found unwanted in the grounds of a pub on the north side of Leeds by resourceful operatic bargain hunters.
In Olivia Fuchs' production of Verdi's final masterpiece, the story's been transported to the 1980s, and the bourgeoisie of Windsor, who make up most of the roles in the story, are first witnessed meeting at their local tennis club.
She says this shows they're aspirational but living unsustainably, while Falstaff, in near-squalor, is existing on his wits and having fun – a sort of ageing hippy, I suppose. That's as may be: he does get through an awful lot of booze and food, as Shakespeare undeniably made him.
There's something more to it than that, however. It's quite unusual these days to see an opera production in which the scenes are separated by pauses, with a front curtain falling and a brief opportunity for the audience to cough and chat. We've been so used to single-set productions with fast transitions, we've almost forgotten how it used to be when re-sets had to be done by moving things off and on, unseen. It's no doubt part of the philosophy of using found objects and stuff from previous shows, and it's all silent and very efficient, but it reminds you of a more relaxed era in the theatre.
So does the way Fuchs has staged several of the comic scenes as they might have been in TV productions of an earlier, more innocent, era, with lots of dashing about and people bumping into each other – even a couple of comic policemen – the good-natured anarchy matching the Falstaffian view of life. "Life is a burst of laughter", as the final choral fugue summarises the story (and the orchestral music so frequently tells us from the very beginning).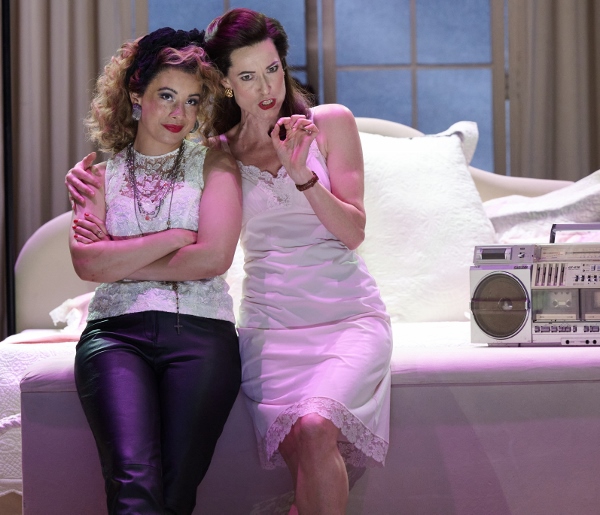 It is a remarkable score: Verdi, in his late seventies, writing a comedy opera that's really like no other, its wonderfully lean and spare textures alive with rhythmic energy and instrumental colour. It's conducted with superlative skill by Opera North music director Garry Walker, fulfilling his observation of its "almost soufflé-esque lightness" with delicacy and poise, and some highly spirited tempi. Keeping everything together, voices and orchestra, in that manner is both difficult and immensely rewarding, but he and they did it with barely a moment's falter.
Casting is enviably apt, with Opera North's own family feeling well to the fore. Henry Waddington has done some great character roles for them in the past – Don Magnifico, Dr Bartolo, Baron Ochs and Bottom among them – but here he's created a Falstaff to rival that of Andrew Shore, who played the role so brilliantly in the company's 1997 production. He's light on his feet and quick in his mind, and despite his comeuppance in the last scene you wonder who is really laughing at whom by the end.
Louise Winter has Mistress Quickly as a bustling but equally mischievous female, while Kate Royal (Alice Ford) and Helen Évora (Meg Page), the Merry Wives themselves, enjoy themselves getting into the knowingly exaggerated comic business of their near-seduction of the fat knight. Richard Burkhard is ideal for the pompous paterfamilias Ford, and Paul Nilon likewise for the hopeless would-be suitor Dr Caius. Colin Judson and Dean Robinson are the wide-boys (in this vision), Bardolph and Pistol.
(One little puzzle is that I couldn't see any evidence of Bardolph's Rudolph-like nose, though the text in Amanda Holden's English translation of the Boito original – also projected on side-screens, the better for us to appreciate the jokes – keeps referring to it).
Fenton (Egor Zhuravskii) and Nannetta (Isabelle Peters) fill the roles of young lovers with innocent charm, and of course Nanetta has more than a key role in the conspiratorial female quartet of the early part of the opera.
The vocal qualities of all these are admirable, but there is a need for something extraspecial in Verdi's writing for Alice Ford and Nanetta, and that's where Kate Royal and Isabelle Peters (pictured above) brought richness of tone and glorious technical ability to bear. The former has a reputation that few could equal and fulfilled it entirely as her track record promised: the latter, a relatively recent product of the Royal Northern College of Music, who first shone to my knowledge as Rapunzel in the Royal Exchange Theatre's Into the Woods in Manchester while still a student and was outstanding in Errollyn Wallen's Dido's Ghost at Buxton Festival two years ago, is a young singer with pure and wonderfully held high notes. Now that's sustainability.

It's conducted with superlative skill by Opera North music director Garry Walker, fulfilling his observation of its 'almost soufflé-esque lightness'
rating
Explore topics
Share this article