Entanglement/ That Man Stephen Ward, Presteigne Festival |

reviews, news & interviews
Entanglement/ That Man Stephen Ward, Presteigne Festival
Entanglement/ That Man Stephen Ward, Presteigne Festival
An arresting new psychodrama from Charlotte Bray, and Thomas Hyde revival
Ruth Ellis (Kirsty Hopkins) and Desmond Croft (Howard Quilla Croft) as imagined by Charlotte Bray in 'Entanglement'
Two dramas of sex, sleaze and death in the postwar London underworld: to outsiders, this double bill of chamber operas by Charlotte Bray and Thomas Hyde might look like an unlikely opening night for the annual Presteigne Festival. That would be to overlook the artistic direction of George Vass, whose commitment to new music has made this short, spirited festival just a couple of valleys over from Hay-on-Wye a chamber-sized successor-in-spirit to Cheltenham.
This year's programme features a residency by Matthew Taylor, premieres by David Matthews and Peteris Vasks and music by Piers Hellawell, Joseph Phibbs, Cecilia McDowall and the late John McCabe – all this in a Festival where you're still pretty-much-guaranteed to bump into a composer in the pub or find the orchestra eating fish and chips in the churchyard pre-show.
Charlotte Bray's Entanglement, to a libretto by Amy Rosenthal, is a co-commission from the Presteigne and Cheltenham Festivals for Nova Music Opera, who gave its premiere in Cheltenham earlier this year. It retells the final days of the murderess Ruth Ellis with a bare minimum of means: three singers and a six-piece orchestra. Yet from its opening bars – a low shimmer from a gong, high-tension violin lines hanging in the air – it manages to convey the psychological tension and lingering, headache-like atmosphere of dread that permeates this whole remarkable score. Anyone who's heard Bray's orchestral works – Black Rainbow, or her 2012 Proms commission At The Speed of Stillness – knows just how refined is her ear for instrumental colour, and for subtle but powerful musical gestures: like the way that ominous opening rumble from the gong returned, in the final Old Bailey scene, as a slowly chiming tocsin.
Dramatically, Amy Rosenthal's lucid, naturalistic libretto gives the composer plenty to work with, and over the course of its five short scenes Entanglement manages to create two genuinely credible characters, and to sketch in one other. As one corner of the love-triangle, the tenor Greg Tassell sang the part of David Blakeley with a dash and a sweetness straight out of Puccini – with music to match Ruth Ellis's deluded vision of her abusive lover. If the drama has a weakness, it's that we didn't, perhaps, see enough of him to feel the roots of that delusion, though in Kirsty Hopkins's concentrated, eerily beautiful performance as Ruth, we certainly felt its consequences. Bray's music for Ruth veers from poignant, expressive arioso ("I'm not the kind of girl he could take home to meet his parents") to chilling calm in the two final scenes, where she coolly dismisses the future of her children and invites her own death by hanging.
Howard Quilla Croft as the romantic spare-wheel Desmond Cussen gave a quietly shattering performance in these scenes. The lumbering double bass line that had accompanied his earlier scenes now broke into a quivering tremolando, and Croft pushed his baritone agonisingly into the tenor register as Desmond made his final despairing attempt to make Ruth see in him what she saw in the brutish David. Simply staged by director Richard Williams with minimal lighting and back-projected captions, and eloquently conducted by Vass, Entanglement created characters that live with you after the drama has ended: a sure-fire sign that it needs to be seen again, and soon.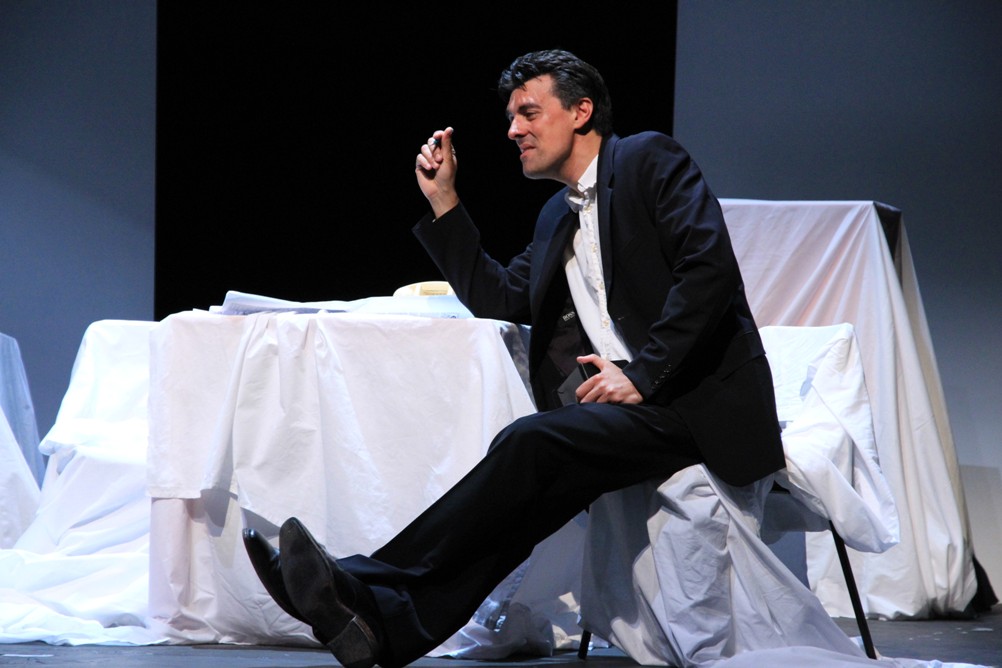 The same basic staging served after the interval for a revival of Thomas Hyde's 2008 Hampstead and Highgate Festival commission That Man Stephen Ward; essentially a one-man show told from inside the Walter Mitty-like imagination of the Profumo affair's "society osteopath". Damian Thantrey was that man last night (pictured above), and if the solo format placed some limitations on the storytelling – most troublingly, the presentation of Christine Keeler (gamely played by Agnes Vane) as a wordless fantasy-object – this was an extraordinary vehicle for Thantrey's handsome baritone, his drolly-nuanced sprechgesang, and his ability to create a character and his world with a raised eyebrow, a complacent smirk, or a sudden, wide-eyed glance of dismay.
Capering suavely and nimbly round David Norris's playful libretto, and colouring his voice to match the constant shifts of Hyde's enjoyably decadent score (which veered tipsily from cabaret piano to Bergian angst; imagine a pocket-sized Powder Her Face), Thantrey inhabited the character of this Playboy-era man without qualities with unnerving believability. Sex, sleaze and death in a medieval church in a pretty Welsh market town. Well, what d'you know? It brought the house down.