Don Giovanni, Welsh National Opera |

reviews, news & interviews
Don Giovanni, Welsh National Opera
Don Giovanni, Welsh National Opera
Cowled monks, cloaked aristocrats - John Caird's production is unashamedly Mozartian
Saturday, 17 September 2011
David Soar (Leporello) and David Kempster (Don Giovanni): Both singers handle Mozart's fast-moving recitative superbly
After a summer of operas set in what might tactfully be called fancy locations, it comes as a mild shock to return to Wales and a Don Giovanni that actually takes the composer's instructions as its starting-point. John Caird, whose first ever production for WNO a few years back was Don Carlos, revisits Spain without a qualm. He gives us heavily embossed ironwork and carved oak, he gives us cowled monks and cloaked aristocrats.
And he captures without irony a world in which God and the Devil can be defied but not denied – a world forever teetering on the brink of moral and spiritual catastrophe.
Mozart's Seville is of course not only a place on the map – Leporello's travelogue-catalogue notwithstanding. With its codes of honour, its dark passages, graveyards and hidden doorways, it has an almost Dante-esque quality of allegory. Abandon hope all ye who enter here. Yet Mozart called it a "dramma giocoso", one which happily makes fun of its own terrors. "I'm also offering my protection," Leporello remarks drily when caught groping the peasant girls at Zerlina's wedding. "Fate is on my side," Giovanni chortles as he embarks on his serenade with a monk as accompanist.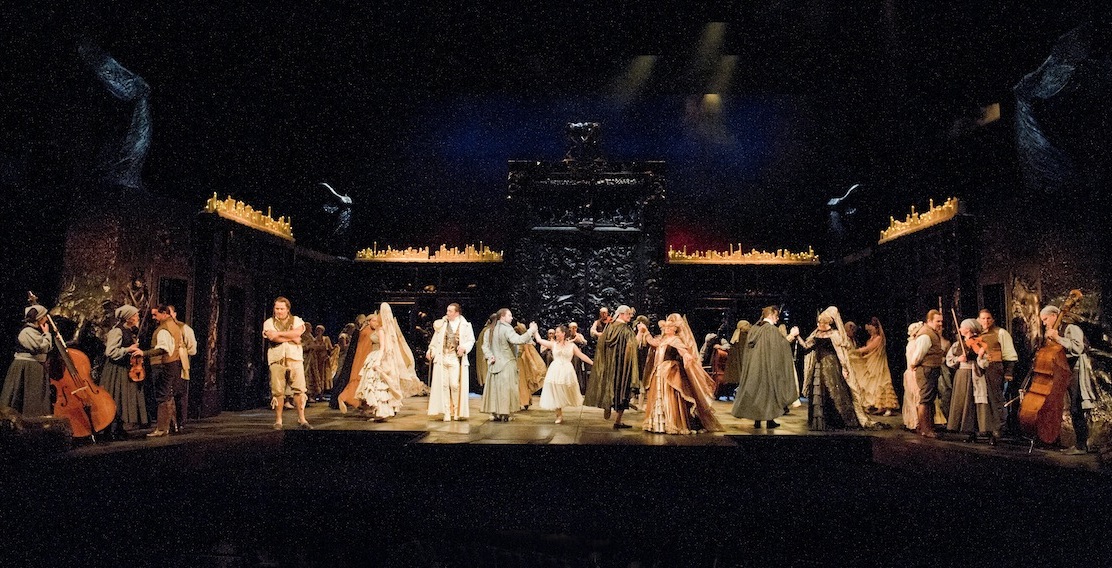 Caird balances these opposed weights with better judgement than most directors who come to Mozart from the straight theatre, not to mention hit-musicals (Caird directed Les Misérables with the same designer, John Napier). This is a pacey, eventful production, very much abetted by Lothar Koenigs's mobile, light-handed reading of the score. But it never overrides the crucial moments of stillness or ritual.
Riskily, it takes Elvira as a figure of fun, but without soiling the essential dignity of her three great arias. Anna and Ottavio, by contrast, are allowed their solemnities without shrinking into the cardboard cut-outs of some stagings. The "dramma" and the "giocoso" flow well into one another, much helped by Napier's quick-change walls and panels, which slide and revolve like Japanese screens, sometimes revealing emblematic details: the dancers at Giovanni's party, the Commendatore's dead-white marble statue, which replaces its living correlative at the moment of his death.
David Kempster makes up for allure by the sheer athleticism of his singing and movement around the stage
Likewise at the end, Giovanni is dragged to hell through the huge central doorway, his agonies instantly frozen into a Rodin bronze. How to avoid anticlimax after that? enquires the programme-book interviewer. Of course, you don't. The sextet is anticlimax – the only human response to hellfire. Like Zerlina and Masetto, we all go home to supper.
Musically this is a fairly strong evening, though not for the first time in the past year or so with this company there are one or two curious castings. Nuccia Focile is a brilliant artist, but she was never cut out for Elvira: the voice is too soubrettish, too light and silvery. Claire Ormshaw, a lively, bouncy Zerlina, could do with greater warmth in the lower registers – more prominent here than in the other soprano roles. Her "Batti, batti" and "Vedrai, carino" are touchingly sung but curiously lacking in sensuality. One listens and admires; but the shiver doesn't go down the spine, whatever Masetto (the excellent Gary Griffiths) may feel.
David Kempster also sometimes misses the allure that is presumably what gets Giovanni the girls. But he makes up for it by the sheer athleticism of both his singing and his movement around the stage. "Là ci darem" is a disappointment, but "Fin ch'an dal vino" is the most brilliant I can recall. He's finely supported by David Soar as an alert, in his own way dangerous Leporello, though I sometimes miss the dark tones that used to characterise this singer's bass register: like many basses (and nearly all contraltos), he's maybe rising to the sexier roles. Both these singers handle Mozart's fast-moving recitative superbly: and here, dryness is a distinct help.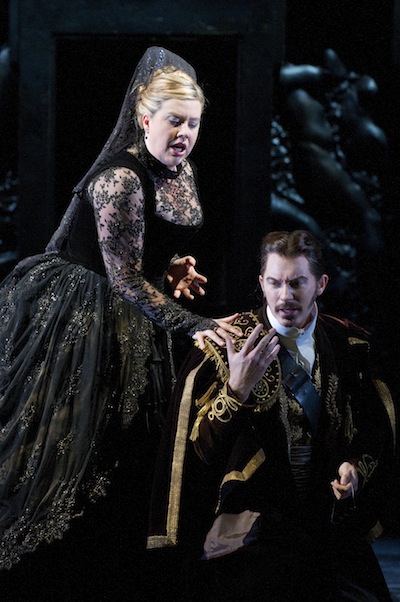 With the "straight" lovers, the vocal situation is no less intriguing. Camilla Roberts has the makings of an outstanding Donna Anna (pictured right with Robin Tritschler's Ottavio); she sings with poise and moves well enough for a part that is essentially statuesque. "Or sai chi l'onore" was a highlight: lovely clear, warm delivery, with only very minor technical hitches. And Caird brings out the best in her on stage, as he does with all these singers, having them move and respond, to each other, to the music and the action. Even Don Ottavio becomes an interesting figure, an elegant, correct, bespectacled ineffectual, forever drawing his sword and resheathing it. And Robin Tritschler is certainly a fascinating singer. I haven't forgotten his wonderful "Un aura amorosa" in Così, and here "Dalla sua pace" might have rung the same bell if he hadn't sung flat for the first minute or so. The da capo at last showed what he could do.
Koenigs conducts Don Giovanni as if he had the Orchestra of the Age of Enlightenment in the pit, with light bowings, clear, translucent wind-playing, radiant brass at the infernal climax. In fact it's the WNO orchestra, playing like angels. Perhaps after all we'll get to paradise, if only by way of the dinner table.
Don Giovanni is performed at the Wales Millennium Centre, Cardiff on 23, 25, 30 September and 5 October; then Liverpool Empire Theatre, 12 October; Swansea Grand Theatre 19 & 21 October; Llandudno Venue Cymru 1 & 4 November; Bristol Hippodrome 8 & 11 November