The Dancing Master, Buxton International Festival review - doing it on the radio |

reviews, news & interviews
The Dancing Master, Buxton International Festival review - doing it on the radio
The Dancing Master, Buxton International Festival review - doing it on the radio
Snappy rhythms and lovely tunes make a 'lost' opera by Malcolm Arnold live again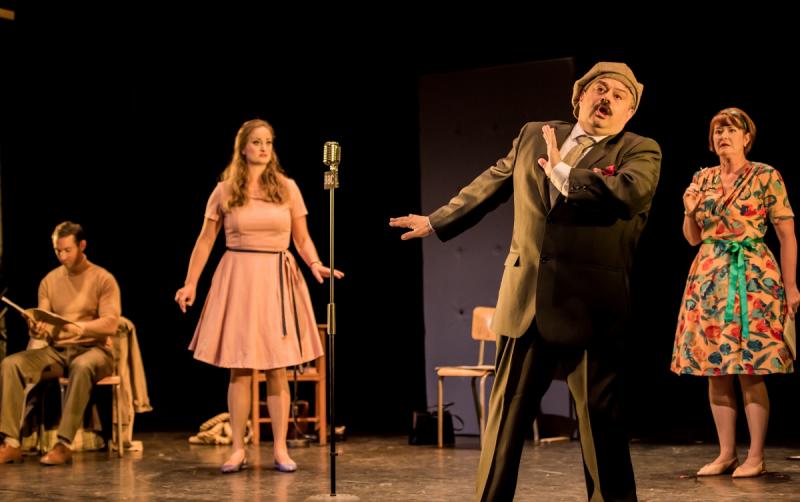 Actor-singers of distinction: from left, David Webb, Eleanor Dennis, Mark Wilde and Catherine Carby
How would you solve the problems inherent in a production of Malcolm Arnold's The Dancing Master, bearing in mind the need for social distancing for performers, comparatively miniscule budgets for scenery and props, and the uncertainty surrounding just about everything in a summer opera festival these days?
Do it on the radio, of course.
Educating Rita
's solution to a weighty academic question proves a very practical one for Susan Moore, director and designer of Buxton International Festival's revival – the first professional production it has ever had and closely based on a recent CD recording.
She reimagines it as a studio broadcast of a radio play, with the cast positioned around a central microphone and slipping into character as they slip off their outdoor clothes and the studio goes on air. It's a neat link-up with the fact that the BBC could have had The Dancing Master from the start, but the then high-minded assessors apparently thought the opera "too bawdy for a family audience".
That was in 1950-51, just after Arnold had packed away his LPO trumpet to go freelance as a composer. We are in Arnold's centenary year (recognized also in several parts of the lavish programme of concerts and recitals that accompanies the operas at Buxton), and the piece well deserves its new exposure. The festival has done it in conjunction with conductor John Andrews and Red Squirrel Opera, who made the recording (already winner of the BBC Music Magazine Opera Recording Award for 2021), and it puts the same cast, with one exception, on the stage, while Andrews conducts this time with the Northern Chamber Orchestra in the pit.
For today's tastes the 75-minute piece is totally harmless, and even in the 1950s would have been much on a par with a Brian Rix farce – I guess the fact that it's based on a Restoration comedy by Wycherley was enough to scare the Beeb's censors then.
The story is simple and based on stock characters: marriageable young heiress (Miranda), kept under close watch by her puritanical aunt while her father fandangoed in Spain, has been betrothed to her foppish and Frenchified cousin; she wants out and enlists the help of her maid, Prue, but along comes a young admirer called Gerard, who manages to climb in through her bedroom window. She pretends to her father that Gerard is her dancing teacher (though neither of them can dance a step), and fun and games ensue, with a real romance between the two and a happy ending when daddy (Don Diego) lets true love win and Monsieur (the fop) throws in his lot with the maid.
Eleanor Dennis as Miranda is a soprano with the power for an opera house much bigger than this one and enjoys herself immensely; David Webb as Gerard, the one newcomer to the role from the CD line-up, makes it entirely his own and makes him sympathetic without hitting the send-up button; Catherine Carby (Prue), Fiona Kimm (Miranda's aunt), Mark Wilde ("Monsieur", pictured above) and Graeme Broadbent (Don Diego) are all experienced actor-singers who bring distinction as well as humour to their performances.
Susan Moore's direction and design has made it look like a broadcast of The Archers or ITMA, with bits of the action illustrated by the sound effects of the day; and the original's stage directions, as well as the sung text, are displayed on side-screens, for our better comprehension of what is meant to be going on. With everything well paced and some visual humour acted out anyway, I found it hard to take in all the reading matter at one or two points. I do like having displayed text, even with English-language opera, but it also pointed up an aspect of the libretto by Joe Mendoza, apparently derived from a proposed film script, which is that it clearly leans on Wycherley's 17th-century English style, resulting in a mixture of old and modern – maybe considered appropriate in 1950 but just a trifle odd today.
The score is full of both gentle satire and lovely tunes. It's from the era of the English Dances and the Oboe Concerto, and with Gerard as romantic tenor hero and Miranda as soprano heroine you get some very tuneful arias – his Over the mountains and over the waves and her "Book of love" ballad, for instance, while the slow waltz ensembles are both melodically beautiful and ingenious in contrapuntal interweavings. The satire comes out in the castanet-filled "Spanish" accompaniments for Don Diego (every cliché in the book in use there, pictured right), the French fop's Gaze not on swans (rightly sung "badly" by Mark Wilde), and even in Gerard's "Miranda …" song – almost a catalogue aria in its own right.
It might all seem too crude and over-simple, but Arnold poured his gift for melody and atmospheric orchestration into it, and with the theme of dancing ever in the air the rhythms are pretty snappy, too. And in this presentation you suspect the romance between "Miranda" and "Gerard" might actually be going a little further in real life after the show is over (when they get to true love's kiss in the storyline, it's not hammed up as a sound effect as the other snoggings are). But it's music that makes the real magic in these things.
For today's tastes the 75-minute piece is totally harmless
rating
Explore topics
Share this article