Così fan tutte, European Opera Centre, RLPO, Pillot, St George's Hall Concert Room, Liverpool |

reviews, news & interviews
Così fan tutte, European Opera Centre, RLPO, Pillot, St George's Hall Concert Room, Liverpool
Così fan tutte, European Opera Centre, RLPO, Pillot, St George's Hall Concert Room, Liverpool
Young singers, Liverpool's great orchestra and a sassy production pull off intimate Mozart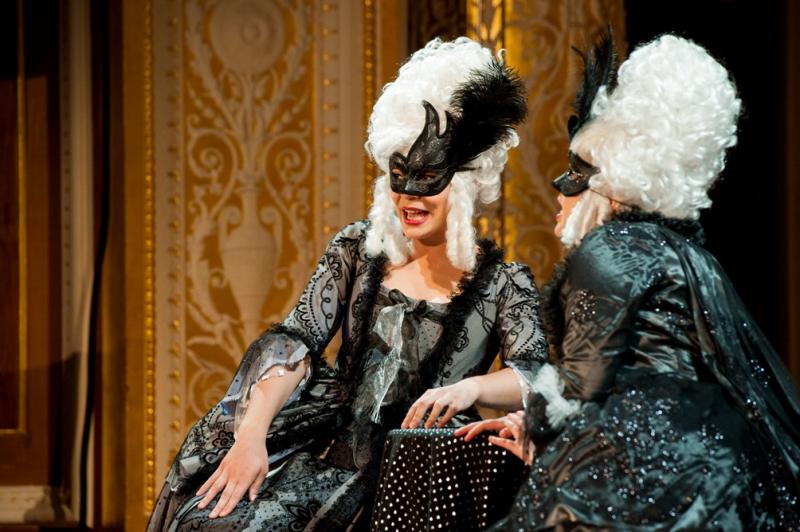 Héloïse Mas's Dorabella and Nazan Fikret's Fiordiligi dress up
One of the joys of attending an opera in the Concert Room at St George's Hall, Liverpool, is the feeling that the audience is sitting in the set itself. Now one of the city's foremost concert venues, this Victorian gem never ceases to amaze, even though it was reintroduced to active use in 2006 after extensive refurbishment.
This summer and autumn, much of the Royal Liverpool Philharmonic's musical activity has decamped to the venue as the Philharmonic Hall has closed for a multi-million pound refurbishment and partial rebuild.
So it was that the Royal Liverpool Philharmonic Orchestra came together with the city-based European Opera Centre for this production of Così fan tutte. In many ways, the intimate setting – the hall only seats around 500 – made the audience really feel part of the action and, unlike in large theatres, it was possible to see the small gestures, facial expressions and general camp silliness which made the production such a success. It was also musically extremely bright: there are no carpets or curtains to dull the sound and the bare walls exposed every note, leaving nothing uncovered.
This foray into perhaps more mainstream repertoire is as welcome as it is rare
Joanne Milanese designed a simple set which worked perfectly. The first act was set in a photographic studio where Fiordiligi and Dorabella – two comically spoilt brats – are being photographed by Don Alfonso for various advertising campaigns. And while they are acting as aspiring starlets, Despina spends much of her time puncturing the bubble in which they live. Just as the women populate a make-believe world, so do the men with Ferrando and Gugliemo veering between bumbling idiots and suave men-of-the-world.
The only mystery in the production itself was why the main characters suddenly donned 18th century costume for the first part of the second act. That was strange, bearing in mind that the whole of the black-grey and shocking pink theme of the costumes throughout was applied to modern, and often very flattering, dress. Maybe a question for costume designer Natacha Costechareire.
Overall, though, conductor Laurent Pillot ran a well-paced performance with absolutely no let-up in the action. The real stars, however, were the six singers, products of one of Liverpool's real musical secrets. The European Opera Centre was founded in 1997 and has specialised not only in nurturing musical talent but has also unearthed and produced rare and unusual repertoire, working with major performers and ensembles around the world. This foray into perhaps more mainstream repertoire is as welcome as it is rather rare.
There was a real confidence on the part of the performers. Of particular note was tenor Alexander Sprague, singing Ferrando – catch him in Welsh National Opera's Moses und Aaron at the Royal Opera House later this month. He was sprightly, funny, and has a voice which projected unstrained purity. Héloïse Mas, making her UK début, gave an assured performance as Dorabella but was rather eclipsed by soprano Nazan Fikret, whose comic Fiordiligi was excellent.
But, if there was a prize for comedy and for adaptability, it had to go to Hamida Kristoffersen (pictured above, on the left), who sang Despina. It might not be as big a role as the others, but her facial expressions and, in particular, her interpretation of a wizened old lawyer, was unforgettable. With all its pointed campness, charm, assured poise of the singers and comic wit, this was a production which would be hard to rival.