'Bringing things to life is what opera is all about': Robert Howarth on a 'Magic Flute' with a difference |

reviews, news & interviews
'Bringing things to life is what opera is all about': Robert Howarth on a 'Magic Flute' with a difference
'Bringing things to life is what opera is all about': Robert Howarth on a 'Magic Flute' with a difference
Opera North's Mozart conductor on taking a careful look at a masterpiece
Robert Howarth rehearsing the Opera North 'Magic Flute'
I'm here in Leeds at the end of five weeks of quite intense rehearsals for Opera North's new production of Mozart's The Magic Flute.
Our director James Brining and his amazing team (including assistant director Deborah Cohen, set and costume designer Colin Richmond, and choreographer Tim Claydon) are putting it on the stage, and I'm ably assisted by George Jackson and Philip Voldman. Together we're all unpicking and stitching the piece back together.
What's fascinating to me is that James and I are coming at this piece from quite different perspectives. He has worked with Opera North previously on Sondheim's Into the Woods but he is best known as a straight theatre director. I am not your classic "opera conductor" as I approach everything from a 17th century perspective and I view Mozart as quite a modern and radical composer. That's not to say I stop there. I have a love for all music, and I do mean all music: if it moves you in some way, then it is good music. I'm also a firm believer that whatever score is in front of you, that is the best piece of music in the world ever! If not, then I don't see how you can bring it to life.
Bringing things to life is what opera is all about. So, my process going into this was to try to get under the skin of the composer and discern his intentions as much as possible. But even the editions of his music known as Urtext (German for "original text") don't shed enough light onto how Mozart put this piece together. Going back to his original handwritten manuscript (facsimile pictured above) is as close as I can get to having him sitting next to me, because you begin to see part of his process. For example, there are moments in the manuscript where the music deviates for three or six bars, which he then crosses out and carries on with what we have in the Urtext edition. But you would never see that unless you had his manuscript to hand. It doesn't change what we play in the opera, but it shows me that it could have gone another way.
Another fascinating insight is his choice of tempo markings. Those of us who have done our music theory know that Andante has a speed, as does Allegro and Larghetto. If, however, if you read Mozart's dad Leopold's book on how to play the violin, he describes these tempi in terms of mood and flow, rather than beats per minute. He also orders them in a slightly different way to how we might expect. What leaps out from the manuscript are the times when Mozart changes his mind. For example, one aria for Sarastro is in Larghetto in the Urtext, but in the manuscript we can see that Mozart has written Andantino Sostenuto – which would have been slower in his day – and then crossed it out. Again, we don't know why, but these mood words give us a deeper insight into how he might have conceived the piece. There are so many little pieces of information like this that come to light by scouring the original score – and seeing it in Mozart's hand provides quite a thrill.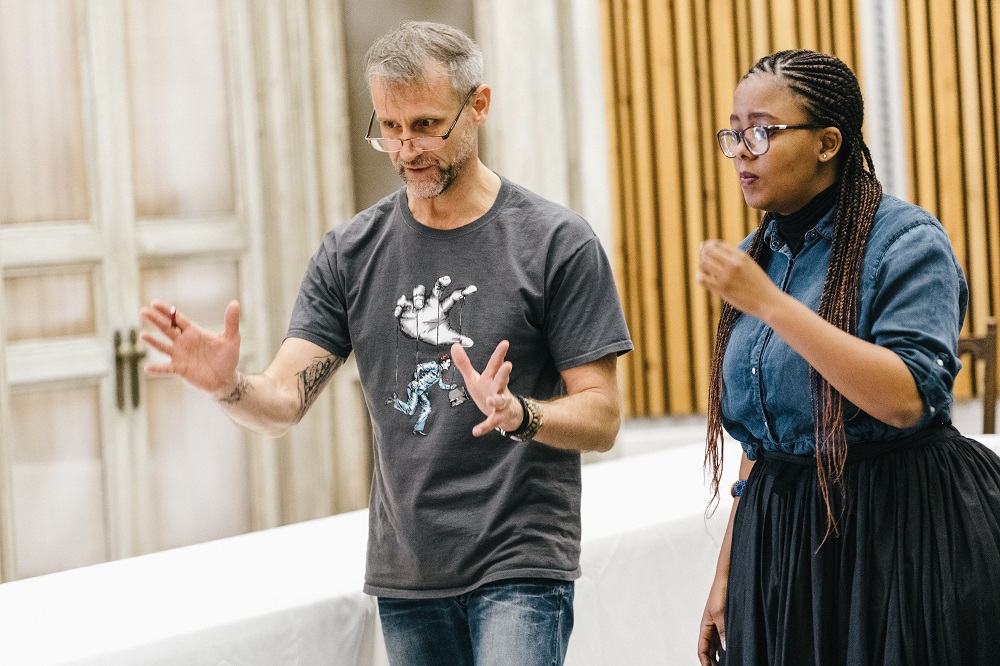 Let's take the beautiful duet of Papageno and Pamina, "Bei Männern welche Liebe fuhlen" or, in our English version "A Man in search of truth and beauty", which ends up in the Urtext edition with three up-beats into a 6/8-time signature (pictured above: choreographer Tim Claydon and Vuvu Mpofu as Pamina in rehearsal). Now, it's true that Mozart bars it this way but, only after rubbing all the original bars out. The piece originally started on a down-beat. This might not seem particularly exciting, except that throughout the 18th century the hierarchy of the beats within the bar were very, very important. Therefore, in a piece written in 6/8 (a time signature that has two beats in the bar) the second beat is lighter. If you start with three upbeat quavers (effectively one upbeat), you put the stress of the music half a bar out of place for the entire duet.
Why would he do this? The text in German fitted his original intentions perfectly and it would seem a barbaric and contrary act to shift the emphasis to highlight all the unimportant words. One answer can be found by looking at the first edition of the score from 1814 where the duet has different text. Text that, with the bar lines shifted half a bar out, makes perfect sense. So, did Mozart, knowing that this was this intention, send the score to the part-writers with these bar lines to make sense for the new text, but didn't change the text in the manuscript? I don't know for sure, however, our English translation is true to Mozart's original intentions and so, in homage to that, I am placing the stresses of the text back to start on a down-beat. I don't know if I am absolutely right about this, but it is a moment of sublime music, hopefully made more sublime by not having to fight the underlying beat.
I do feel that, by arriving at Mozart having spent many years working on Monteverdi, Handel, Purcell, Vivaldi and Haydn operas, I see him differently to how others might look back to him, via all the 19th century composers he inspired. I don't think anyone's interpretations are wrong or invalid, but there are factors in seeing how we got to Mozart that inform my thinking. It's going to be a fascinating journey for me to make this piece with the orchestra here at Opera North, and hopefully make it sing to an 18th century sensibility. (PIctured above: Kang Wang as Tamino in rehearsal).
For example, working with the restrictions of the 18th century violin bow, Mozart is incredibly precise about how he likes his music played and this often involves many beats being played in an up or down bow. Leopold also lays down the rules of "up" and "down" bows very clearly, as their individual characteristics make a huge difference to how the music is articulated. I fully intend to have our orchestra play this music adhering to Mozart's wishes, and not bowing in a way that might be easier. Again, it wouldn't be wrong to do that, but I want to hear what Mozart's decisions sound like.
To come back to how this works with James's idea of staging the work, well that, thankfully, is very easy (James Brining pictured above with Robert Howarth). He is a man of the theatre, and theatre is all about text. My Lord and Master has always been Monteverdi, who is reported to have said (and I paraphrase) "For too long text has been the servant of the music; now it is time for music to be the servant of the text". This is what brought about Baroque music, an idea that music should reinforce the meaning of the text. Now, Mozart didn't always subscribe to this but, after working with Lorenzo Da Ponte, his librettist for Le nozze di Figaro, Don Giovanni and Così fan tutte, he realised that text was incredibly important. James and I find working together quite easy (I think), because the music and the text, when represented sincerely and passionately, work for his scenes. Mozart doesn't always make it easy; sometimes the most anxious and worrisome text is set in a seemingly jolly way, but if we imbue our interpretation with all the right elements for the scene, the music lifts off the page and pushes the text to the fore.
I'm very excited about this. It is my first Magic Flute, and I hope it won't be my last. Lastly I'd like to say that working on an opera for so many weeks is such a joy. We all have our thoughts and ideas about it. By coming together, we all bring different points of view which we can take away to inform the way we'll think about the piece in the future. That doesn't happen so much in concert work where you're in and out in a day or two. With opera, the thinking never stops inside the rehearsal room. And it is there where we dare to get it wrong, so it will be right when we present it to the public. Who knows if I'm making the right decisions? Next time it may be very different. Keeping it alive and never assuming you're right is my way of thinking – that, and hoping you might get booked to do it again to try new things.
If you read Leopold Mozart's book on how to play the violin, he describes tempi in terms of mood and flow, rather than beats per minute
Explore topics
Share this article