Alzira / The Daughter of the Regiment, Buxton Festival review – thundering good tunes |

reviews, news & interviews
Alzira / The Daughter of the Regiment, Buxton Festival review – thundering good tunes
Alzira / The Daughter of the Regiment, Buxton Festival review – thundering good tunes
Early Verdi opera proves there's life in the young dog yet, Plus a Californian Donizetti
Jung Soo Yun and Kate Ladner in Alzira
Alzira is Verdi's shortest opera and his least performed, and you have to ask why.
Buxton International Festival has done his legacy a service by bringing it to the stage this year, and it completes the trilogy of early Verdi operas performed there in recent years under Elijah Moshinsky's direction. Moshinsky sees its relevance to liberation struggles in the present day, with the Incas' battles against the Spaniards re-presented as Latin American guerillas' struggles against oppressive government now, or not so long ago.
In Giovanna D'Arco in 2015, and last year Macbetto (the original 1847 version), he showed his awareness of human and relationship tensions in Verdi's work and brought them clearly to the fore. In Giovanna D'Arco he dug deep into the mind of the heroine, as she heard voices, alternately of demons and angels, and was torn between their conflicting demands. In Macbetto he made use of every device he could to make the super-charged Romantic drama Verdi saw in it (video projection and sound effects – weather noises for the blasted heath, clanking and rumbling for the assembling army – evoked the scenario).
Russell Craig as designer and Stanley Orwin-Fraser as video designer were used again here, with impressive results in evoking the natural beauty of the jungle as a contrast to the stifled atmosphere of power, presenting a wedding procession (albeit an abortive one), and reminding us of the human cost of political violence (pictured below). And, though the opera does not have the depth of much other Verdi, it has a concision of construction and kaleidoscopic variety of mood almost akin to fast-cut movie direction, and these mean it has much to offer still.
The reason it doesn't often get put on is probably to do with Cammarano's plot (based on Voltaire): after being the clearly identified baddie through most of the story, the young military governor Gusmano – ready to humiliate Alzira's rebel leader lover, Zamoro, and force Alzira herself to agree to loveless marriage with himself in order to save him – turns out, as he dies at the end, to rediscover his Christian power to forgive and thus prove himself humane after all (or something like that). It just doesn't stack up psychologically.
But on the positive side we have some thundering good tunes (with several marches and a drinking song), plus shock-horror moments, from Verdi, and with Stephen Barlow conducting again (his swan song, operatically, for the festival, I guess, as he is bowing out as artistic director), a strong cast and well-resourced company (a large incarnation of the Northern Chamber Orchestra, of course, and the Festival Chorus again effectively augmented by Young Artists), the musical results are first class. It's stirring stuff, and Moshinsky's direction is in much the same vein.
Both the previous early Verdi productions by him at Buxton featured the considerable qualities of Kate Ladner as prima donna, and she took the title role in this one, also. She has the strength and stamina in her voice to do justice to the heroine's depiction – tenderness and courage rapidly alternating (Verdi gives her tremolando violins to make the former clear, just as he did for Violetta later).
Jung Soo Yun (Macduff in both Buxton and Opera North's recent showings of Macbetto) cuts the right dash as Zamoro and is a very fine tenor for such man-of-action roles. James Cleverton has the unenviable task of being Gusmano and makes him as believable as probably anyone could, while singing with distinction. Graeme Danby brings maturity and experience to the part of Gusmano's father, Alvaro.
If Barlow and Moshinsky set out to make a case for early Verdi works to be considered for performance more often than they are, they have undoubtedly succeeded with this and their two earlier presentations. There really is life in the young dog yet, and his early tricks were pretty good ones.
The Daughter of the Regiment, seen at Buxton the previous night (pictured below) and now on its way to Wilton's Music Hall, is a complete contrast with both of the festival's in-house shows this year. It's wisely turned to Jeff Clarke and his Opera della Luna to make up the fun quotient. Donizetti's comedy masterpiece needs singers of quality to do it justice. The famous tenor aria with the nine high Cs ("Ah! mes amis") is in it, and there are soprano showpieces, too, and a clever trio (for which Clarke provides a little bit of choreography in almost Gilbert & Sullivan vein).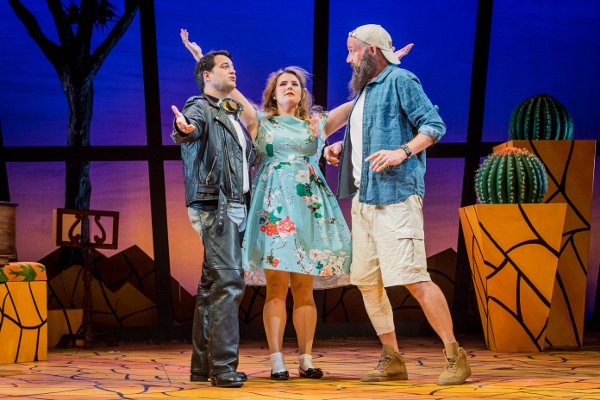 Clarke is the master of transformations of comic opera, and he's not only got John Longstaff to reduce the score – the chorus is all-male here, and three of the six singers double in other roles – but also re-written the book completely.
"The Regiment" is no longer a section of the French army operating in the rural Tyrol, but a desert-based Harley-riding biker gang in California, USA, and Sulpice is their president. The Marquise is now a Los Angeles social climber Marsha Berkenfield (she lives in West Hollywood, of course), and the Duchess of Crakentorp is heiress Dulcie Crackenthorpe. Marie, the daughter of the title, is still a lovely girl brought up by the good-hearted guys of The Regiment, and it's all about her falling for Tonio – now an Hispanic immigrant, rather than a peasant – and then turning out, finally, to be the long-unacknowledged daughter of Marsha.
It's all great fun and very cleverly matches the original. It's a second incarnation for Opera della Luna, as they did it four years ago for the Iford Festival, but it is a hugely entertaining gem of a show. Jesús Álvarez has got the top Cs – he doesn't belt them out like a circus act, rather weaves them into the aria's melody line, but they're all there. And his Marie is Elin Pritchard, both a comedy actress and a wonderful soprano. Her finale aria to the first act ("Yes, we must part") was lovely, and she made a delight of the "singing lesson" in act two (which Clarke transforms to include such lines as "I dreamt I dwelt …" and "My tiny hand is …" among the ditties). Toby Purser conducts the company, and a great little band, with skill.
Alzira runs until 20 July at Buxton Opera House
The Daughter of the Regiment is repeated at Buxton on 15 July and will show at Wilton's Music Hall on 31 July and 2 August