Classical CDs: Dramatic symphonies, medieval bagpipes and a solo bassoon |

reviews, news & interviews
Classical CDs: Dramatic symphonies, medieval bagpipes and a solo bassoon
Classical CDs: Dramatic symphonies, medieval bagpipes and a solo bassoon
Three very different symphonies, music for mental well-being and an intriguing piano recital
Schola Cantorum Riga
Beethoven: Symphony No. 7, Piano Concerto No. 4, Rotterdam Philharmonic Orchestra/Lahav Shani (piano and conductor) (Warner Classics)
Poor Beethoven's 250th anniversary year saw most of the projected live events cancelled, but good new recordings have continued to appear. One reason for liking this one, performances aside, is the content; pairing a mature piano concerto with a late symphony makes for a satisfying concert in a handy package. Lahav Shani's Beethoven is powerfully positive, the shadows having more impact because they contrast so strongly with the prevailing mood. Directing a pliant, warm-toned Rotterdam Philharmonic from the keyboard, Shani's Piano Concerto No. 4 is bright, mischievous and full of colour. The orchestral tutti which follows the soloist's first entry is sweetly done, drawing us in, with some exquisite playing from the principal oboe. You hear the antiphonally placed violins clearly, and lower strings have plenty of weight. Against this backdrop, Shani stresses the music's lyricism; nothing ever sounds forced. The slow movement's unison strings are unusually clipped and brusque, and the finale is effervescent but immaculately coordinated.
There's a similar warmth and energy in this version of Symphony No. 7. The slow introduction is perfectly paced, and Shani takes care to differentiate between the various iterations of Beethoven's pounding 6/8 rhythm once we hit the fast main section. Basses give the quirky bass line near the movement's close plenty of kick, and I like the bleached, grey sound which Shani conjures at the start of the "Allegretto". Scherzo and finale zip along, with some fearless horn playing. The live recordings have plenty of depth and atmosphere. More from this source, please.
Vaughan Williams: Symphonies Nos 4 & 6 London Symphony Orchestra/Sir Antonio Pappano (LSO Live)
That this disc is so exciting is down to a whole raft of reasons. There's the London Symphony Orchestra's razor-sharp response and Sir Antonio Pappano's idiomatic conducting. Producer Andrew Cornall's technicians secure warm, rich sound from the Barbican's unforgiving acoustic. Then there's the context: Vaughan Williams' Symphony No. 4 was recorded on the evening of the 2019 General Election, and No. 6 just a day before the announcement came that all concert venues were to close due to Covid-19. Pappano's eloquent sleeve note underlines just how much external events affected the performances, No. 4's agonies mirroring the UK's political struggles, and the thought of lockdown "inspiring the combined forces of the LSO to give their utmost, to hold a proverbial fist up to the insidious virus." No. 4's dissonant opening packs a huge punch, and how beautifully Pappano's strings phrase the noirish second subject. A chilly slow movement offers some respite, before the scherzo and finale. You won't hear a better-played performance of the former, and the finale snarls. It's stunning. Only Bernstein's raw 1960s New York Philharmonic version comes close in terms of emotional impact, though Pappano has more energy and secures better playing.
Vaughan Williams denied that the Sixth Symphony's bleakness was a response to external events ("it never seems to occur to people that a man might just want to write a piece of music"), the music's violence such a shock after No. 5's serenity and radiance. The first movement's unease is so well-expressed here, making the second theme's radiant E major reprise feel thoroughly deserved. It's a spine-tingling moment, the one glimpse of sunlight in the whole work. The orchestral playing throughout is fearless, Pappano really letting rip in the scherzo. Best of all is the desolate finale, the LSO strings reduced to a whisper. An extraordinary disc.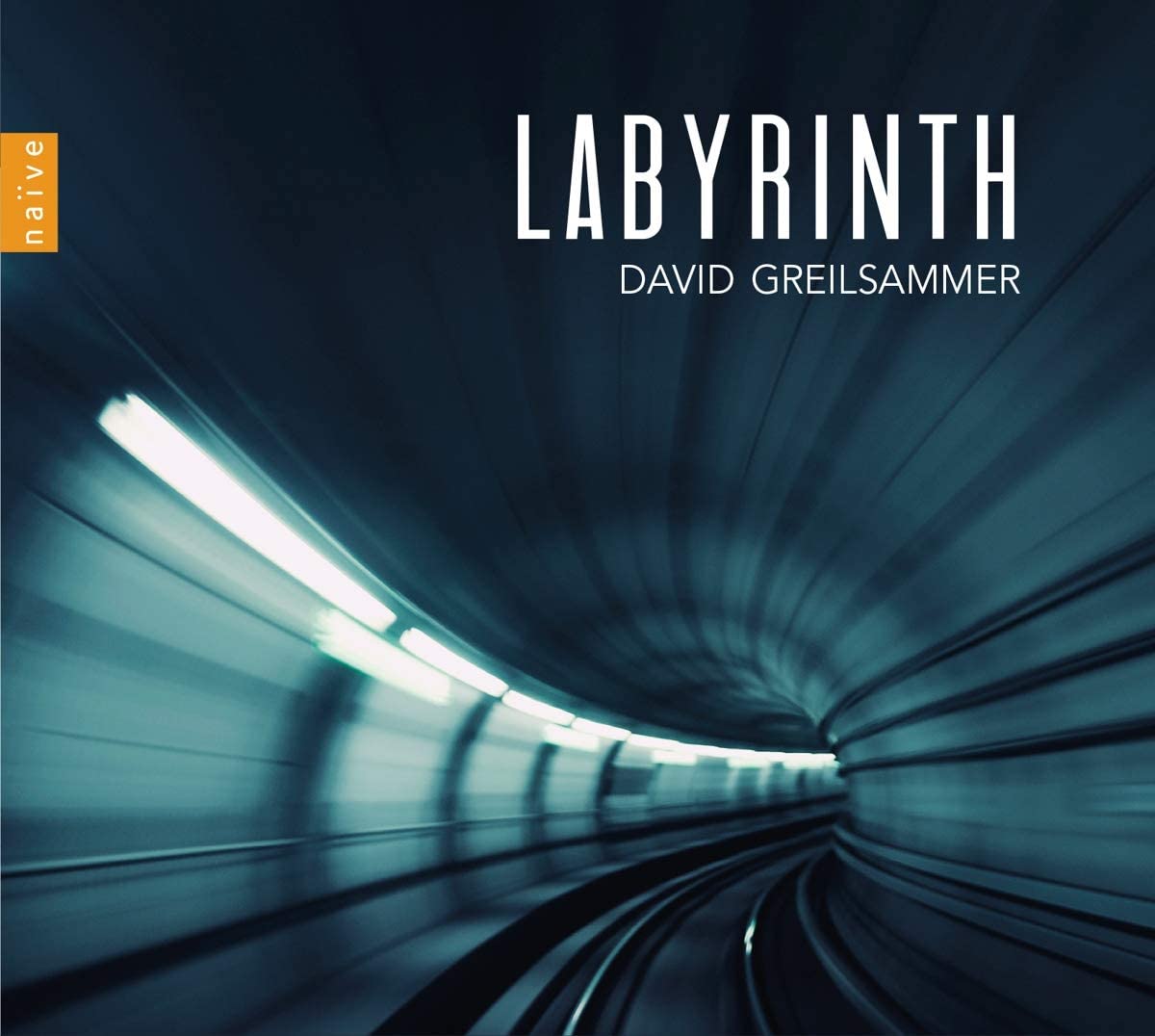 David Greilsammer: Labyrinth (Naïve)
This Labyrinth is described by pianist David Greilsammer as "a voyage with sounds", structured in seven short chapters with a moody extract from Granados's Goyescas at its centre. It's easy to get lost in this sequence of 19 varied pieces, and that you end up retracing your steps and listening again to favourite moments is surely the point. Inventive programming aside, you're impressed by Greilsammer's versatility. We enter via Janáček and exit with Scriabin, moving from a boisterous Beethoven bagatelle to a shimmering, brittle slice of George Crumb without missing a beat. The unlikely juxtapositions are fascinating. A pair of Ligeti etudes enclose a snatch of JS Bach, and two attractive, gnomic slices of Satie are wrapped around a brief, quirky fantasia by CPE Bach.
The Granados is brilliantly done, this "El amor y la muerte" sounding unusually cogent, its exhausted soft close as impressive as the fireworks at the start. It works beautifully as a halfway point. Greilsammer follows it with a Marin Marais chaconne matched with spiky miniatures by Montreal-based contemporary composer Ofer Pelz. Jonathan Keren's transcription of Jean-Féry Rebel's "Le chaos" is startling, and Scriabin's "Vers la flamme" is an effective, claustrophobic closer. You'll need a few minutes to cool down. A compelling, inventive anthology.
Vox Clara - Late Medieval Chant from Riga, Hamburg, Lund, Limoges Schola Cantorum Riga/Guntars Prānis, with Ieva Nimane (recorders, bagpipes, kokle) (Skani)
Performing and recording medieval music inevitably involves a lot of supposition. That this music exists in written form doesn't mean that we can reconstruct what it actually sounded like, and Schola Cantorum Riga's director Guntars Prānis reminds us in his sleeve note that notation was just a starting point, "improvisation playing a major role in the musical practice." Here we get works from four European cities with distinct musical traditions, these vibrantly sung performances given extra punch by Prānis's hurdy gurdy and multi-instrumentalist Iena Nimane adding recorder, bagpipes and kokle. An "Ingrediente Domino" from 12th century France sounds superb with hurdy gurdy accompaniment, and the kokle (an early zither-like instrument) adds magical colour to "Miserere mei". And the singing from this small choir is sensationally good, the harmonies in the same number all the more thrilling set against the stark unison lines.
Musically, the results always convince. I love the extended introduction for recorder and percussion at the start of "Unicornis captivator", and Prānis's spacious take on "Uterus hodie", sounding as if the choir are improvising over a four minute pedal. "Alleluya alto re di gloria" is catchy, and Nimane's bagpipes make a glorious noise in the closing "Gaude Maria". Nicely packaged and engineered, as you'd expect from this Latvian label.
Winter Chapel Dana Jessen (bassoon) (Carrier Records)
Two quirky download-only items have caught my ear. I'm a dinosaur who still prefers CDs, but can see the advantages of going digital, namely a tidier house and uncluttered shelves. Dana Jessen's Winter Chapel is a six-track EP of music for solo bassoon. Not that you'd immediately guess that when hearing the opening track, Jessen's multiphonics creating an extraordinary sound, all swoops, shrieks and avian twitterings. We're in more conventional bassoon territory in the second part, the solo line snarling and buzzing, Jessen occasionally throwing in snatches of rapid toccata-like writing or Stravinskian grunts. Part Three makes magical use of breathing effects before Jessen displays her melodic gifts in the fourth section. This is marvellous, resonant wind playing. Jessen fills the room with sound, even suggesting a roomful of bassoonists in Part Five. The final section has to be heard to be believed, Jessen's frenzied cries and shrieks pitched against the instrument's basso rumblings. A tour de force – if you have one solo bassoon album in your digital library, make sure it's this one.
Rosey Chan's solo piano album Sonic Apothecary was composed and recorded during 2020's first lockdown, after which Chan contacted a Canadian technology company involved in researching anxiety, sleep and mental health. A press release states that the album was "tested on approximately 15,000 brains", to assess its stress-reducing powers, and there are some eye-popping infographics online showing which parts of the brain are positively affected by listening to music. Still, if you didn't already know that music can comfort, console, amuse, intrigue or delight, you wouldn't be reading this column. Chan's sequence of nine minimalist miniatures makes for appealing listening and her soft, delicate playing is winning; this is music which could soothe an upset child or calm a noisy classroom. Would Morton Feldman, Debussy or Bach produce the same effect on me? Probably.
Stefano Bollani: El Chakracanta/Live in Buenos Aires (Orquesta Sin Fin/ Exequiel Mantega)
Italian pianist, composer and broadcaster Stefano Bollani's appetite for music is appealingly gargantuan. In an interview he recently described music-making as "like having a big chocolate cake in front of you that wants to be eaten". It is hard not to be drawn towards this charismatic, larger-than-life figure. Bollani is a huge admirer of Victor Borge, who has been one of the inspirations for his jukebox-style solo medleys. He also undertakes a whole range of projects, from his many jazz collaborations (his 13 albums with trumpeter Enrico Rava, his duos with piano giants Chucho Valdés, Martial Solal and the much-missed Chick Corea come to mind), or here, as concerto soloist with orchestra. El Chakracanta is the third release on Bollani's own label, following on from a star-studded Brazilian venture Que Bom (2018) with luminaries such as Caetano Veloso and João Bosco, and a solo outing, his Piano Variations on Jesus Christ Superstar (2020).
This new disc consists of live recordings from Buenos Aires of two concertos and two tango arrangements for piano and orchestra. The earlier of the concertos, Concerto Azzurro, recorded at a concert in June 2018, was orchestrated by one-time Bussotti pupil Paolo Silvestri and was originally commissioned by the MDR Leipzig Symphony Orchestra. It is episodic, has the feel of "after-Gershwin" and plays on the idea of the contrast and juxtaposition of the freedom of solo episodes with the constraints of the score. The Concerto Verde, recorded a year later, is more interesting. According to the blurb, it has been both composed and orchestrated by Bollani himself. Compositionally there is a lot more going on, from the unashamedly romantic end of the second movement to the puckish swagger and downward tuba glissandos of the third, darkly evocative last movement.
There is, however, a problem. The Orquesta Sin Fin sounds under-rehearsed, and even on occasion unroadworthy in these live performances. In Piazzola's "Libertango", Bollani and his excellent kit drummer, fellow Italian Bernardo Guerra, cook up a real storm of an intensity build, but when the orchestral horns come in, they completely fluff their entry and wreck the climax. Similar misfortunes dog the newer concerto. There might be a strong piece here, but it is trying to escape to the better orchestra it needs, and is asking to be played with more conviction, security and shape. That said, the Buenos Aires crowd applauds loud, enthusiastically and often. And that is definitely a sound we miss. (Review by Sebastian Scotney)
Jessen's frenzied cries and shrieks are pitched against basso rumblings
Explore topics
Share this article