Lewis, Hallé, Thórarinsdóttir online review - serenity and spice |

reviews, news & interviews
Lewis, Hallé, Thórarinsdóttir online review - serenity and spice
Lewis, Hallé, Thórarinsdóttir online review - serenity and spice
More music as cinema from the orchestra's Manchester centre
Charm and relaxation: Paul Lewis with the Hallé at Hallé St Peter's
For the newest performance of their part-postponed "Winter Season" on film, the Hallé return to their rehearsal and performance centre in Ancoats, and with the help of piano soloist-director Paul Lewis and guest leader-director Eva Thórarinsdóttir offer a display of the capability of their orchestra members as chamber musicians.
So first we see again the little sequence of musicians heading through Manchester city centre to Hallé St Peter's, and before the music starts Paul Lewis introduces Mozart's Piano Quintet in E flat K452, and Sergio Castelló-López, clarinet, and Elena Comelli, bassoon, chat to him about it (with a few black and white rehearsal clips).
Joined by Stéphane Rancourt, oboe, and Laurence Rogers, horn, they embark on the music proper, and that is an absolute treat. If there is a word to sum up their quality of this work as they perform it, it is "serenity". The idea of music as healing balm may have been uppermost in many minds as this was created: if so, it communicates from the Largo opening of the first movement, and the atmosphere scarcely changes with the tempo switch to allegro – all suavity and calm.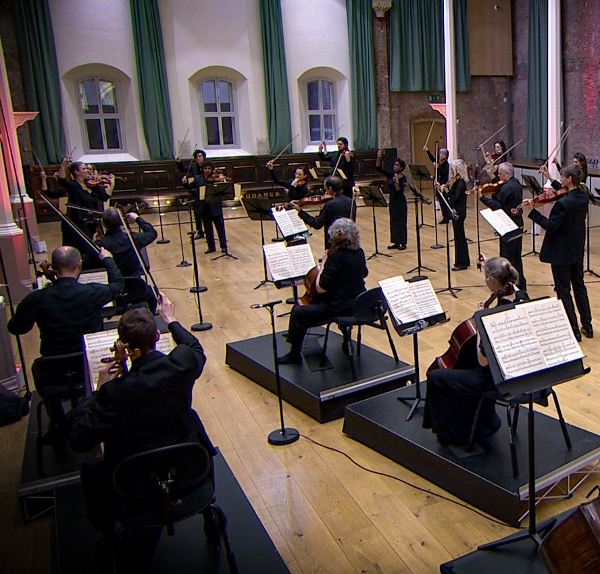 Visually, the five are nicely positioned in an upside-down V shape with Paul Lewis and the piano at the apex, and the sound is finely balanced and mellow, as the cameras pan around them as well as bringing close-ups and more static shots. The central Larghetto is one of those slow, operatic-ensemble-style movements of breathtakingly interwoven melodies that only Mozart could create, with the beguiling subtleties of his writing brought here to elegant life. And when the final Allegretto strikes up its seemingly steady pulse, keeping tension well moderated, we realise there's method in the moderation as the piano's role is dazzling enough once triplet semi-quavers begin to abound.
The second item on this three-course menu is a wonderfully spicy contrast: Stravinsky's Concerto in D for strings. There's more film chat to introduce it, which I found highly entertaining. Eva Thórarinsdóttir (pictured in performance with the Hallé strings) talks with Simon Turner, cello, and Paulette Bayley, violin, in the kind of fresh, hair-let-down way musicians sometimes think is not for the record but is full of insight and imagination. "It's pure chaos" (Eva) … the slow movement is "like a ballroom where everyone's been lobotomized" (Simon) … we're in a dreamworld (Paulette). Sure enough, their enthusiasm over a work which, for most, was apparently a new discovery, translates into the playing. It's one of those works Stravinsky wrote for Paul Sacher's chamber orchestra, and quirky in the extreme. The playing of the Arioso (the lobotomized ballroom) is gorgeously schmaltzy and insinuating, and the final fast Rondo comes out frantic and yet precise, with everyone enjoying the surprise ending.
Back to Mozart for the rest: Lewis gives a brief introduction, and then with the assembled chamber orchestra plays the A major Piano Concerto K414.. Relaxation is now the chief characteristic of the performance, in its charming and sunny opening Allegro, though it all melts into haunting introspection for the wistful slow movement (it quotes a melody by Johann Christian "the English" Bach, from whom Mozart had learnt so much in his younger years and whose death may have inspired this quiet effusion).
Lewis plays the seemingly innocent and naïve melodic lines with exquisite phrasing and beautifully poised points of emphasis: he keeps display in the cadenzas and lead-ins to a modest minimum, allowing himself just the luxury of a relatively big one in the final Allegretto, as fun and freedom assert themselves for the last ritornello.
The idea of music as healing balm may have been uppermost in many minds as this was created
rating
Explore topics
Share this article