A Hidden Life review - Nazism stoically refused |

reviews, news & interviews
A Hidden Life review - Nazism stoically refused
A Hidden Life review - Nazism stoically refused
Terrence Malick's raptures find solid ground in a forgotten stand against fascism
Saturday, 18 January 2020
Love and hate above the clouds: Franzeska (Valerie Pachner) and Franz (August Diehl)
Terrence Malick returns to his former greatness following three features of unscripted, all-star poesy, with this sombre biopic of sainted Austrian conscientious objector Franz Jägerstätter (August Diehl).
A farmer who refused to swear the
Hitler
Oath when called up, Franz remains beatifically strong in Nazi jails, rejecting the compromises that could save him. His wife Franziska (Valerie Pachner), the initial source of his profound Christian faith, is ostracised alongside their young daughters for his pains, in scenes of sullen mob cruelty worse than his physical torture.
Malick's inveterate eye for rapture finds satisfaction in the Jägerstätters' idyllic Alpine village, where they live "above the clouds". Nature's stormy beauty stays indifferent to human folly, as it did in The Thin Red Line's Okinawa killing fields. Malick films at aslant angles, as if his villagers are sliding off their steep land, and edits in a lapping, floating rhythm, rooted in concrete details. Supernal light even sets prison corridors aglow, amidst the petty sadism.
Diehl and Pachner also earth the film in their characters' clamberingly physical love and shared sacrifice. Malick's penchant for cosmic and philosophical flights is here balanced by his actors' commitment. With faith replacing psychology as his motivating force, Diehl makes Franz simmer with pressurised conviction, his eyes darting for a way out, like Christ on the cross. But he sees no moral exit. Pachner matches his helpless goodness, their lives quietly rhyming when apart, and peeling fears open when together. They give Malick's cool rhythms hot blood.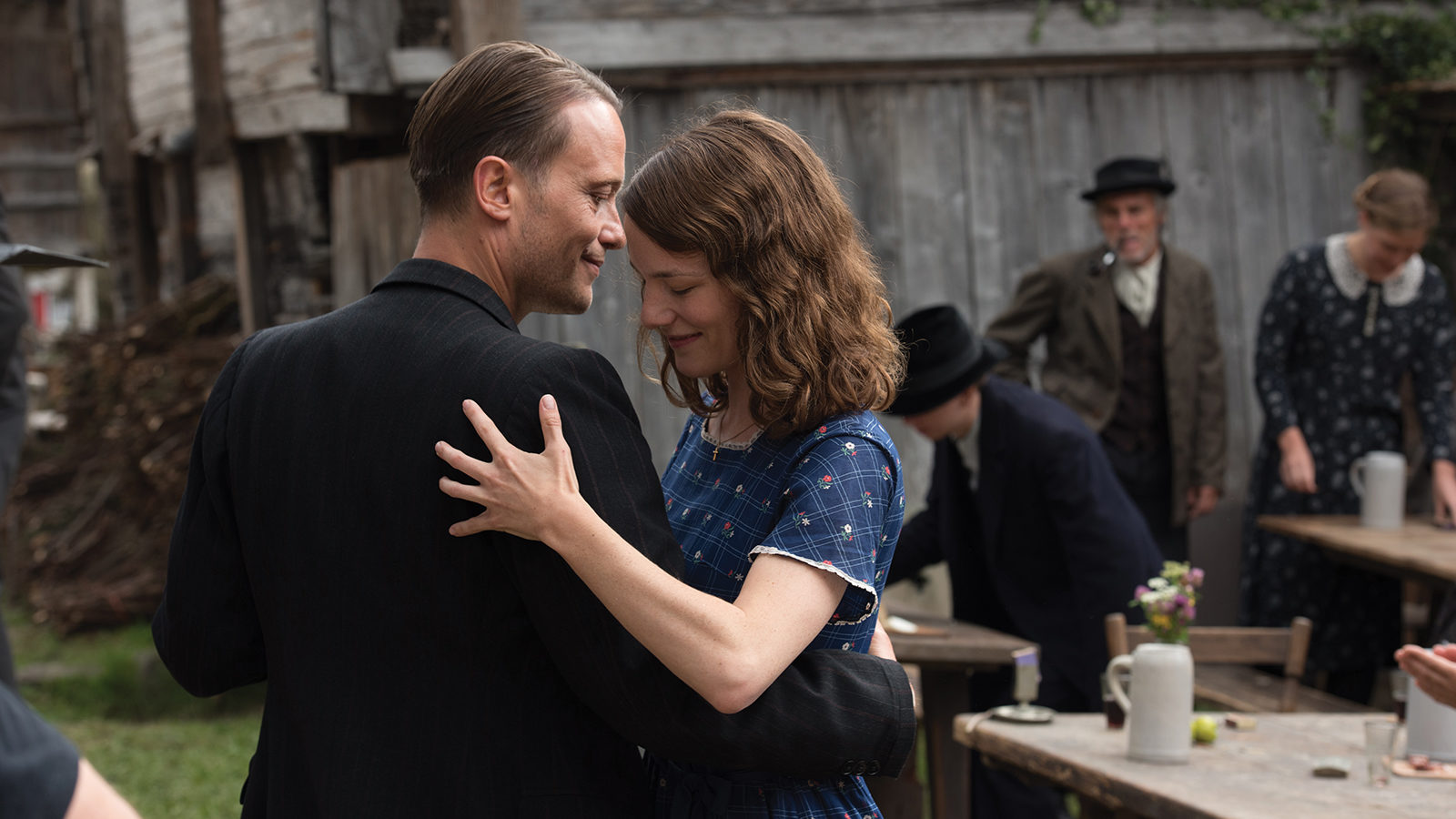 Hitler's ranting radio voice echoes through the mountains at night like a goblin king and, after Jojo Rabbit's Beatles-scored, Hitler-mania newsreel footage, Malick quietly contemplates colour footage of the Fuhrer too enjoying the Alps of his Austrian homeland. Taika Waititi's film and Malick's, in their wildly contrasting ways, show Nazism with jolting freshness, as it dangerously fades into history.
Malick also shows an unusually ordinary, undramatic Reich, an unexceptional home for evil where surprisingly lengthy legal procedure is required to condemn Franz, with Matthias Schoenaerts and the late Bruno Ganz's Pilate-like judge among those wrestling with this implacable farmer's conscience. The taciturn Franz draws their baffled dialogues to him, leaving Ganz's final character broken himself by such stoic self-destruction.
"Show a little humour," the village's Nazi mayor chides. But that's one thing Malick lacks, as Franz pursues his revelation that society's accepted reality is a vast sin. "The mask is off...don't they know evil when they see it?" he asks as he sees his church cowed and neighbours become ferally pro-Nazi. When he knows he won't survive, rather than despair, "light floods in". This deliberate Christian sacrifice in the lonely service of simple morality is of course different from the genocide of Jews irrespective of their actions.
Scorsese's much more raw and ambiguous Silence is the only recent American film to deal with such themes. Dreyer's The Passion of Joan of Arc (1928) is a closer (and greater) comparison. A Hidden Life is Malick's act of communion across the years with Jägerstätter, and an acknowledgement of his anonymous fate. It's as odd an Oscar omission as any.
Malick shows Nazism with jolting freshness, as it dangerously fades into history
rating
Explore topics
Share this article