Book extract: Insurrecto by Gina Apostol |

reviews, news & interviews
Book extract: Insurrecto by Gina Apostol
Book extract: Insurrecto by Gina Apostol
Extract I of III - Translations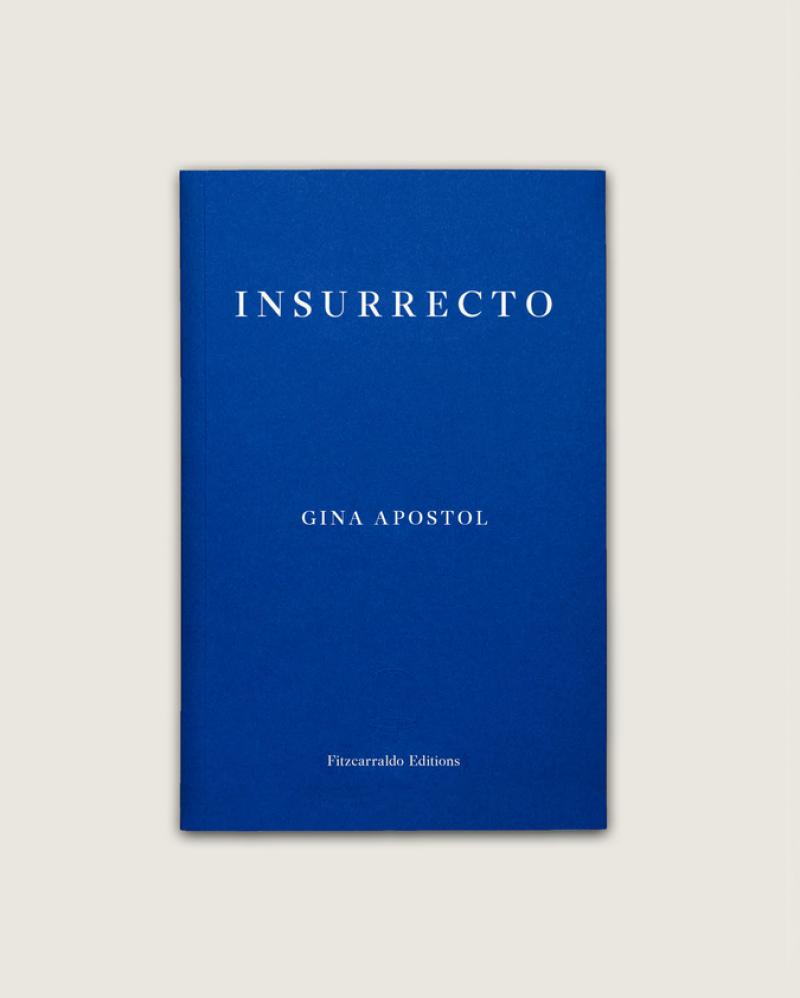 'Insurrecto' by Gina Apostol
At first, what puts Magsalin off at the pastry shop is Chiara's voice. It is nasal, and her monotone, a bored flatness, even in the most interesting parts, keeps Magsalin, or the pastry shop waitress, or anyone else willing to listen amid the humid baking scones and moist pan de sal, at bay, as if an invisible wall, maybe socioeconomic, exists between Chiara's voice and your attention.
It is past one o'clock, and outside, the truant boys are shrugging back into their white button-down polo shirts, the uniform of all the Catholic schools that dot EDSA, done with their lunch-hour video games, and the circus men, on break from Fiesta Carnival, are wending their way out of the mall like blind mice, every clown in deep-black Ray-Ban knockoffs, wiping off rice grains and chorizo oil from their greasepaint lips.
And still Magsalin does not know what she has to do with Chiara's trip to Samar.
Was Chiara clutching the rough draft of the war-movie script that won her the prize among her peers that April afternoon in her mother's Catskills mansion?
Is Chiara's next project an art-house political film, à la Costa-Gavras's Z, to be shot on location in the actual country in which the plot occurs, a film of dizzying, unheard-of realism, hence the need for translations into the actual language of the hapless citizens in the process of being killed by the occupation forces?
It is clear to Magsalin that Chiara is on a quest. Her elaborate Google search is suspect, a ruse, and the expository setting, the rural mansion of filmmaking bots, even if true, has the feeling of a patch over the real story.
Her arrival in Manila did not arise only from a ludic pastime, this play on her father's name.
In Samar, Chiara wishes to unlock a key.
About her father? About her script? About herself?
But what does Magsalin care about that?
Magsalin's taxable occupation is to translate, hence her professional name: Magsalin. (It means to translate in her maternal grandfather's tongue, Tagalog.) Her English-language website, translationsforhire.net, says as much.
Magsalin is aware of those scenes in Hollywood movies when, requiring an actor to speak in a conveniently alien tongue, the character starts speaking an inappropriate one, like Tagalog. The prayer of the Javanese man in The Year of Living Dangerously. The possessed woman hissing at Keanu Reeves in Constantine. Farm workers who chase the, as usual, somewhat psychotic Joaquin Phoenix far into a senseless desert in one of those unbearably tense movies by Paul Thomas Anderson.
And, of course, the Ewoks scenes in Star Wars: Episode VI - Return of the Jedi.
In the trade, there are terms for those short-term projects.
Inversions provide a set of unmatched signifiers that, if understood, do not require logical coherence. This is the case of the Bahasa-Indonesian prayer in Peter Weir's movie. The Indonesian prays the "Our Father" in Tagalog, not Bahasa – that is, he need not be coherent. It's the concept that counts.
Inversions are opposed to obversions, that is, providing a set of unmatched signifiers that, if understood, are generally insulting. The Ewok dialogue in the Star Wars prequel, a few choice Tagalog epigrams, is a basic Filipino fuck-you to the universe.
Diversions, like the irate Filipino farm workers in Stockton, California, in Anderson's The Master, are plausible, though irrelevant in the overall scheme of things.
What Magsalin expects is that Chiara's script will require reversions: a set of matching signifiers that, if reversed, will portray the privileged language as in fact the other, and vice versa.
Perversions, of course, produce scant good.
Lastly, conversions, in which one exists like a vestigial body, a desiring corpus, occupied by the words of others, is the most difficult of these types of translations: Magsalin simply refuses to attempt them.
What interests Magsalin most about Chiara is not the prospect of a job but the filmmaker's likely disappearance. In her mystery novel, Chiara will leave Ali Mall by a wrong turn, through the plywood board tunnel, a sign announcing the mall owner's promise of a NEW ALI MALL! COMING SOON! – put up ten years ago. The security guard, looking up from his cell phone, will give Chiara clear directions in English, but she will not understand his accent.
Chiara has a sense of being lost amid the warped plywood, the tunnel is so spooky and haphazard it has the impression of not even being lit, though makeshift electrical wires become obvious once her vision adjusts. The tunnel spills into the harsh light of the fluorescent bulbs of the decaying merry-go-round outside, where tricycle drivers waiting for clients pick their teeth on illpainted horses.
Magsalin knows the area well from her days as a serial bookworm roaming Alemar's and the vaster though soulless National Bookstore, when she went to school nearby. It occurs to her now that the details she has evoked in the last few sentences might bear traces of her memory's obsolescence and Chiara's plaintive future; therefore, her kidnapping by a pair of muscular, Ray-Ban wearing goons is in fact set among details of a vanished world.
Of course, the goons are dressed as clowns, in matching puffed-sleeve blouses and billowing striped trousers made of sad flour-sack cotton, their look of cheap improvisation a mark of the ongoing decline of Fiesta Carnival, the venerable old circus of Cubao, next door to Ali Mall.
Chiara's struggle will be unseen, though one might expect a stray schoolboy to be lighting a match nearby, polo shirt half on, the gothic logo of the band AC/DC, or maybe Metallica, partly visible on his muscle shirt (he's actually a bit malnourished); but the irony is that the boy, smoking his last cigarette before he's expected in gym class, will be looking at the comic book he has just bought with carefully saved change. Struggling into his shirt and reading his comic, he is in no state to observe a famous film director being shoved into a waiting tricycle, an ordinary passenger pedicab painted in the usual deranged Manila hues.
Inversions are opposed to obversions, that is, providing a set of unmatched signifiers that, if understood, are generally insulting
Explore topics
Share this article