The Shiny Shrimps review - worth the plunge |

reviews, news & interviews
The Shiny Shrimps review - worth the plunge
The Shiny Shrimps review - worth the plunge
Gay water polo comedy fishes some surprisingly deep waters
Saturday, 07 September 2019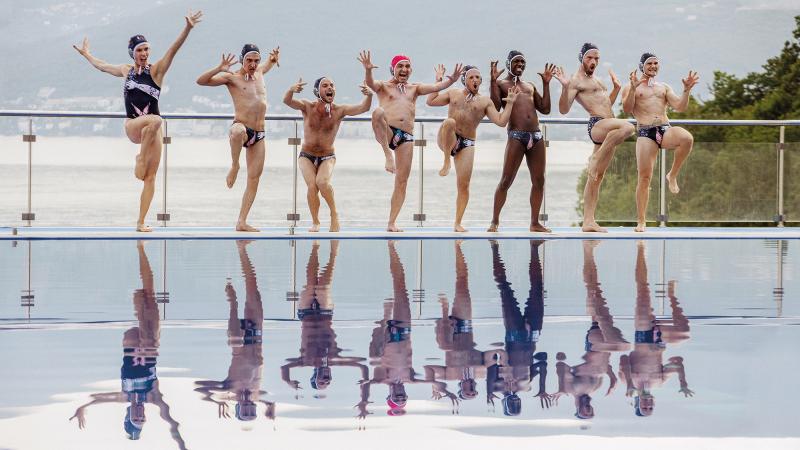 The Shiny Shrimps perform their "intimidating" pre-match dance
Whoever thought of crossing the social conscience of Pride with the sporting acumen of Dodgeball? Out of this unlikely union comes The Shiny Shrimps, a joyous dive into the world of gay water polo.
Though it follows your typical obscure
sports
underdog story, the layered characters and unflinching topics make the Shrimps a surprise package.
After making homophobic remarks to a gay reporter, the national swimming team is making an example of Matthias Le Goff. If he wants to go to the World Championships, he must pay penance by coaching a gay sporting team. His chosen charges are the titular Shrimps, the worst gay team in the world. They're unruly, uncompetitive, and unapologetically flamboyant, but they must make it to the Gay Games if he wants to swim again.
As you'd expect, much of the comedy is drawn from Le Goff's uncomfortableness around openly gay men. He's not really homophobic, just ignorant and selfish, raised as a serious sportsman. But the joke is never on the Shrimps, apart from when they're mocking each other. Each character serves certain roles (the promiscuous one, the naïve newbie, the flashy dancer), but the film takes the time to explore their stories.
What impresses most is how The Shiny Shrimps avoids being a one-joke, fish-out-of-water comedy. The diverse team not only challenges stereotypes, but address issues facing the LGBTQ community today: the marginalisation of trans people in gay groups, the hetero-normative implications of starting a family. Surprisingly mature themes for a movie that also features a guess the tattoo on the anus scene.
The film certainly flourishes best when focusing on its characters over the water polo. The actual matches lack structure, mostly montages of people swimming and throwing with little context. Not a major quibble, but the end of the first game includes an impressive one-shot from defence to attack that makes the succeeding matches seem drab by comparison.
The excellent character work throughout means the ending feels rather forced. We're invested in their story enough that it doesn't need cheated poignancy. But this is a testament to the film as a whole; for hilarity and genuine heart, The Shiny Shrimps is worth the plunge.