Elbow and New Order, Lucca Summer Festival review – a meeting of Mancunian minds? |

reviews, news & interviews
Elbow and New Order, Lucca Summer Festival review – a meeting of Mancunian minds?
Elbow and New Order, Lucca Summer Festival review – a meeting of Mancunian minds?
Much-loved bands at the opposite end of the pop spectrum magic up a spectacular night
Sumner succumbs to the adulation
Thirty-three years ago, at Manchester's Festival of the Tenth Summer, I fumed that New Order had been given top billing over The Smiths, much to the mirth of a couple of reviewers of this very parish. History has proved me wrong, obviously. So, to Italy, and a modest-sized and relatively modern piazza (Napoleonic) in beguiling, ancient Lucca.
To see two of
Manchester's
most revered
bands
. This time I don't have to choose sides.
It couldn't be further from Salford, Macclesfield and Bury in every sense. A balmy evening breeze rustles through the leaves and brings welcome relief from the day's intense heat. Many a sweaty Manc has made the journey from home but who are they here to see? Because these groups have absolutely nothing in common save geography.
On the dot of 8.30, as billed, Elbow take to the stage – all warmth and infectious positivity. It's impossible not to love Guy Garvey (pictured below), the sweetest man in pop; a Stephen Fry for the charts – physically and lyrically. He can write a love song like nobody else. "The Bones of You" is the first tonight; "Mirrorball", "The Birds", "Kindling" and others follow. Wry nods to the North come in "Station Approach" and "Lippy Kids" ("I never perfected the simian stroll"). And it's all building towards that song – the one that's been played to death but in which the audience takes over, throwing their curtains wide. It may be too emotional, too personal for some but – as we are all well aware – "it takes guts to be gentle and kind". Oh, the irony.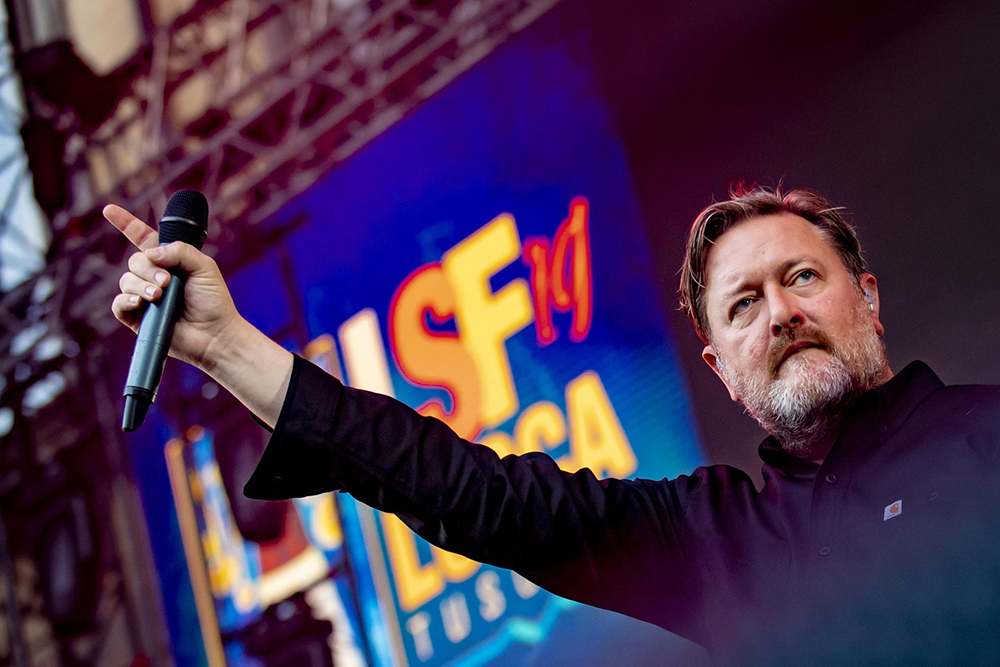 I doubt that the Joy Division/New Order crowd would lap this up back home, but this very spot seems like it was made for such dreamy revelry. The Gentle Giant points to the beautiful moon floating above the piazza, while the audience sways alongside a good sprinkling of dogs and infants in ear protectors – it's all very mellow. As darkness descends, Elbow leave us with a thunderous rendition of "Grounds for Divorce", a song about drinking, death and getting out of Manchester, in which we all participate heartily.
Half an hour's break and, again, bang on schedule, here are New Order. This is, of course, an entirely different proposition. A suitably arch Wagner-soundtracked video takes us back to the start – the grim 70s and that suicide. Then Bernard Sumner struggles with "Singularity". We all know he was never meant to be the singer and it certainly can't help following on from one of the greatest voices of our time. He does much better with the lower register of the four Joy Division songs on the set tonight – "She's Lost Control" and "Transmission" are up early, "Atmosphere" and "Love Will Tear Us Apart" make up the encore.
Who knows what brought these two marvels of Manchester together?
What New Order do have in spades is rhythm (Stephen Morris drums like the clappers throughout, showing no signs of ageing). Hits come thick and fast – "Bizarre Love Triangle", "Subculture", "The Perfect Kiss", "True Faith", "Tutti Frutti", "Temptation" and the faultless "Blue Monday" (although there's no place for their only number one here – "World in Motion": this is Italy, after all). Album favourites also delighted – not least "Your Silent Face" for which Sumner gets his melodica out ("seminal New Order", according to my plus one). But most of all they are just effortlessly cool – Gillian Gilbert's breaking down of gender barriers so long before others deserves high praise indeed. I thought I felt ambivalent about New Order (nowadays), but they're so tied up in our musical history I think it's just been complacency. Imagine the world without them. Not to mention the greatest club of all time. They are the ultimate innovators and their devotion to technology hasn't waned. Tonight, it works perfectly – video, lighting, sound weaving an alchemy that allows no-one to stand idle.
Then, against the odds, some of Elbow's emotion is mirrored back. The two-song encore is dedicated to Ian Curtis (something they would definitely have frowned upon 33 years ago) and all the Joy Division imagery is here, including Anton Corbijn's astonishing requiem video for "Atmosphere". There isn't a dry eye in the piazza.
Who knows what brought these two marvels of Manchester together? It was a show that perfectly suited its setting. No pushing and shoving, no aggression, a little drunkenness and a few altercations over football but, generally, this was a radically different experience from any gig I've seen in the UK. Perhaps we're all getting older? Perhaps we could all do with a lot more European civility? I'm glad we no longer have to choose sides in music at least. If it wasn't note-perfect, it was definitely a note perfetta.
Most of all New Order are just effortlessly cool… they are the ultimate innovators
rating
Explore topics
Share this article