'A product not only of his era but also of his travels': Ian Page on Mozart's cosmopolitan education |

reviews, news & interviews
'A product not only of his era but also of his travels': Ian Page on Mozart's cosmopolitan education
'A product not only of his era but also of his travels': Ian Page on Mozart's cosmopolitan education
The Mozartists' main man on how an early life moving around Europe shaped a genius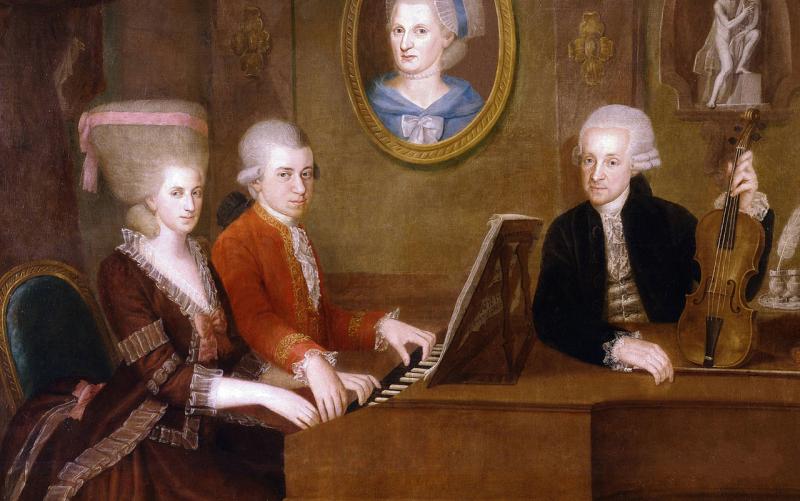 Mozart with his sister Nannerl and father Leopold by Johann Nepomuk della Croce
When Mozart was an established composer living in Vienna during the final years of his short life, a young student seemingly came to him to seek his advice. The would-be young composer said that he was planning to write a symphony, and asked Mozart what advice he could give to him. Mozart replied that a symphony was a complex undertaking, and suggested that the youngster should first write a few keyboard sonatas and string quartets before undertaking an orchestral work.
The student, however, was indignant. "But, Herr Mozart," he allegedly retorted, "you were writing symphonies when you were far younger than I am now." And Mozart answered, "I never asked how."
This charming though possibly apochryphal story reinforces the image of Mozart as a thoroughly innate, instinctive composer who by virtue of his God-given genius was able to bypass the processes of study and practice that ordinary mortals require. Mozart's father Leopold even seems to have anticipated this notion in christening his son Wolfgangus Theophilus – the Greek name "Theophilus", meaning "loved by God", has passed down to us in its Latin form of "Amadeus". Nature versus Nurture debates have often focused on the case of Mozart over the course of the past quarter of a millennium, and the poetic image of a pre-ordained natural ability has tended to win the day.
Certainly some of the music that Mozart composed during his childhood seems to give credence to this impression. If we listen to the opening movement of Mozart's first symphony, the concert aria "Oh temerario Arbace", the duet "Natus cadit" from Apollo et Hyacinthus or Farnace's final aria, "Già dagli occhi", from Mitridate, re di Ponto, we can lose ourselves in wonder at a precocity that is arguably without precedent. These works were written when Mozart was aged eight, 10, 12 and 14 respectively, and what is particularly remarkable about them is not the technical accomplishment that they display but their emotional depth and apparent understanding, sensitivity and empathy for the human condition.
But are these wonders exclusively the result of a unique, "God-given" talent? Would Mozart have displayed such precocious genius without the careful guiding hand of his father? Would he have written such music had he never left his home town of Salzburg during the first fourteen years of his life? Does the case of Mozart provide incontrovertible proof of Nature transcending Nurture? The answer to all of these questions, of course, is "No". (PIctured left: Ian Page and the Classical Opera Orchestra)
Mozart's father has been given a decidedly bad press over the years, frequently portrayed as a savvy, greedy businessman heartlessly taking advantage of his children's exceptional gifts, but we must remember that even before Wolfgang was born Leopold was a renowned and acclaimed pedagogue; his lengthy treatise on violin playing was created in the same year as his son, and quickly established itself as the leading work in its field. Mozart never attended school, and his father undertook his entire education single-handedly.
It is understandable that we nowadays ascribe a timelessness to Mozart and his music, founded on the notion that his genius transcended all strictures of time and place. But he was also very much a child of his time, a product not only of his era but also of his travels, and it is this latter component for which his father deserves particular credit. During the course of his short life Mozart travelled extensively, particularly in his early years – between his seventh and fifteenth birthdays he was away from home for a total of almost six years – and his final trip to Prague ended less than two months before his death. These travels played a crucial role in forging his artistic personality, and the time that he spent in such important musical cities as London, Paris, Milan and Naples provided him with a depth and breadth of education that he could never have received by remaining at home in Salzburg.
This week I am conducting concerts at Wigmore Hall (tonight) and the Lichfield Festival (tomorrow) with my orchestra The Mozartists, entitled "Mozart's Travels". The programme comprises seven works by Mozart, each composed in what are now separate modern countries – England, Holland, France, Germany, Austria, the Czech Republic and Italy. With one or two exceptions made in the interests of a balanced and varied programme, our journey unfolds both chronologically and from north to south, beginning with the first symphony, composed in London when Mozart was eight.
Not every work composed during the course of his travels was a direct reflection of its place of composition, of course, but two patterns unsurprisingly seem to emerge – firstly that the early travels, undertaken between the ages of six and 16, exerted the most formative and therefore deep-rooted influence, and secondly that the musical cultures most removed from the German culture into which he was born and bred – namely those that he encountered in London, Paris and Italy – did the most to broaden the scope of his musical language and experience.
Leopold Mozart seems to have had this in the forefront of his mind when planning his son's cosmopolitan education, and it comes as no surprise that Mozart had already been extensively exposed to the above-mentioned "foreign" cultures of London, France and Italy by the time he was 14 (pictured right: Mozart in 1763 by Lorenzoni). Indeed, by the time he turned 17 he had spent 15 months in London, five-and-a-half months (across two visits) in Paris, and a total of two years (across three visits) in Italy. To be sure, some of the music that he heard in London and Paris, and to which he naturally gravitated, was music by his contemporaries – Johann Christian Bach and Karl Friedrich Abel in London and Hermann Friedrich Raupach, Johann Schobert and Johann Gottfried Eckard in Paris – but he was also exposed to a far wider range of culture, both in music and in other spheres.
Italy, meanwhile, was still very much the centre of the operatic world, and a composer's education was not considered complete until he had spent time there. Handel, Gluck and Johann Christian Bach had all studied there in their twenties, but Mozart's extended exposure to Italian culture, language and opera during his early teens provided him with a deeper and more idiomatic ability to set the Italian language to music. It is doubtful whether Mozart could have written his three Da Ponte operas – Le nozze di Figaro, Don Giovanni and Così fan tutte – without this childhood exposure.
By the time he reached his twenties Mozart's own compositional style was already well-formed and developed, still able to adapt to specific circumstances but by now part of a unified whole. As such, the Concerto for Flute and Harp might reflect the Parisian penchant of the time for concertos for two or more instruments, but there is nothing intrinsically French about the music, nor do the operas he wrote for Prague contain anything fundamentally or even superficially Czech. By now Mozart had established and refined his own consummate style, one which his father had ensured was as wide-ranging and multi-layered as possible.
Nowadays we may think of Mozart as an exclusively Austrian composer, and Salzburg – the town that Mozart despised with an increasing intensity during the course of his life – can reap the financial rewards of claiming him as its most famous son, but the universality of the musical legacy that he left us is a direct consequence of the breadth and geographical range of his musical education. We could wish for no better demonstration of the crucial value and importance of freedom of movement within Europe.
The universality of Mozart's musical legacy is a direct consequence of the breadth and geographical range of his musical education
Share this article