Das Rheingold, Hallé, Elder, Bridgewater Hall, Manchester |

reviews, news & interviews
Das Rheingold, Hallé, Elder, Bridgewater Hall, Manchester
Das Rheingold, Hallé, Elder, Bridgewater Hall, Manchester
Consummate 'preliminary evening' of the Ring from a master Wagnerian
Thursday, 01 December 2016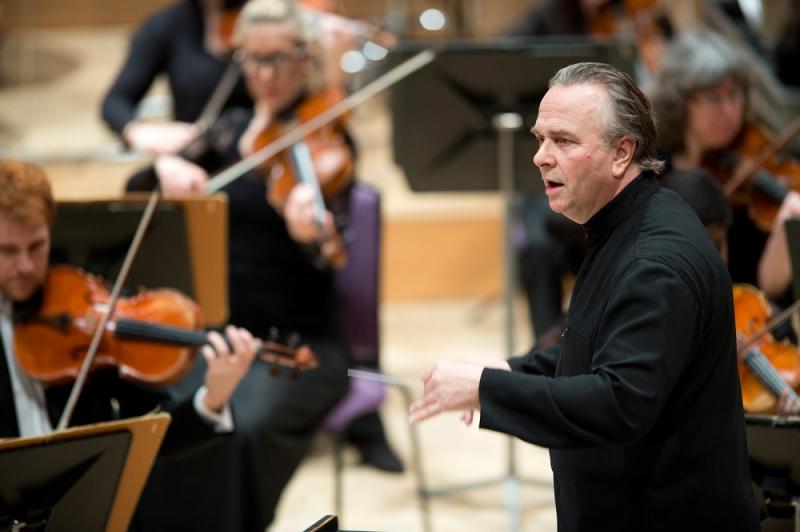 Elder and the Hallé at work
With two of the biggest parts of the tetralogy already behind them, it might have seemed that Sir Mark Elder and the Hallé would aim simply at as near a perfect recording-cum-concert of Das Rheingold as possible, to get one more in the can and head for the final straight in a year or so's time.
But this Bridgewater Hall performance was more than that: a magisterial account of the score – done in one continuous take of two-and-three-quarter hours – and the recording based on it and its rehearsals, when it appears, will no doubt be a notable and probably great one.
It was also an entertaining and highly dramatic account of Wagner's "Preliminary Evening" of the Ring, with some beautifully characterised accounts of individual roles. The semi-staged production (director Ian Rutherford was credited in the programme booklet this time) brought a sense of occasion along with a few minor bumps and thumps, and the audience reaction may well enliven the final recorded result. We had, among other straightforward props such as a couple of thrones, a visible cloth of Rhinegold, which could be shared by the Rhinemaidens, bundled away by Alberich, wrapped all around Freia as her ransom was paid, and finally become a giant-size garotte with which Fafner murdered Fasolt. The Hallé were taking a few leaves from Opera North's recent book in this approach, and in some ways doing the job (though without live film projection) even better.
Sir Mark was doubtless aiming for opulent orchestral sound, which became apparent, with double basses divided four to each side of the stage, as the great opening crescendo was built. It had an enviable combination of smoothness and precision, as the string figurations rippled and eddied (with the lightness of articulation the Hallé strings, led by Lyn Fletcher, have perfected now in the Bridgewater Hall). In the first mountain height scene, the brass revealed their full resplendence, the Wagner tubas beautifully blended.
Our Rhinemaidens (Sarah Tynan, Madeleine Shaw and Leah Marian-Jones), moving barefoot on the stage, were a delightful trio, but Samuel Youn's acting and singing as Alberich stole the opening scene – there was life and imagination, as well as a magnificent voice. He gave us a wonderful off-stage cackle as he stole the gold, and later a superbly sung and, with Elder's help, solemnly enacted curse.
So up to the heights, where Iain Paterson (pictured above) as Wotan appeared in tuxedo and loosened neck-tie (a common uniform for the gentlemen gods) and relaxed demeanour – he is supposed to be half-asleep to begin with – thence gaining gradual strength and authority. This was not a mighty tyrant of a Wotan, more one who knew his own insecurities, but by the end of the opera he attained a kind of grandeur. Susan Bickley's Fricka (pictured below) displayed a regal breadth of tone and commanding edge to her voice in singing that lent distinction to the final scenes.
Emma Bell as Freia injected the emotional charge of a maiden in distress, and the giants – in boiler suits – were nicely complemented, as Reinhard Hagen emerged as an appealingly naïve Fasolt and Clive Bayley his meaner, nastier brother. The former brought one of the most accomplished characterisations of the evening, with enough tenderness in his feelings for Freia (underlined by principal oboe Stephane Rancourt) to make one feel almost sorry for the poor guy. David Stout as Donner and David Butt Philip as Froh made their contributions with the fire of younger voices, and the latter had fine moments in the final scene of the opera.
Will Hartmann was an intriguing Loge – his is a noble, at times lyrical tone quality, no wheeler-dealer caricature but a serious power-broker and fixer (very different from Opera North's Wolfgang Ablinger-Sperrhacke), but constantly alive and always alert to comedic by-ways. His interaction with Alberich in Nibelheim was theatrical and engaging, and the scene with the Tarnhelm allowed Youn to use his varied voice colours effectively. Nicky Spence was a grovelling and grasping Mime, but with a very fine voice colour to show off, and Susanne Resmark almost other-worldly in the richness and fullness of her role as Erda. It exemplified the director's use of the entire performance space, as she materialised from on high in the side-circle seating area, while the finale's cries from the Rhinemaidens were from higher still in the auditorium, just off-stage with their accompanying harp (and piloted by Hallé assistant conductor Jonathon Heyward).
The orchestral transition to the final scene, and its climactic tuttis and crescendos, were thrilling: we got a virtuoso display of coloured lights and stage smoke (a good job the sprinklers didn't come on) – but in truth the splendour of the sound was quite enough.