'It's a much more freeing experience than Harry Potter' |

reviews, news & interviews
'It's a much more freeing experience than Harry Potter'
'It's a much more freeing experience than Harry Potter'
David Yates, director of 'Fantastic Beasts and Where to Find Them', on moving on from Hogwarts
Thursday, 17 November 2016
David Yates (right) with Eddie Redmayne and Katherine Waterston
David Yates is not the best-known film director in the world, but he has been at the helm of four of the most successful. All of them had "Harry Potter and the" in the title.
After the last Potter movie he took a break among the computer-generated jungle foliage of
The Legend of Tarzan
, but he's now back working in the service of JK Rowling's imagination with
Fantastic Beasts and Where to Find Them
.
His fantastic beasts, under the protection of magizoologist Newt Scaramander, can be found on the cinema from this weekend. Four more outings for Newt have been announced, so the world had better get used to Eddie Redmayne (pictured below) wearing a shabby blue coat and a look of wide-eyed wonderment. Yates, who in a previous life made serious dramas for British television, is slated to direct the lot. At the age of 52, is there any escape for him from the escapism of Rowling's magical world?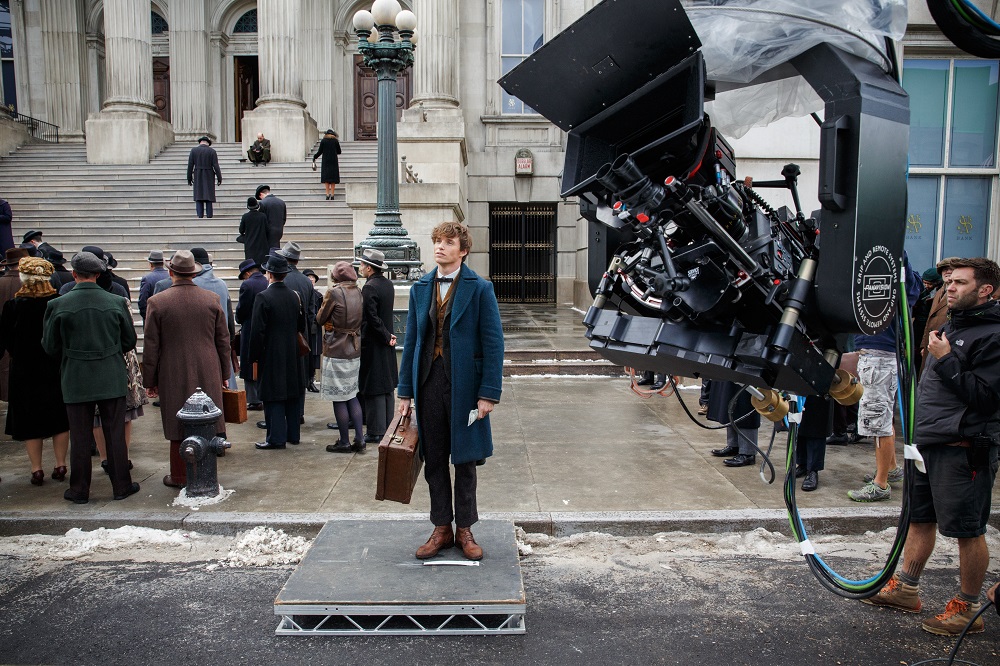 JASPER REES: How does it make a difference to be working in JK Rowling's magic world where, for once, the audience doesn't know what's going to happen?
DAVID YATES: For a filmmaker it's quite liberating, because obviously when we adapted the books many of the readers were so proprietorial about that material. They were so invested in the characters in every single chapter. So whenever we took anything out in our adaptation, which inevitably we had to because you were taking a 700-page book to a two-hour movie, they felt the loss profoundly, some of them, and quite rightly by the way.
So here Jo is writing purely for that cinema screen, 500 people in a darkened room together experiencing a story for the first time. And so there is no preconceived idea of where the story is before people come into the theatre. So it makes my job a bit easier. In some ways because I'm not having to take away things that we all love to squeeze into a two-hour cinema movie, for me personally it means working directly with Jo and [Potter scriptwriter] Steve Clovis. Jo writes the screenplay and it's a great privilege to see her work up close and how her imagination works. The sheer pace of work that she achieves is really impressive. It's a much more freeing experience for me as storyteller because we're bringing these stories completely freshly to the audience.
So you're not some kind of off-screen villain.
Correct. I'm not losing things that the fans will miss.
You've got a completely new cast. Is that like having a fresh set of paints to play with? (Pictured above: Yates with Alison Sudol as Queenie Goldstein)

Jo's gift for character is immense, and what makes the film feel fresh and not just a reboot of what was before is the fact that you're dealing with all these new characters in a different country in a different period of history. And the characters are as vivid and as wonderful, as winning, I believe, as the characters that Jo created in the Potter books. And I think over a period of time in this film and maybe another, people will start to invest deeply in these people. It makes everything feel fresh and new and different. And also it's a cast of grown-ups. Not a cast of children. It's like Potter for grown-ups, basically.
What have you gained by moving from contemporary Britain to the cinematically familiar world of 1920s New York?
It's funny. I was trying to look at movies set in that period. The Twenties to the Thirties. Certainly in the past 10 years it's a very under-utilised period. America in the 1920s and 1930s is a vibrant canvas in which to set a story. The Godfather 2 had some moments in that period and we were struggling to find movies from the last few years. So for me it is an under-utilised period, it's fresh, it feels quite different. One of the things that we found when we were testing the movie was that the audiences loved the period because they hadn't seen it in so many movies recently. What it brings in terms of storytelling is it takes us into the world of American magic, which is very different from the world of British magic. American magic is really all about the conflict between the magical world and the non-magical world and the fact that one is hidden from the other. That is quite a fascinating core to the story in this first film.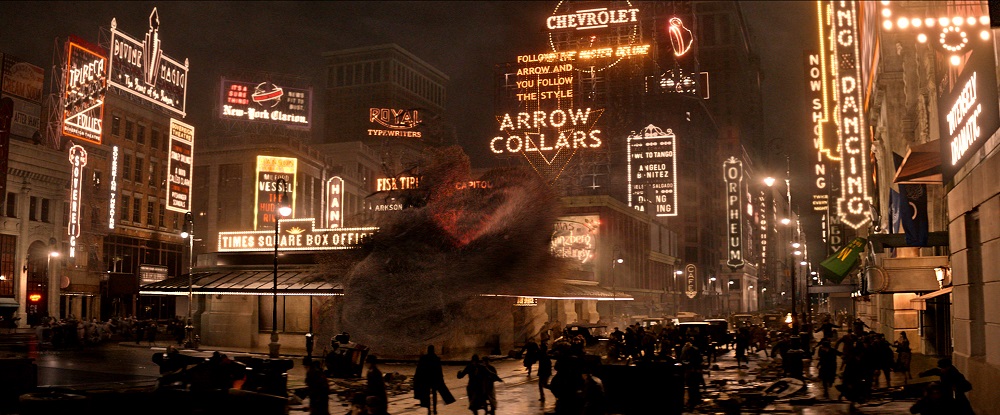 There are some astonishing effects in the film (pictured above). Has CGI come on since you shot Harry Potter and the Order of the Phoenix? Can you do things that you couldn't have done back then?
Textures are getting better, environments are much better, so there so many things now that feel more real. One of the most amazing things is digital doubles. When I shoot a scene at Watford and you've got lots of actors and extras in the foreground, in the deep background you can put these digital doubles that can move. And that's quite remarkable.
There are five of these films and your name is attached to all of them. Is there a possibility you might fancy a break from the world of JK Rowling's imagination?
I'm really committed to one movie at a time. I'd love to keep involved in all the films because I love working with these people, with Jo, with David Heyman, with Lionel Wigram, with Steve Kloves. But each movie is a huge undertaking. It's two years from start to finish. So I'm taking them one at a time. And if I can give 200 per cent to each one that's what will define my involvement, or not.
Are you the same director who made Abi Morgan's Sex Traffic, Paul Abbott's State of Play and of course Anthony Trollope's The Way We Live Now? They're very different from these films.
I think I probably am. I get to play with a bigger train set. Some of the issues that I explored in those TV shows I explore in these movies – and the ideas. Probably a bit more confident than I was then. I'm still as ambitious and I'm still as curious. This is what I really feel fundamentally. I'm only halfway through my career and my best work is yet to come – that's what I feel and I believe. Whether or not that will come to fruition, I certainly don't feel like I'm resting on any laurels. I got an award recently from Trinity College Dublin. This is a very posh award they gave to Joe Biden a few weeks before I got there. And I turned up and got this award and didn't know what I was going to say when I got it, but what it made me do was reflect on my career. As I held it I suddenly thought, I shouldn't be getting this now, I should be getting it in about 20 years. And I said, "Could you take it back and I'll come for it in 20 years? Because then I'll have finished the work I need to do." But they wouldn't take it back. In fact they were horrified. So I kept it. But I feel like it's a down payment for the work I still need to do on the journey I need to make.
Watch the trailer to Fantastic Beasts and Where to Find Them
It's like Potter for grown-ups, basically
Explore topics
Share this article