theartsdesk at The Green Man Festival |

reviews, news & interviews
theartsdesk at The Green Man Festival
theartsdesk at The Green Man Festival
The Brecons beckon sensitive rock aesthetes
Cate Le Bon: queen of the festival
The Green Man Festival is blessed by the expansive beauty of the Brecon Beacons, but this year, it was not blessed by the pagan rain deities. For two out of its four days, the downpour dominated, but the positive news was that this only created a very thin layer of mud, situated at strategic intersection points.
The Welsh mountain conditions also led to a bewildering variability, with more outfit changes than we ever dreamt of, as deluge switched instantly to burning sun, wispy wet-flecks to windy scorching.
The sprawling site is within reasonable bounds, with all of the stages in easy distance of each other, without suffering unduly from sonic bleed. This is one of the neatest, tidiest, and, er, greenest festivals around. Even in the heat of the headline peaking, there were only a scattering of beercans left trampled underfoot. Your scribe's previous visit was way back in 2004, when the location was Baskerville Hall, near Hay-On-Wye. My, how things have changed since its downhome, folksy (or folktronica) beginnings. The Green Man has grown up, but it's still not overcrowded, even though this year's was sold out.
If festivals with overweening high concepts are desired, then this is the one for sensitive rock aesthetes, for those who edge from singer-songwriter folksiness towards cosmic electronic extremity. Indeed, it's quite hard to point a digit at exactly where this long weekender's orientation lies, style wise. Nevertheless, we can all smile in knowing agreement when considering its musical furrow. This year's line-up was notably strong, and markedly varied.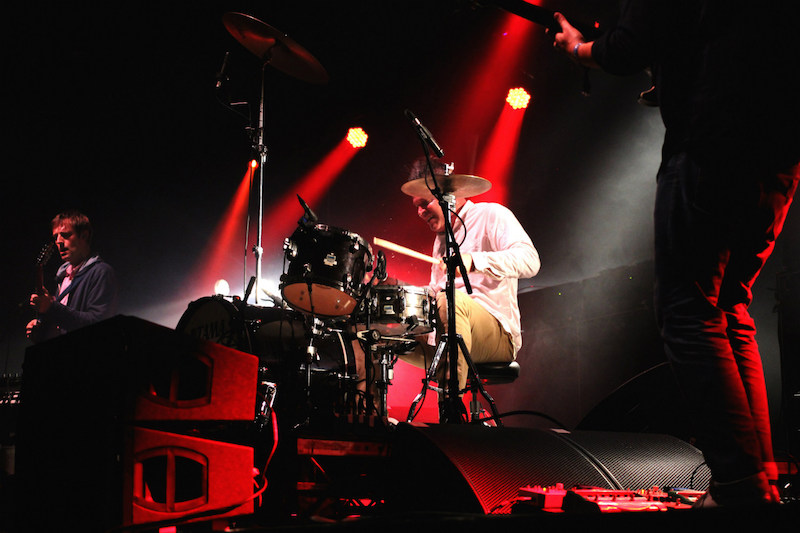 The King and Queen of the festival were Kiran Leonard and Cate Le Bon (main picture), the relatively young leaders of present-day accessible guitar complexity – these two boasting relaxed and supremely confident personalities, completely devoted to the transmission of their highly individual rock'n'roll languages. Le Bon enjoyed a prominent early Saturday evening position on the natural amphitheatre of the main Mountain Stage, whilst Leonard was tucked away in the cider-infused Walled Garden, playing at 11pm on the Friday night, 15 minutes before the major James Blake competition kicked in.
Leonard's songs make a convoluted prog-punk assault (Television or early Talking Heads spring forth in ear's eye), his vocals offhand and manic, his guitar parts loaded with acrobatic rifflets and howling tones, his band adept at following their leader's organic time-shunts and dynamic crescendos. Leonard throws all of his essence into the performance, prancing around in his socks, loins tensed, teeth gritted, his audience transfixed. As a mere 20-year-old, he is frighteningly advanced.
Cate Le Bon is 33, and her stage craft keeps rising to new levels with each gig experience. Once again, she's a natural, but the power coiled within her avant-pop hooklines is enough to magnetise throughout her 'greatest hits' hour. Her Welsh accent doesn't even sound particularly Welsh, but seems to emerge from the Nico caverns, her guitar solo bursts rationed out for maximum effect. Le Bon has an endearing stance onstage, legs kept rigid, upper body straight-angling, head sometimes banging, casually commanding and strangely intense. She has the tunes, the communication, the post-Robert Fripp constructions and the self-conscious quirk-factor required to be one of rock'n'roll's most adventurous practitioners today.
By far the most consistent festival run happened in the Far Out tent on the Saturday. Or was this just my predilection for stalking along the post-Krautrock electric riffage trail? During that day, it was possible to follow Beak> with Cavern Of Anti-Matter, running on to Michael Rother and Battles (pictured above), the placement of all these artists together making for an accumulating set of energies, as 4pm turned well past midnight. Repetition was paramount, but a repetition that was neither systems or house music, but descended from the Autobahn eternity of Neu! and their fellow German 1970s contemporaries.
Beak> have gained extra attention due to Portishead's Geoff Barrow being one-third of the membership, concentrating on his drumming and singing. Said stick work tends to be somewhat mono-maniac, without too many rhythmic surprises, but Beak> ran through what seemed a very brief set, at 45 minutes, interspersed with their wordy japing between each number.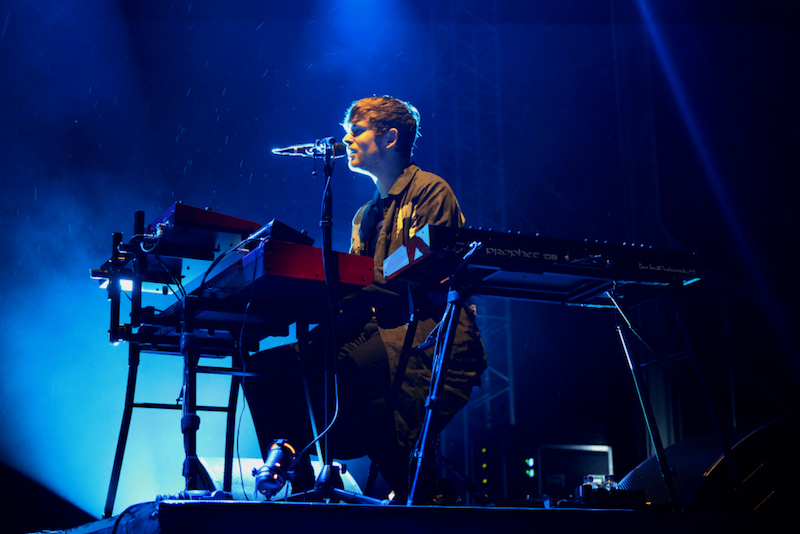 Cavern Of Anti-Matter developed some more involved beat-patterns, with guitarist Tim Gane (formerly of Stereolab) chugging out some rugged riffs, this second threesome drawing more successfully from the Krautrock template. The real deal arrived a few hours later, as guitarist and tabletop twiddler Michael Rother revisited the Neu! songbook, revealing how this powering trio format can reach its apogee. The bass and drums sounded mighty, but tended to drown out Rother's layers to a certain degree: he would have benefited from a volume hike at certain points. This was a set that found Rother at his absolute peak of recent years.
Words must be said about the weekend's fresh discovery on the Rising Stage. Meilir Tomos was the only act that I caught on that emerging artist platform during the entire festival, which is testament to the high level of already familiar bands on the bigger stages. Even this exposure was almost accidental. This Welshman sat playing amplified thumb piano, then switched to guitar, followed by a last stretch at the piano-keyboard, all the while singing with a forlorn, sincere directness, romantic and surely with no trace of any irony or cynicism.
Another new discovery, on a subjective level, was provided courtesy of Miracle Legion, turning in a cumulatively engaging set as Mark Mulcahy's unusually phrased vocals, pushy harmonica work and bendy-legged dancing provided added articulacy to the combo's already literary rock'n'roll. Mulcahy also strums acoustic guitar, but most of the forceful axe-work's cranked out by old cohort Ray Neal. They transcended the sogginess!
Following Kiran Leonard's exceptional set, James Blake (pictured above) still had 45 minutes to go, and was filtering in his hits, after a clutch of more recent, tougher, harder, denser works. There was a disappointingly anthemic aspect down on the grass, close to set's end, but that wasn't Blake's fault, just the way his melancholic, lonesome cries were interpreted by elements of the crowd. These songs are perhaps better heard alone, and on headphones, although Blake did produce some of the most hi-fidelity electronic textures of the entire festival.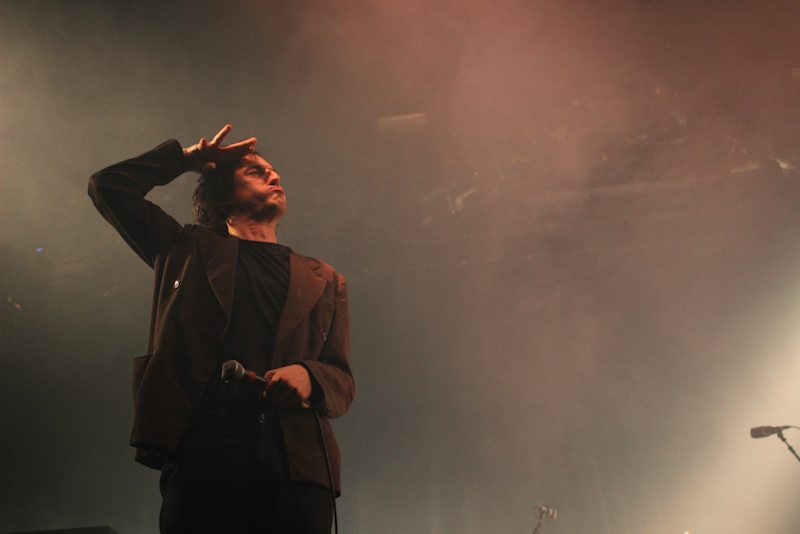 The next day, on the same stage, Tindersticks maintained a level tone, perhaps with some cumulative exploration of similar moods, but this is just a different manifestation of repetition, dependent upon sticking around to fully absorb their aura. Right at the other extreme, Fat White Family exploded onto the Far Out stage after 1am, pushing the rock caricature as far as it can still go, dishevelled, wiry, dazed and pustulous, guitars cranging, organ fibrillating, limbs flailing, singer Lias Kaci Saoudi (pictured above) swigging beer, howling or drooling into his microphone, writhing on top of the crowd, looking like he's about to become permanently derailed and deranged. Songs might not be so distinctive, but this outfit is more concerned with general sonic attack, and the build-up of the general grinding motion. They certainly ended up amongst the weekend's best performers.
Curiously, the next afternoon's set by The Moonlandingz (again featuring Saoudi) held a completely different mood, revolving around a glam retro-stomp, the lead vocals shared with Rebecca Taylor (of Slow Club), forming an unholy harmony. The Fat Whitey surprised with his very different style and delivery, lower-voiced, with a crisp enunciation. He'd also switched from beer to a full bottle of red wine, to celebrate the afternoon. Taylor departed around 3.40pm, to appear with Slow Club at 4pm on the Mountain Stage, leaving Saoudi to ably tackle the last 20 minutes alone.
As a complete contrast, Sam Lee was in the Walled Garden early on the Sunday evening, attempting to keep a serious demeanour in the face of a crowd-surfing blow-up hermaphrodite doll. Seriously, now, his presentation is superb, singing in the old-fashioned English (and Irish) folk way, but subtly altering the feel by occasionally almost rapping, his Mongolian hammer dulcimer, calabash and fiddle cohorts also adding to the faint dislocation. His every move is articulate, both whilst singing, and explaining the background to each song. The gathering was mostly hushed, and this was not only a festival high-point, but one of the subtlest sets of the weekend, ending with an amongst-the-crowd singalong.
Finally, the New Zealander Connan Mockasin was probably not in his best shape (the introduction mentioning severe travel-times and resultant sleepiness), so his reclined retro slow-funk-disco was so disengaged that it nearly sounded half-assed. We can all admire the ultra-fey up to a certain point, but Mockasin eventually roused himself, relatively speaking, for the last 20 minutes or so: perhaps he couldn't see the three rainbows that curved majestically from mountain to mountain, two of them at the same time, stacked in their magnificence. The rain, it seems, did contain a few positive qualities.