DVD/Blu-ray: Akenfield |

reviews, news & interviews
DVD/Blu-ray: Akenfield
DVD/Blu-ray: Akenfield
Suffolk village life deeply evoked by Ronald Blythe and Peter Hall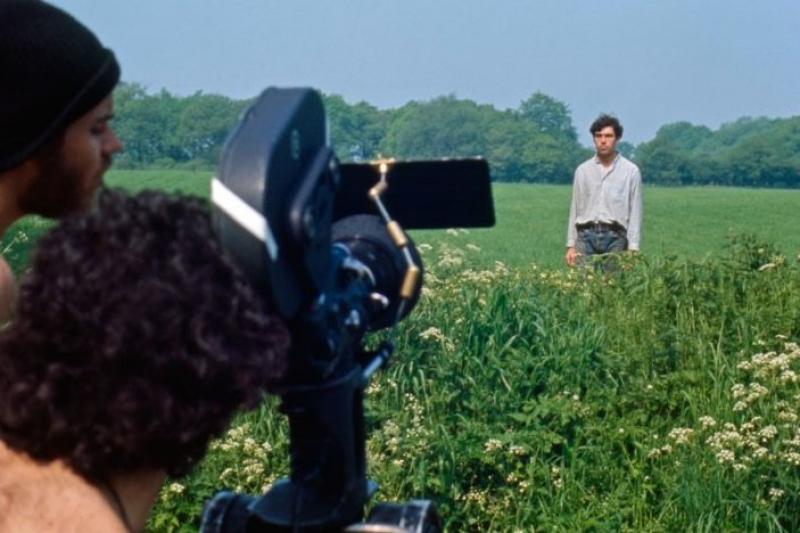 A field in England: Tom Rouse (Garrow Shand) on location
Peter Hall's 1974 film depicts English village life when its roots still ran deep, with generations sunk often unwillingly into the same soil. Based on Ronald Blythe's 1969 bestseller Akenfield: Portrait of an English Village, Blythe and Hall – both "Suffolk men who have been reconditioned into intellectuals", as Hall wrote in his diary – collaborated closely on location. Their amateur cast were drawn from the villages Blythe had canvassed for his non-fiction book.
Their East Anglian burrs are almost impenetrable, a land-locked language spoken under big Suffolk skies.
Garrow Shand plays sullen farmhand Tom Rouse, his father and his grandfather, old Tom, whose funeral day spans the film, and whose rueful narration and remembered hard life animate Akenfield's past. Old Tom as a youth passes his grandson as a present spectre in the fields. In the village church, too, the camera pans from a 1970s choir to young soldiers from the Royal Suffolk regiment decimated at Gallipoli, martyrs who seem to rise, transfigured, as they sing. Folk songs and Michael Tippett's pastoral score (the intended, local composer, Blythe's friend Britten, fell ill) add further grace notes. But it's Blythe's neighbour Peggy Cole, playing young Tom's widowed mother, who is most quirkily soulful.
Though it emphasises the countryside's back-breaking toil and claustrophobic limits, love for such lives seeps through a film of unusually intimate humanity. It confesses qualities which Hall, the Suffolk station-master's son who'd become a theatre grandee, felt buried inside him.
Akenfield was filmed over a year of weekends, financed by LWT for pioneering, simultaneous TV-cinema release, and watched by 13 million. This remarkable feat of personal filmmaking is explored in raw location footage, 2004 interviews with its principles, and that year's Return to Akenfield documentary, which reunites them 30 years on. It confirms that Akenfield's composite village has become real to those who made it: a magical, enduring piece of England.
The film confesses qualities which Peter Hall felt buried inside him
rating
Explore topics
Share this article