Demolition |

reviews, news & interviews
Demolition
Demolition
After 'Dallas Buyers Club' and 'Wild', Jean-Marc Vallée rebuilds another life, with Jake Gyllenhaal
'Demolition' man Jake Gyllenhaal
How would you behave if your wife was killed in a random car accident? In Demolition, Jake Gyllenhaal's Davis, a wealthy banker, is almost relieved – he can ditch his job, his house, nearly everything of his old life, and shack up with a total stranger.
Over the course of his three previous English-language films, Québécois director Jean-Marc Vallée has created successive award-winning tales with stand-out craft, scripts and performances. Whether Emily Blunt in Young Victoria adapting to life as queen, Matthew McConaughey fighting an HIV diagnosis in the Dallas Buyers Club, or Reese Witherspoon coming to terms with the death of her mother in Wild, all these films explored the rebuilding of a life.
Individual scenes work well but the uneven tone doesn't
Demolition is in one sense no different, following the exploits of Davis in what sounds like classic Oscar fodder, but falls short due to a hybrid script – part emotional drama, part comedy, but falling uncomfortably between the two. It also diverts away from Vallée's biopics by delving into a fictional situation that's too quirky to be serious, too serious to be consistently funny.
The opening scene promises tremendous things. It follows Davis and his wife (Jessica Lind) as they drive over Manhattan's Queensboro Bridge. He's on the phone, and they chat, bicker and exchange glances. It's a compelling and believable portrait in miniature. After the crash Davis wakes in hospital to find his wife is dead. Instead of reacting, he fixates on a broken vending-machine in the hospital and begins writing obsessively to the vending company to explain his situation and demand a refund. He knows he's supposed to be upset because he practises crying and looking sad in the mirror.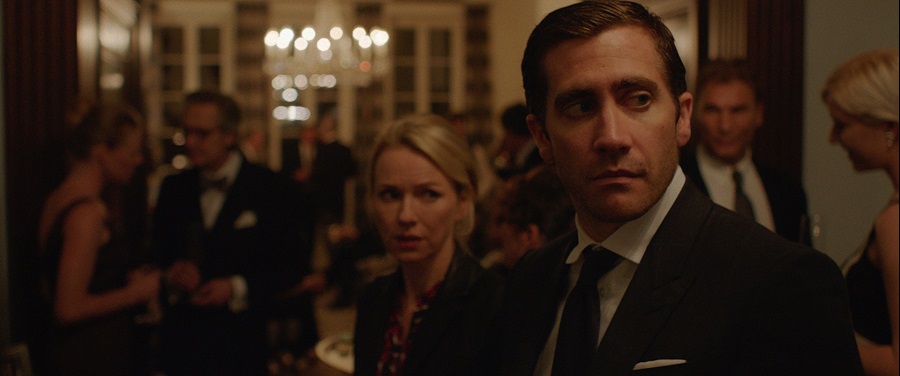 Is Davis a monster? Does he suffer from post-traumatic stress? While Demolition skirts around these questions, the vending company's customer service representative Karen (Naomi Watts, pictured above with Gyllenhaal) responds, and she and Davis embark on a strange, apparently chaste romance. She smokes weed and is generally chaotic but warm against the cold Davis. When Davis's father-in-law Phil (Chris Cooper) tells him to break everything down and build it back up, it forms the basis of the "demolition", metaphorically as his personality regresses to childhood, and literally as he starts to dismantle and destroy many of the appliances and other objects around him: the fridge, the coffee-maker, the squeaky toilet door, all the way up to the grand kitchen in his modernist house.
Davis also spends time with Karen's teenage son Chris (Judah Lewis, pictured below with Gyllenhaal) who dresses like a 1970s Mick Jagger. They form a strong bond, demolishing his house together with a bulldozer as the plot spirals further out of control with odd plot developments before a rather histrionic ending.
Scriptwriter Bryan Sipe has a background in comedy. He wrote Demolition a decade ago and it was picked up by the Black List, Hollywood's archive of the most promising unfilmed scripts. Individual scenes work well but the uneven tone doesn't. The dialogue works but the plot doesn't. Vallée and cinematographer Yves Bélanger make a fine-looking film wherever it ventures outdoors, capturing spaces around New York particularly well.
But for Demolition to work, Davis's reaction has to be plausible. The leads are not bad, but neither of their characters have much to work with. We simply don't get to know Davis, and this is a problem. Watts' Karen is similarly thin. The supports fare better: Cooper conveys shock, despair, anger and frustration with total conviction, while Lewis's exuberant, troubled teen could set him on the road to Hollywood.
Since making Demolition, Vallée has been on an extended break from Hollywood, leading TV series Sharp Objects and Big Little Lies, both due for transmission next year. His best is essential viewing, but Demolition doesn't meet these very high standards.
Overleaf: watch the trailer for Demolition