DVD: Ken Russell - The Great Composers |

reviews, news & interviews
DVD: Ken Russell - The Great Composers
DVD: Ken Russell - The Great Composers
Two of the greatest films about composers ever made, plus an interesting flop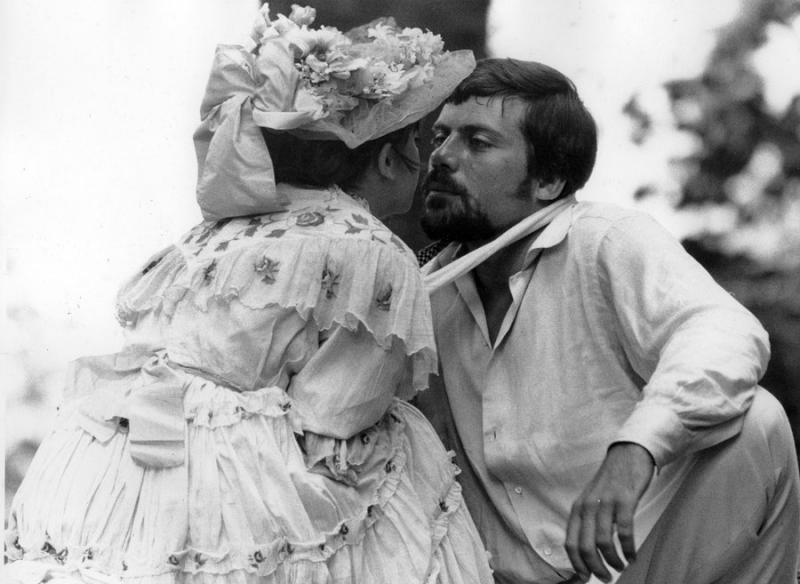 Oliver Reed as Claude Debussy
The earliest film collected here, 1963's Elgar, stands up incredibly well. Some of its quirks were imposed from above: fledgling director Ken Russell was initially employed by the BBC's Talks Department and was discouraged from using actors in his documentaries. So Elgar is packed full of reconstructions of scenes from the composer's life, though the actors never speak and there are no close ups.
All of which adds to the realism, aided by Huw Wheldon's sonorous narration of Russell's script. The images are glorious: the recurring scenes of Elgar traversing the Malvern Hills accompanied by his Introduction and Allegro are iconic, and his dogged pursuit of his wife-to-be Alice is wittily shown from a distance, the pair's closeness later evoked by a shot of their hands overlapping whilst playing piano duets. Russell's film, particularly in a sequence using battlefield newsreel footage, did much to rehabilitate the composer's reputation, showing us an introverted loner rather than a smug, pompous Edwardian. The closing shot, of a 78rpm record reaching its end as Elgar lies dying, is a heartbreaker.
It's also a chilling depiction of the horrors of elderly infirmity
Equally dazzling and more ambitious is 1968's Song of Summer, a portrait of the blind, syphilitic Frederick Delius and his relationship with his young amanuensis, Eric Fenby. Fenby, looking and sounding like a young Alan Bennett, is convincingly portrayed by Christopher Gable. Max Adrian's cantankerous Delius bawls at Fenby as the latter tries to assist him in completing a pile of unfinished works. As a portrait of a composer at work, it's absolutely riveting, and Fenby testified to the musical scenes' accuracy. Percy Grainger pops in, and Maureen Pryor's portrayal of Delius's long-suffering wife Jelka is spot on. It's also a chilling depiction of the horrors of elderly infirmity.
Less convincing is The Debussy Film, made in 1965 in collaboration with Melvyn Bragg, a barmy pseudo-documentary ostensibly going behind the scenes during the making of a film about Debussy. That such an offbeat work could be commissioned by the BBC now seems remarkable, and Oliver Reed's impersonation is surprisingly fine.
But the narrative tricksiness quickly becomes frustrating; Elgar's elegant, concise storytelling is so much more effective. Image and sound in all three films are superb, and the documentation is exemplary. Plus we get commentaries from Russell (accompanied by the late Michael Kennedy in Elgar), and bonus footage of Elgar conducting. A five-star release, despite reservations about The Debussy Film.
Russell's film did much to rehabilitate Elgar's reputation
rating
Share this article