First Person: Writing about the transgender experience |

reviews, news & interviews
First Person: Writing about the transgender experience
First Person: Writing about the transgender experience
Jon Brittain on gender, sexuality and the journey of researching his new play
Playwright Jon Brittain (right) in rehearsal with director Donnacadh O'Briain
My play Rotterdam opens this week at Theatre503 (I'm getting the plug in early). It's about two women who are in a relationship and how that relationship changes when one reveals that he has always identified as male. Their names are Alice and Adrian, and I first had the idea for them five years ago.
Well, that's not strictly true – they'd been hovering around for a while before that. I have a couple of transgender friends who've transitioned from female to male, and though I was never bothered by their coming out, what gave me pause for thought was the realisation of how little knowledge I'd had beforehand about transgender people's experiences. This was before Banana and Boy Meets Girl, and looking around at film, television and theatre, I couldn't see much that reflected my friends' lives. I'd also become interested in writing about the fluidity of sexual identity, having known several people whose sense of sexual orientation did not match up to the long-term relationships they found themselves in. (Pictured below: Alice McCarthy and Ed Eales-White in rehearsal.)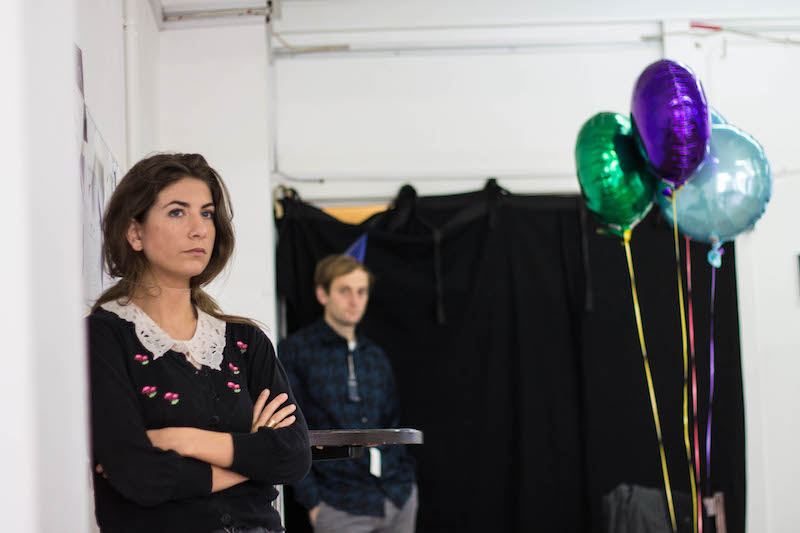 Both thoughts were simmering away when one day in 2010 the idea popped into my head: "What would happen if a woman who'd taken years to come to terms with being gay had a girlfriend who realised they needed to live as a man?" In that moment the characters arrived almost fully formed, and I knew I wanted to use them to write a play: one that explored gender and sexuality, that asked some of the questions I'd had myself, and that shed light on an experience often under- or misrepresented in popular culture. And so I immediately began work.
Well, I say "immediately"; it took me another two years to actually begin a first draft, as I wanted to educate myself on the issues. I had no first-hand experience of either being trans or being in a relationship with someone who was, so I began with first-person accounts from people who did. Books, blogs, YouTube videos: I tried only to consume work written or made by trans people and their partners rather than about them. Partly because I found it more interesting, partly because I didn't want to be influenced by the prejudices or conclusions of those who had gone before me, but mostly because I wanted to come to terms with the emotional truths of the situation.
Doing this completely changed my perspective. Not so much by challenging what I had already learnt from my friends, more by making me really engage with it. I'd always accepted that by transitioning they weren't changing who they were, but more truthfully expressing who they had always been, yet I'd never properly considered what it might feel like to be living in the wrong body. Obviously I couldn't hope to understand it in the same way as someone who's lived through that, but the more I read the more I engaged, and the more I engaged the less I thought about it and the more I felt. After over a year of this I was actually ready to begin writing the play, and I soon discovered which aspects of my research I was going to be able to use, and which I would have to ignore. (Pictured below: Anna Martine, Jessica Clark and Alice McCarthy.)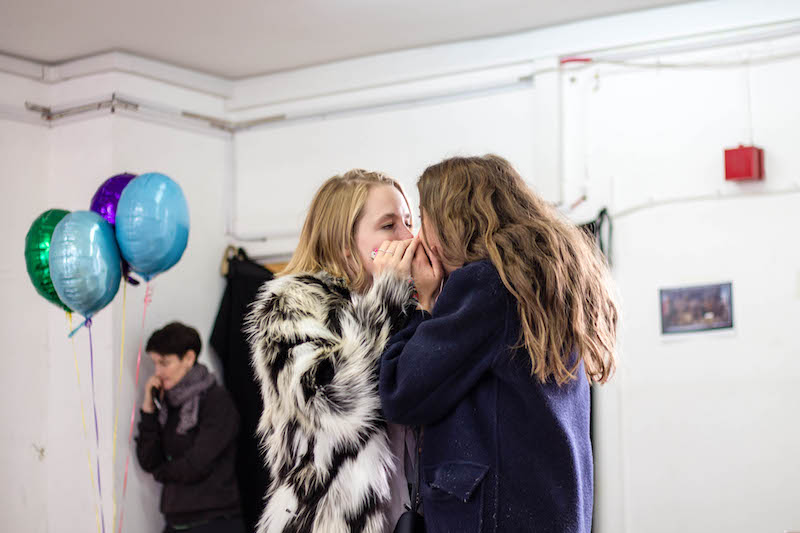 I should explain. When I was writing this play I felt two pressures. One was obviously just not to get things wrong. But the other was to make sure it was actually about Alice and Adrian. It would have been very tempting to try to make this couple represent the experiences of ALL trans people and their partners. But that's impossible. There's a huge diversity of experiences and things that are true for some people simply aren't for others, just as some things weren't true for my characters. For instance, Adrian is not non-binary – he very much identifies as male. Alice is not bisexual – she identifies as gay. That's not to diminish or discount other experiences, but there wasn't room in the play to fully explore those that didn't apply to these characters.
The other trap I was wary of falling into was making them too perfect. I believe in the need for positive portrayals of LGBTQIA characters after years of negative or no representation, but for them to actually be characters they need to have flaws. I wanted Alice and Adrian to be just as conflicted and human as any other person I write. So Adrian has moments where he's unreasonable, repressed or bad-tempered, and Alice where she's uncaring, selfish or dishonest. I wanted them to get things wrong, to struggle with the shift in their relationship, to fail before they succeed. Simply put, I wanted them to be people, not paragons.
After a few years and many more drafts, I felt ready to face the most daunting challenge of all: actually showing it to the LGBTQIA community. I was very wary about approaching people, knowing that too often these kinds of interactions can feel exploitative, and, as a struggling playwright, there was little I could offer in return for their time and feedback. Fortunately I was able to get a message to a network of trans artists and several got in contact, including Rebecca Root from Boy Meets Girl, who very generously read the script and gave me notes. As did my friends whose experiences had inspired me to think about these ideas in the first place. (Pictured below: Ed Eales-White and Anna Martine.)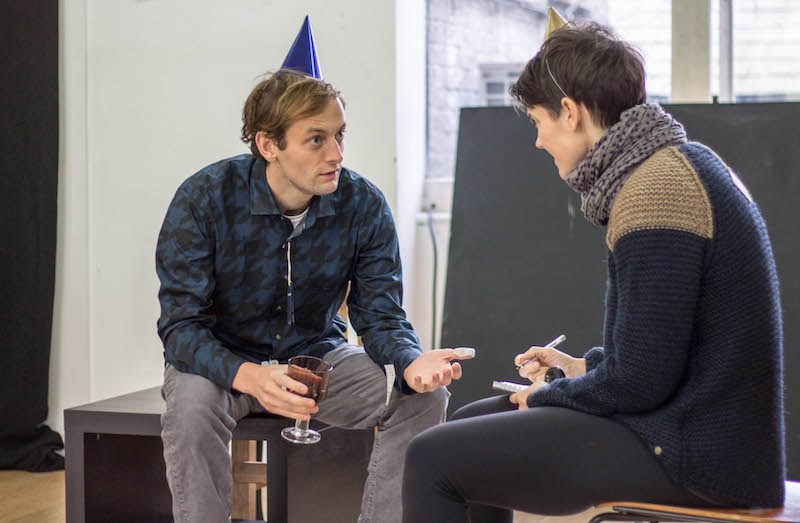 This process weeded out mistakes (I had included the phrase "sex changes", which they rightly pointed out was outdated) and was especially helpful when it came to portraying Alice and Adrian's knowledge (or lack thereof) about the politics and language surrounding being transgender. They're finding their way and don't always know what the right words are, but I didn't want to give the audience any wrong ideas. So if a character says something incorrect out of ignorance, I address it. It's OK for Alice to use the phrase, "You want to become a man?", because later in the scene Adrian corrects her and explains that in actuality, all these years, he's just been trying to be a woman.
Left to my own devices, I'd probably still be tweaking the script now. However, unbeknownst to me, Steve Harper at Theatre503 read the play and gave it to both Roy Williams, who chose it for his Playwright Presents evening, and Donnacadh O'Briain, who liked it so much he decided to direct it. To my utter terror and delight, five years after coming up with the idea, Rotterdam is finally going to be presented to an audience.
There's much more to talk about – I haven't even told you why it's called Rotterdam*, or who the other two characters are**, or even that it's a comedy!*** All I will say is it's been a long time coming, and in that time, some of the things that spurred me on are no longer as true. Thanks to shows like Transparent, Orange Is the New Black and the aforementioned Boy Meets Girl trans characters are more visible in popular culture than ever. And yet I have no less confidence that there is a place for Rotterdam. Because despite all the TV dramas and articles and documentaries there will still be people like the younger me, who have never seen anything that talks to them about the experience of being trans or being close to someone who is. There will still be people like the me who started writing this play, who've thought about it but not emotionally engaged. And maybe, just maybe, there will be one or two people going through some of the same experiences Alice and Adrian are, who think they're the only ones, but who take a chance on a show one night at a pub theatre in Battersea and see their lives reflected on the stage.
My play Rotterdam opens this week. It's a story about two people. Their names are Alice and Adrian. I can't wait for you to meet them.
* It's set in Rotterdam.
** Alice's Dutch workmate Lelani and Adrian's brother, Josh.
*** It's a comedy.
I'd never properly considered what it might feel like to be living in the wrong body
Explore topics
Share this article