theartsdesk at the Chicago Jazz Festival |

reviews, news & interviews
theartsdesk at the Chicago Jazz Festival
theartsdesk at the Chicago Jazz Festival
Enthusiastic audiences celebrate a programme spanning be-bop to free extremity
Sunday, 20 September 2015
Muhal Richard Abrams (left), co-founder of the Association For The Advancement Of Creative Musicians, with Wadada Leo Smith
The Chicago Jazz Festival is a freebie extravaganza, held over the Labor Day holiday weekend, its massive crowds welcomed by the looming chromium jelly bean that is sculptor Anish Kapoor's Cloud Gate. Onward into Millennium Park, right on the shore of Lake Michigan, there are a pair of long tents for the afternoon sets, with alternating bands ensuring constant musical motion.
The evening performances take place on the impressive Jay Pritzker Pavilion stage, designed by Frank Gehry. Completed in 2004, it's been the jazz festival's home for the last three years of its 36-year history. It's as if an indoor construction has been booted outdoors, with elaborately gargantuan steel 'shavings' curling around the central stage and PA speakers suspended around a spaciously latticework pseudo-canopy that extends right over the lawn, beyond the fixed rows of seats down the front.
Celebrating the decades was a crucial element of this year's programme
All levels of engagement are offered as a result of this set-up. The committed jazz acolyte can sit right down the front, if they can find a seat, whilst the more casual observer can lay down a picnic blanket on the lawn, not feeling as though they have to cease all conversation and concentrate intently. In fact, the opposite state is more likely. Ranged around the outer perimeter are food and beer tents, although the latter dominate, plus numerous stalls, with magazines, organisations and radio stations promoting their wares.
There were an estimated 140,000 visitors coming and going over the four days of the festival, but none of the stages seemed too crowded at any one point, with a choice between bands or general hanging out acting as a natural easing factor. Folks were constantly in motion, but there were many that stayed for entire sets, or at least half of each performance, if they wanted to investigate all of the acts.
Celebrating the decades was a crucial element of this year's programme, with the centenaries of singer Billie Holiday and composer/arranger Billy Strayhorn being marked. The most important anniversary was for a mere 50 years, though, with an acknowledgement of the Association For The Advancement Of Creative Musicians' significant contribution to Chicago jazz, and powerful influence on the global state of adventurous music. The AACM has been a platform for some of the finest sonic explorers, whether jazz, free improvisation or moderne composition, including Anthony Braxton, Leroy Jenkins, Fred Anderson, Jack DeJohnette and the Art Ensemble Of Chicago.
The final set on the final day involved a revival of the Experimental Band, led by pianist and co-founder Muhal Richard Abrams (pictured above) since 1962. Its large line-up featured some of the city's most revered players, including trumpeter Wadada Leo Smith, reedsmen Roscoe Mitchell and Henry Threadgill, trombonist George Lewis and pianist Amina Claudine Myers. This set was of great symbolic significance, and eagerly anticipated, but its reality was somewhat disappointing.
The eight-piece unveiled their bold new breed of extreme swing free-blowing
The set's hour-long piece had the aura of a composed work, with Abrams conducting carefully, the players studiously following their scores. Ultimately, there were only isolated bursts of collective activity, with the set dominated by extended solos, their content presumably improvised. This was a radical swerve from the key appeal of having such an exciting sweep of artists, gathered together on one stage. The Abrams cues for the full ensemble to strike came only sporadically, with a particularly endless flute solo appearing to send the horn section, as well as the audience, to the brink of narcosis. This was succeeded by a trombone and bass duet that was similarly lacklustre. The work was intent on a rigorous self-exposure, as if individual abilities were being diligently showcased. The most compelling sequence was right at the end, with a brief piano confrontation between Abrams and Myers, preceded by a percussion tussle which commanded equal attention.
Fortunately, there were ceiling fans in one of the two afternoon tents, which hopefully didn't sway the choice of which bands to catch, given the blistering conditions outside. A certain festival winner was the set by bassist Jason Roebke's Octet. Where the Experimental Band might have disappointed, this crew delivered the absolute essence of composition locking horns with improvisation, resulting in a runaway demonstration of extreme, unpredictable excitement. This combo's heavy on the horns, negotiating themes and solos with frequently blurred demarcations, organically threading into a monstrous entity. Mike Reed's drum-metal extensions matched Jason Adasiewicz's dismantled vibraphone clatters, shaken to stir, as he loosened his bars, or smashed down his flattened mallets. Afro-inclined beats emerged, with low riffs led by Jason Stein's bass clarinet and Jeb Bishop's trombone, the latter delivering a raspy exorcism. Stein issued his own rugged solo, clashing with Reed as a stripped duo, then the entire eight-piece re-entered to unveil their bold new breed of extreme swing free-blowing.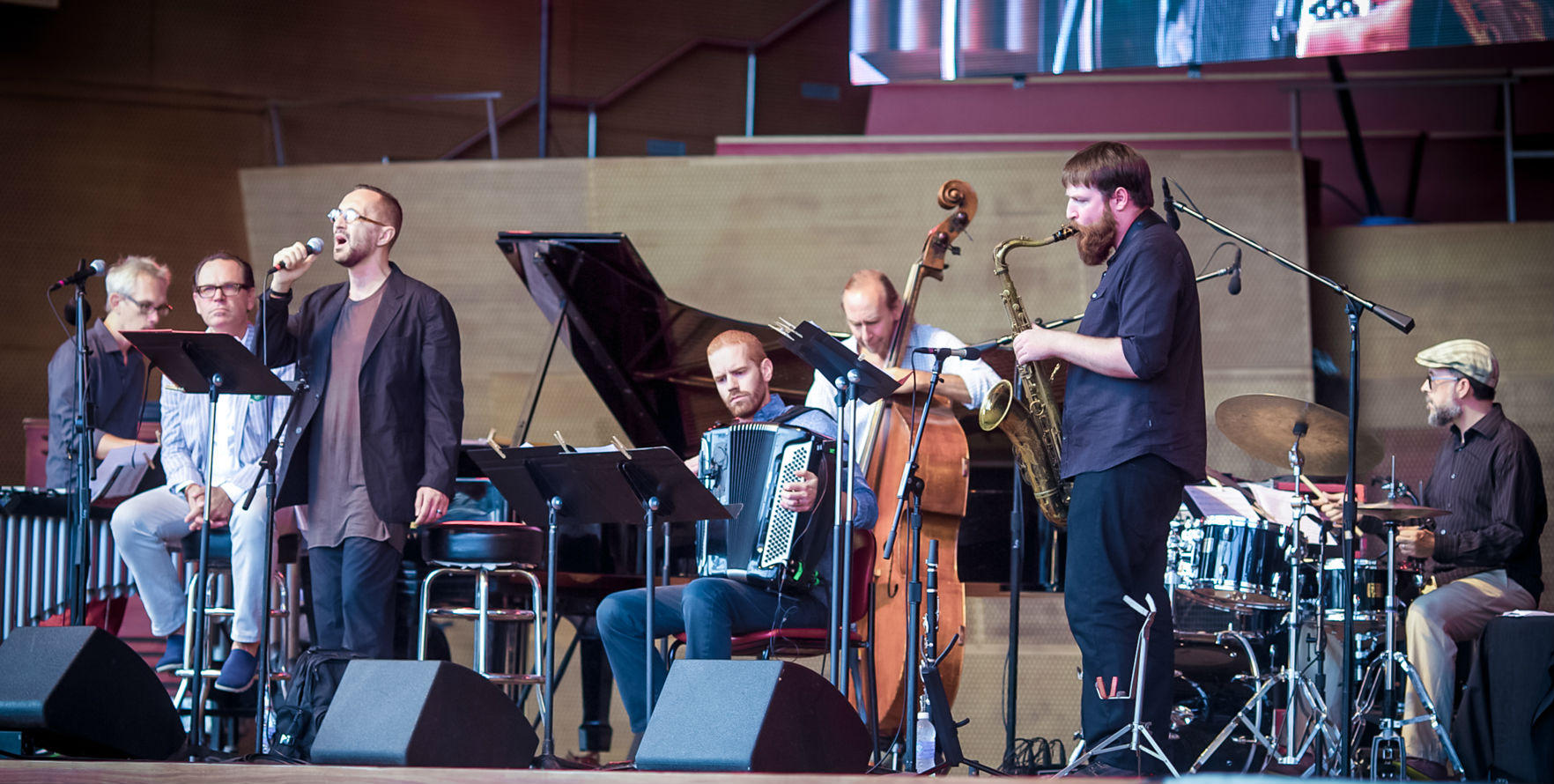 Singer José James paid tribute to Billie Holiday with a set of re-workings that had little in common with their inspiration, in terms of style and delivery. The debt was paid via spirit and feel, with James stuttering and repeating his "Body And Soul" lines like a virtual turntable, in a fresh form of jazz scratch-scatting.
The Chicago Jazz Orchestra observed another centenary with a set of Billy Strayhorn tunes, using the graceful Duke Ellington palette as a starting point, but also commissioning new arrangements. An expressive "Chelsea Bridge" had tenorman Eric Schneider emoting fully, followed by a new incarnation of "Isfahan", penned by Claudia Quintet (pictured above) percussionist John Hollenbeck. Drums dominated, with horn sections quite subtly smeared, growing out of introversion as the treatment progressed. Trumpeter Steven Bernstein had already delivered a robust set with his Hot 9 on the opening night, returning to conduct his reconstruction of "Passion Flower". This was the best arrangement of the set, beginning impressionistically with muted trumpets, employing precise spatial relationships, with roseate trombones, graduating into a pointillistic lope and finishing with a 1960s soul-groove guitar showcase, a dash of soft reggae added, closing with a manually controlled fade-out. If new arrangements are sought, then it's preferable that they have the authority to radically rewire a composition.
Another major figure of the AACM is reedsman Douglas Ewart, whose vocal-dominated Inventions addressed the recent state of Stateside racial tensions, in a tense crossfire of narrative poetry and declamations. This stepped to just the wrong side of the cool retro/dated rut divide. The set's highlight was the harmoniously throbbing tussle of three didgeridoos, Ewart's boasting a sliding mouthpiece. A snatch of Ornette Coleman's "Lonely Woman" floated by in free-reggae mode, Ewart acting as a pied soprano piper.
It was a revelation to witness Elling in a more obviously satiric mode
By this time, Coleman's tune was already established as the festival's official anthem, to mark the recent passing of its pioneering author. Sometimes bands would play the whole song, others sidled in with a brief quote. As it's one of the mightiest jazz standards of the past century, this was an act to savour rather than berate for its repetition, a diverse set of incarnations jolting the crowds into melancholy reveries.
The Claudia Quintet arrived in their expanded form, with singers Kurt Elling and Theo Bleckmann guesting, sounding almost like a jazz band, with less of their expected post-rock minimalism on board. Even so, this narrative poetry concept was still far from what most folks might consider jazz. It was also the festival set with the most humour, but shaken up with some starkly serious observations from multi-discipline Ohio poet Kenneth Patchen. It was a revelation to witness Elling in a more obviously satiric mode, a veritable stand-up comedian, clad somewhat similarly to Vic Reeves in boating gear. He veered from sloshed dreamscape tall tales towards stripped pulp fiction economy, then shaking a water bottle maraca and making yelping exhalations. Bleckmann was his foil, inserting outbreaks of free-scat, whilst Hollenbeck's crew maintained a spiky-topped pulse that capably served the texts.
Tenorman Mark Turner (pictured right) was also found in an alternative light, his intense quartet delivering a set which was much less introverted than its leader's recent norm. The combination was perfectly balanced, with Turner audibly inspired by the crisp enunciations of his young trumpet cohort Jason Palmer, who will doubtless leap even higher in the coming years. This was the weekend's best, and most authoritative, example of mainline jazz.
Guitarist Jeff Parker, a Chicagoan best known for his work with Tortoise, was chief contender for the fest's Ubiquitous Presence Award, appearing with four bands, one of which was his own trio. Following 30 minutes of luminescent post-Wes Montgomery flowing, he abruptly developed a funk hardness, ribboned with atonal embellishments, finishing up with the compulsive riff of "Mainz", but, alas, awakening much too late in the set.
The Canadian Jane Bunnett (flute/soprano saxophone) presented her current band of female Cubans, Maqueque, setting up a confrontation between free-thinking jazz and hardcore Havana rhythms, with drummer Yissy Garcia impressively transforming a conventional kit into a set of virtual timbales. Their energy was infectious, facilitating an encore in a situation that didn't normally allow them.
In retrospect, the French singer Cyrille Aimée's (pictured left) set held a curious value, as the penultimate festival performance, preceding the Experimental Band. With her rapidly switching repertoire, duelling Django-esque guitarists, operating with a stunning high-speed virtuosity, and little details like a Tibetan prayer bowl song background, Aimée held subjectively more surprise power than the Abrams crew. This was one of the festival's weirdest contrasts, in a line-up that bounded from be-bop to free extremity, the crowds appearing to honour all stylistic sides with their careful attention.
Subscribe to theartsdesk.com
Thank you for continuing to read our work on theartsdesk.com. For unlimited access to every article in its entirety, including our archive of more than 10,000 pieces, we're asking for £3.95 per month or £30 per year. We feel it's a very good deal, and hope you do too.
To take an annual subscription now simply click here.
And if you're looking for that extra gift for a friend or family member, why not treat them to a theartsdesk.com gift subscription?