Dior and I
Dior and I
New to couture, designer Raf Simons races to prepare the Christian Dior collection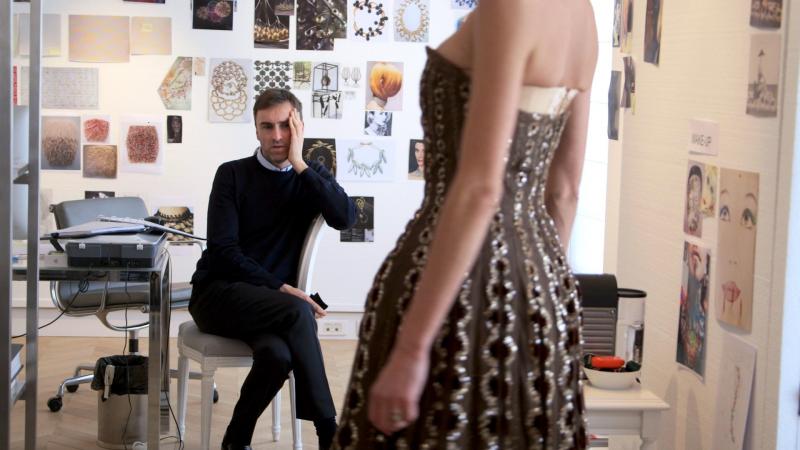 Designer Raf Simons under pressure
If anyone thinks high fashion is an airy-fairy world populated by flibbertigibbets preoccupied with frills and furbelows, Frédéric Tcheng's feature-length documentary Dior and I, a behind-the-scenes account of the race to prepare the 2012 Christian Dior couture collection in record time, should set the record straight. This is a serious business, with investors' money and employees' jobs riding on the quality and execution of one person's artistic vision.
In fact, in this aspect, and in the number of dedicated and highly skilled craftspeople it employs, launching a collection resembles nothing so much as making a movie.
A variation on the "you're going out there a chorus girl, but you're coming back a star" genre, the story centres around designer Raf Simons, plucked from relative obscurity designing for niche label Jil Sander and promoted, in the wake of former supremo John Galliano's very public meltdown and subsequent firing, to the fashion premiership at Dior, the venerable and prestigious label virtually synonymous with high-end couture.
Launching a collection resembles nothing so much as making a movie
Added tension arises from the fact that this is Simons' first experience designing haute couture, that he has only eight weeks to prepare the collection instead of the usual six months, and that he has to switch from Sanders' minimalist, androgynous aesthetic to Dior's delicate femininity. Furthermore, since Dior is the leading fashion brand of the world's biggest luxury goods group, LVMH, the result will be under an enormous spotlight.
Such pressure did for Galliano and Alexander McQueen, though it's not until the end we see the toll it has taken on the reserved Simons. A quiet, thoughtful figure, he is very different from larger-than-life fashion dragons like Valentino and Diana Vreeland, the subjects of Tcheng's previous documentaries.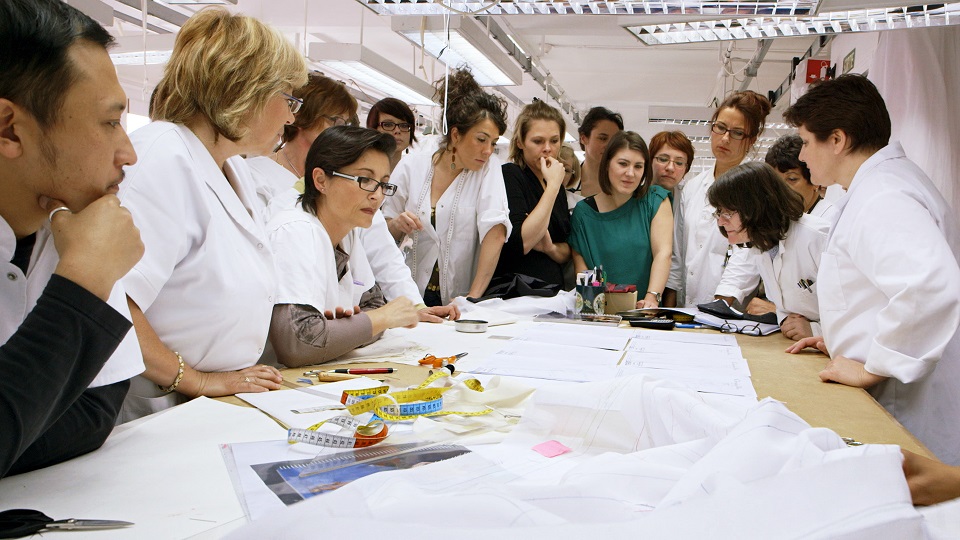 However, he is greatly aided by his secret weapon, the petites mains, the team of seamstresses whose expert workmanship is at the heart of the operation (the Dior team confers, pictured above). In their white lab coats, tape measures draped and pouches containing pins and scissors hung around their necks, and, invariably, glasses, these working-class women, many of whom have worked at Dior for decades, create the beautiful tailoring and embellishments the atelier is renowned for. Although worried that "we look like we don't fit" at the glamorous climatic catwalk show in their far-from-couture dresses, they turn up to maternally cheer Simons on.
The world of clients who order €350,000 worth of clothes per season and fly a dressmaker from the atelier to New York just for alterations may seem at best alien and at worst decadent, but anyone who enjoys seeing the process behind creating a beautiful object and a peek into a rarified world should find Dior and I a good fit.
Overleaf: watch the trailer for Dior and I
He is greatly aided by his secret weapon, the 'petites mains', the team of seamstresses whose expert workmanship is at the heart of the operation
rating
Share this article