LFF 2014: Listen Up Philip |

reviews, news & interviews
LFF 2014: Listen Up Philip
LFF 2014: Listen Up Philip
Alex Ross Perry's retro comedy is as mirthful as it is mean
Saturday, 11 October 2014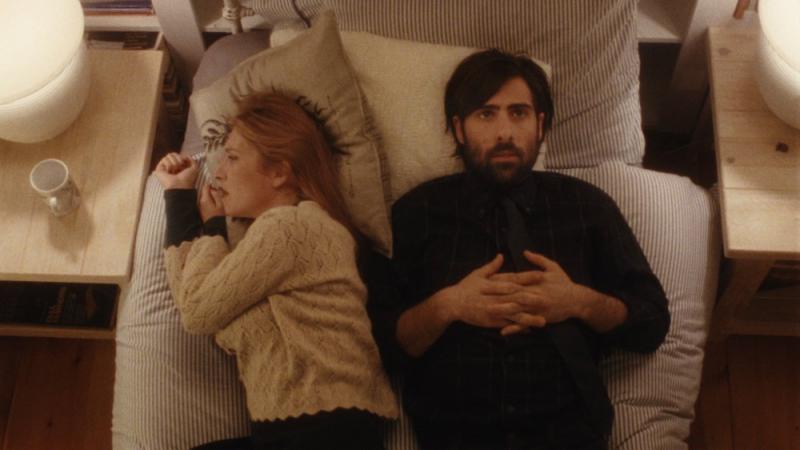 Jason Schwartzman ponders his future in 'Listen Up Philip' while the women beside him despair
Listen Up Philip is so successful in its retro stylings that it comes across like a lost New Hollywood gem.
Told in close-ups viewed through the grainy filter of Super 16 film stock, Alex Ross Perry's third feature takes its influences from the best of Seventies cinema, marrying the wit and navel-gazing of Woody Allen with the laid-back cool of Robert Altman (circa
The Long Goodbye
), while the film evokes John Cassavetes in its intimate portrayal of a relationship in tatters.
It begins with our protagonist bragging about his accomplishments as he delivers a pointless and nonchalantly received dressing-down to an ex. Invigorated by the experience, he calls up an old college room-mate to do likewise. This is our introduction to unabashed arsehole Philip Lewis Friedman (Jason Schwartzman, playing an aggressively misanthropic version of his Bored to Death character), an already somewhat acclaimed author awaiting the publication of his second novel. His relationship with photographer Ashley (Elizabeth Moss) falls apart as he's taken under the wing of Ike Zimmerman (Jonathan Pryce), also an author and also an insufferable prick, but one who's better practised at both.
The film might seem wedded to the past but the cast couldn't be better examples of exciting, modern talents: Krysten Ritter brings a touch of emo-chic as Ike's daughter; Schwartzman has an unshakeable association with the arch and meta; while Moss – best known for playing trailblazing women – rocks a fresh sporty bob and during a lingering extreme close-up shows us a range of emotions Gena Rowlands would be proud of. Listen Up Philip is hilariously funny and stingingly cruel and, when the melancholy sets in, surprisingly affecting. With its cross-generational friendship it recalls Schwartzman's breakthrough film, Wes Anderson's Rushmore, but Perry gets right up in the faces of his characters rather than holding us at a carefully judged remove.
Hilariously funny and stingingly cruel and, when the melancholy sets in, surprisingly affecting
rating
Explore topics
Share this article