At Berkeley |

reviews, news & interviews
At Berkeley
At Berkeley
A rigorous trawl behind the scenes of a grand institution
Monday, 08 September 2014
How to keep the gates of education open: hike tuition fees, or attract more income-generating foreign students
Ever since his 1967 breakthrough film Titticut Follies, an unsparing look at a Massachusetts prison for the criminally insane, Frederick Wiseman has been turning his dispassionate observational camera on the workings of institutions ranging from the US Marines to high school, juvenile court, and the American Ballet Theater.
His latest,
At Berkeley
, is an in-depth exploration of the University of California's San Francisco Bay Area outpost (UC is made up of several self-contained component universities distributed across the state, with Berkeley the jewel in the crown).
Expecting anyone who isn't the most devoted alum to sit through a four-hour documentary that forgoes narration, music, emotional journeys, or largely even action beyond walking and sitting in favour of intellectual rigour is a big ask. It's perhaps an even bigger ask to expect this kind of dedication from a British audience that has enough concerns about its own universities.
However, this documentary sheds light on many of the same questions facing higher education in the UK, primarily how can a state-funded institution continue to maintain high standards and broaden access in the face of drastic funding cuts?
It may be hard for UK audiences to believe there is trouble in paradise
Several scenes document meetings of university committees discussing how to find annual savings of $75 million while retaining a traditionally diverse student body (the remarkable racial diversity extends to faculty and administration) and remaining competitive with privately-funded Ivy League universities.
As in the UK, two answers emerge: one, hike tuition fees (raised 32% last year alone - like British universities, UC Berkeley used to be free, at least to state residents), with professional degree programmes charging even more, resulting in the next generation of lawyers, engineers and so on being disinclined to enter the public sector. The other: attract more income-generating foreign students, especially from China, though whether this will reduce places available for the children of the taxpayers who fund the university is left unclear.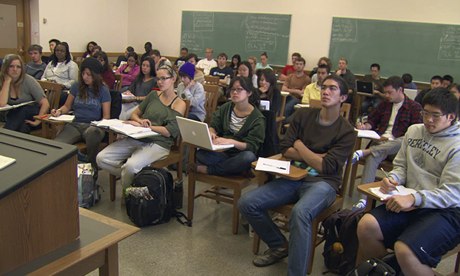 Wiseman intercuts scenes of strategy meetings with auditing a variety of lectures, seminars and research projects to give an idea of Berkeley's wide scope of intellectual activity. By the end, you may find you've learned more about advanced prosthetic technology, the likelihood of interplanetary travel (not for several generations, if you're wondering), how the brain creates a sense of time, and John Donne's use of imperatives. Former Clinton Secretary of Labour Robert Reich - unidentified, like all speakers - turns up as a professor lecturing on public policy.
Brief respites from all this talking are provided by glimpses of extra-curricular activities such as student theatrical productions, women's lacrosse, and freshers' week. Football (the US kind) is given short shrift considering its huge popularity. Mostly we see students walking to class across wide plazas and stationary shots of UC Berkeley's ace in the hole, its setting. Indeed, looking at the immaculate lawns, forested paths with giant conifers, abundant sunshine, and spectacular views, it may be hard for UK audiences to believe there is trouble in paradise.
Wiseman relies on an accumulation of neutral verité footage to induce the viewer's conclusion
But inevitably the subject returns to the financial squeeze, whether in a meeting about how childcare for junior faculty can continue to be subsidized, a financial aid Q&A session for students, or a seminar where an African-American student acidly observes, somewhat unfairly, that student debt never became a burning issue until it started affecting students from the suburbs. With the university determined to keep subsidies for low-income students in place, it is primarily students from the rapidly sinking middle class who now have to take on huge debt.
This leads to the film's narrative climax, such as it is - an Occupy-type takeover of a school library. But everyone leaves quietly (why is never explained) and the exercise is largely dismissed by both the administration and other students due to its scattershot list of demands and lack of an underlying philosophy.
In his own understated way, Wiseman evokes a poignant contrast with UC Berkeley's most historically resonant moment when Mario Savio galvanized the campus's Free Speech Movement (cozily commemorated in the name of a new café) and the 60s' student protest movement in general with a fiery, memorable speech that urged his fellow students to resist becoming cogs in the corporate machine but instead "to put your bodies upon the gears and upon the wheels… and you've got to make it stop!"
A contemporary speaker interviewed for the campus television station comes close to echoing this eloquence, and gets to the heart of Wiseman's argument, when he points out that inequality in the US is greater than at any time since 1929 and that some of the richest men in America are refusing to raise or pay taxes, thus defunding public education, "the engine of social mobility," another observation that may resonate with UK viewers.
The opposite of an entertaining polemicist like Michael Moore, Wiseman instead relies on an accumulation of neutral verité footage to induce the viewer's conclusion. At Berkeley is a bit of an All-Bran watch, it takes some determination to get through and doesn't go down particularly easily, but if you can stick with it, you may feel enriched.
Overleaf: watch the trailer for At Berkeley
This documentary sheds light on many of the same questions facing higher education in the UK
rating
Explore topics
Share this article