Frightfest 2014: Preview |

reviews, news & interviews
Frightfest 2014: Preview
Frightfest 2014: Preview
Werewolves, psychopaths and bloody murders deliver disturbing delights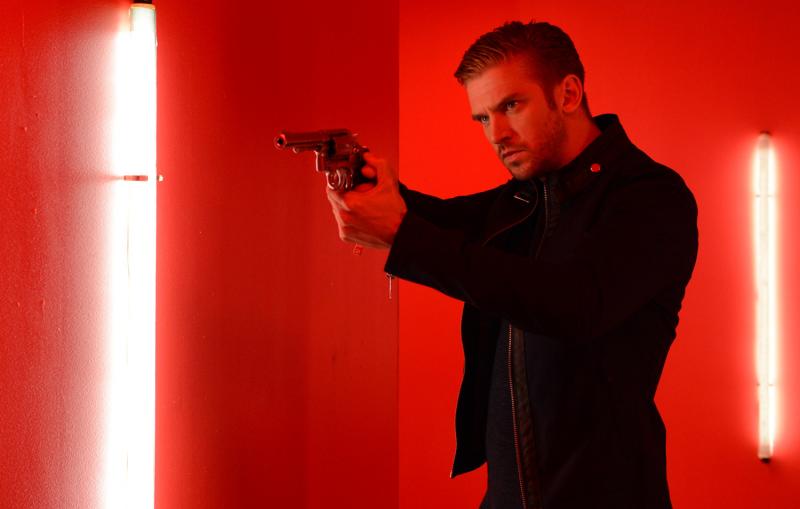 Dan Stevens stars in Adam Wingard's The Guest
August bank holiday weekend is like Christmas day for horror fans thanks to Frightfest who deliver a sackful of disturbing delights in their 15th year. An inspiring line-up sees Downton Abbey's Dan Stevens reinvent himself as a charming psychopath in opening night film The Guest. Adam Wingard and Simon Barrett (You're Next) amaze once again with a blend of Eighties-style action and horror.
Meanwhile, horror classics such as Stanley Kubrick's The Shining and A Nightmare on Elm Street play alongside up-and-coming British fare such as Oliver Frampton's bleak take on past trauma The Forgotten and Ivan Kavanagh's chilling ghost story The Canal. Though they both suffer from generic titles their content is far from it.
The festival has found a new home at the Vue Leicester Square, and unveiling its biggest line-up to date with 64 feature films it boasts a wealth of European cinema, American indie and impressive Antipodean entries. Delivering an array of pleasingly nightmarish material, Frightfest a celebration of everything macabre and off-kilter.
Here are TAD's pick of an eclectic bunch:
Alleluia
Grim, creepy and discomforting viewing from Belgian director Fabrice Du Welz who picks apart the dark side of love and romance. An outstanding performance from Lola Duenas (Volver) seals the deal in this update of "The Lonely Hearts Killers" with Du Welz taking the true story of Martha Beck and Raymond Fernandez and fashioning it in to an almost unbearably tense viewing experience. This arthouse re-imagining of The Honeymoon Kilers is a sordid and horrifying tale of manipulation and obsession, which also features a bizarre musical number.
The Babadook
Overwhelming grief and depression are posited as a top hat wearing, slithering monster with knives for hands in first time Australian director Jennifer Kent's chilling and at times terrifying modern-day fable. A single mother finds it increasingly difficult to deal with raising a child and the loss of her husband. A raw honesty pervades this story of loneliness, despair and coping mechanisms, making The Babadook all the more convincing.
Faults
Riley Stearns keeps you guessing in this tense psychological drama which features bold performances from his wife Mary Elizabeth Winstead and character actor Leland Orser who battle one another in a sick mind control game. Orser plays down-on-his-luck Ansel Roth who once made his dime deprogramming cult members and is tempted back when he finds himself in a bind. Maintains an unsettling ambience throughout.
Housebound
This twisted and decidedly funny deconstruction of haunted house horror from first time Kiwi director Gerard Johnstone delivers laughs, scares and surprises which are all bound together by the wonderfully observed central mother-daughter relationship. Morgana O'Reilly and Rima Te Wiata turn in pitch-perfect comic performances.
All Cheerleaders Die
If it's female empowerment you're after this highly entertaining subversion of the high school movie from Lucky McKee and Chris Siverston is a gruesome and fast-paced treat. Plays out like a mad concoction of teen films such as The Craft and Jennifer's Body with the titular cheerleaders forming a supernatural connection which forces them to share in one another's pain.
Late Phases
Respect for the elderly is tackled with genuine warmth, wit and bloody relish in Adrian Garcia Bogliana's latest endeavour which sees blind Vietnam vet Ambrose (Nick Damici) wage war on werewolves and the troubling lack of empathy for a forgotten generation. A bit of a wild card choice which takes inspiration from Zatoichi but has more in common with Blind Fury.
A raw honesty pervades this story of loneliness, despair and coping mechanisms, making The Babadook all the more convincing
Share this article