The Rover |

reviews, news & interviews
The Rover
The Rover
Guy Pearce and Robert Pattinson battle across a grimly convincing Outback dystopia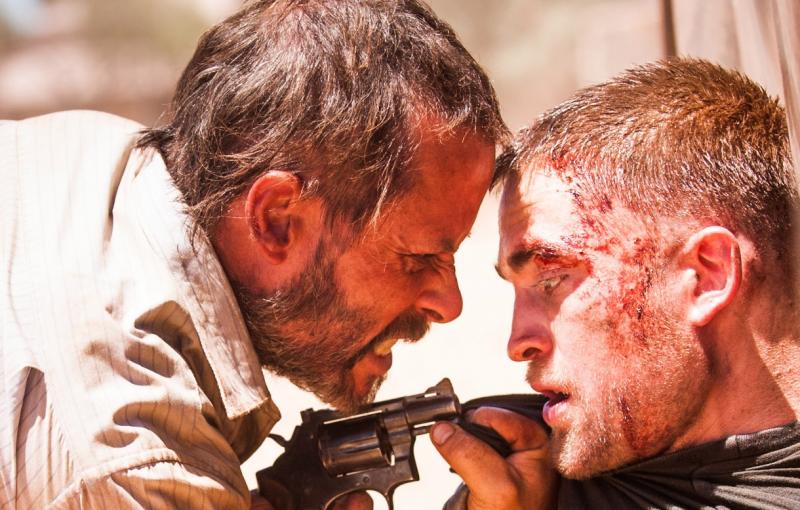 Eric (Guy Pearce) and Rey (Robert Pattinson)
Mad Max script-doctored by Dostoyevsky: that's how David Michod sees Australia after it all goes to hell. His first film, Animal Kingdom, rewired the gangster film as a suburban family horror story, sweaty with the threat and reality of violence. Michod's debut as writer-director heads into the Outback, to make a post-apocalyptic road movie notable for steely reserve as much as swift, frequent mayhem.
"10 years after the collapse" is our dateline. As Eric (Guy Pearce) walks into a karaoke bar in the first minute (pictured right), clues to the catastrophe are already piling up. Bottles of water are precious, and the exotic pop played oppressively loudly by the bar's bored and armed South-east Asian staff hints at Michod's thesis, left submerged in the film: that the West's economy has collapsed, and Australia survives as a lawless, Gold Rush continent mined for its minerals by new Asian superpowers. Michod doesn't need to spell this out. The point is that he has built an off-kilter world which feels real, before a word is spoken.
It feels most authentic in Eric's bearded face, with its damped-down anger, agony and impatience. He's a model citizen of a place that's running on empty and permanently dangerous. So when an American gang fleeing a robbery crash outside the bar and steal his car, Eric snaps. He wants that car back, and will go through anything and anyone for it. "What a thing to get worked up about, in this day and age," murmurs Grandma (Gillian Jones), one of the fadedly colourful characters Eric meets on his picaresque way. The car represents a sliver of his old life. But getting it back shows how deadened he's become.
Michod calls The Rover a Western, and the ones it most resembles were directed by Anthony Mann in the Fifties, and generally starred Jimmy Stewart at his most hysterically neurotic. As with those films, Eric has a partner on his journey who points up what's wrong with him: slow-witted, weak-willed Rey (Robert Pattinson, pictured above), left for dead at the scene of the crime his brother's gang were fleeing when they took Eric's car. With his stammering Deep South accent and ravaged good looks, Pattinson's performance is more mannered than Pearce's. Eric exists more primally, seeming to be someone so white-hot with rage that touching him would scald you, or break a bone. As an anti-hero, he's deep in the negative zone. Nothing he does is good. Pattinson plays the wounded weakling who slows him down and makes him think.
The action scenes and the scenario of two men tearing across an empty landscape have the streamlined feel of some ambitious, forgotten Seventies exploitation pic. Michod alternates this with dragging, short scenes, dissipating momentum, not gripping with Animal Kingdom's ruthlessness. But he's reaching for something different. There's enough violence to maintain interest, but Eric's quest is just a way to show you Eric. "To be a killing machine is a sad thing," someone observes. When Eric explains something awful he once did, and what the collapse of moral consequence in his broken land then did to him, The Rover is revealed as a tragedy.
Overleaf: Watch the trailer for The Rover