Classical CDs Weekly: Per Nørgård, Stephen Hough, The Society of Strange and Ancient Instruments |

reviews, news & interviews
Classical CDs Weekly: Per Nørgård, Stephen Hough, The Society of Strange and Ancient Instruments
Classical CDs Weekly: Per Nørgård, Stephen Hough, The Society of Strange and Ancient Instruments
Contemporary Danish orchestral music, a nocturnal piano recital and 17th century morris dancing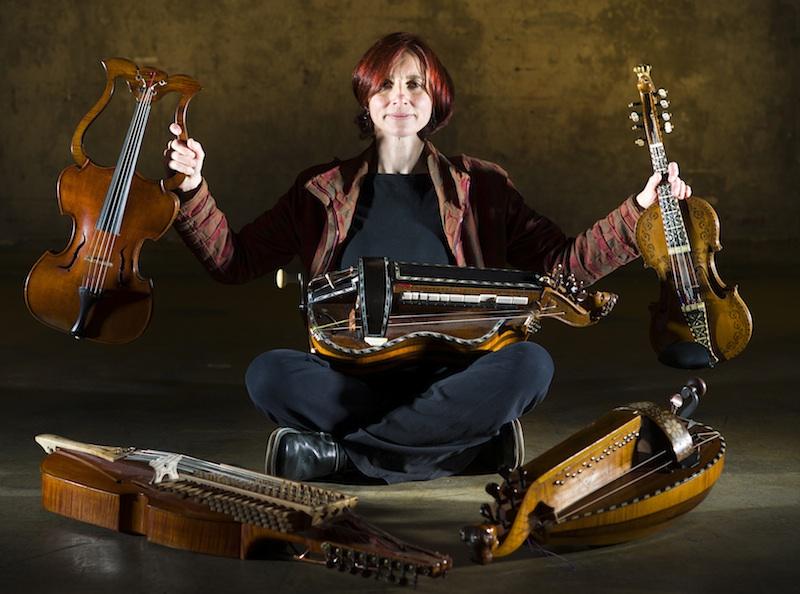 Clare Salaman shows off her strange and ancient instruments
Per Nørgård: Symphonies 1 and 8 Vienna Philharmonic/Sakari Oramo (Dacapo)

Per Nørgård's Symphony No. 1 was completed in 1955. A few years earlier, the composer had written a fan letter to the elderly Sibelius – who was flattered to encounter a fellow musician with such a thorough understanding of his own style. There are plenty of nods to the elder composer in this astonishing symphony, including a brief snatch of Tapiola near the opening. Most Sibelian is Nørgård's temporal control; different layers of music seemingly operating at different speeds, often linked by repetitive string figures. There's so much going on in the orchestra's lower reaches, the writing for basses, clarinets and bassoons especially distinctive. Huge brassy pileups suggest grinding tectonic plates. A sequence of loud major chords three minutes from the first movement's end is overwhelming. Nørgård subtitled the three-movement work his Sinfonia austera, and its gruff, raw power still packs a punch – the dour honesty reflecting youthful idealism.

We also get the premiere recording of Nørgård's Symphony No. 8, completed in 2011. Our expectations are again confounded; this is a more eclectic and youthful-sounding work than the coupling. Ideas come thick and fast, and there's some lovely shuffling percussion accompanying the slow movement's string theme. Nørgård's writing beguiles and enchants; big moments magically dissolve or abruptly metamorphose. But despite its surface beauties, this is a harder symphony to get to grips with. The sleeve notes imply that Nørgård was aiming for transparency and lightness, but several of the more brutal gestures suggest the opposite. You'll want to listen to both pieces again though, and how uplifting to encounter yet another composer still full of ideas in his eighth decade. Ripe, dramatic performances from Sakari Oramo and a well-motivated Vienna Philharmonic. Dacapo's sound has body and presence.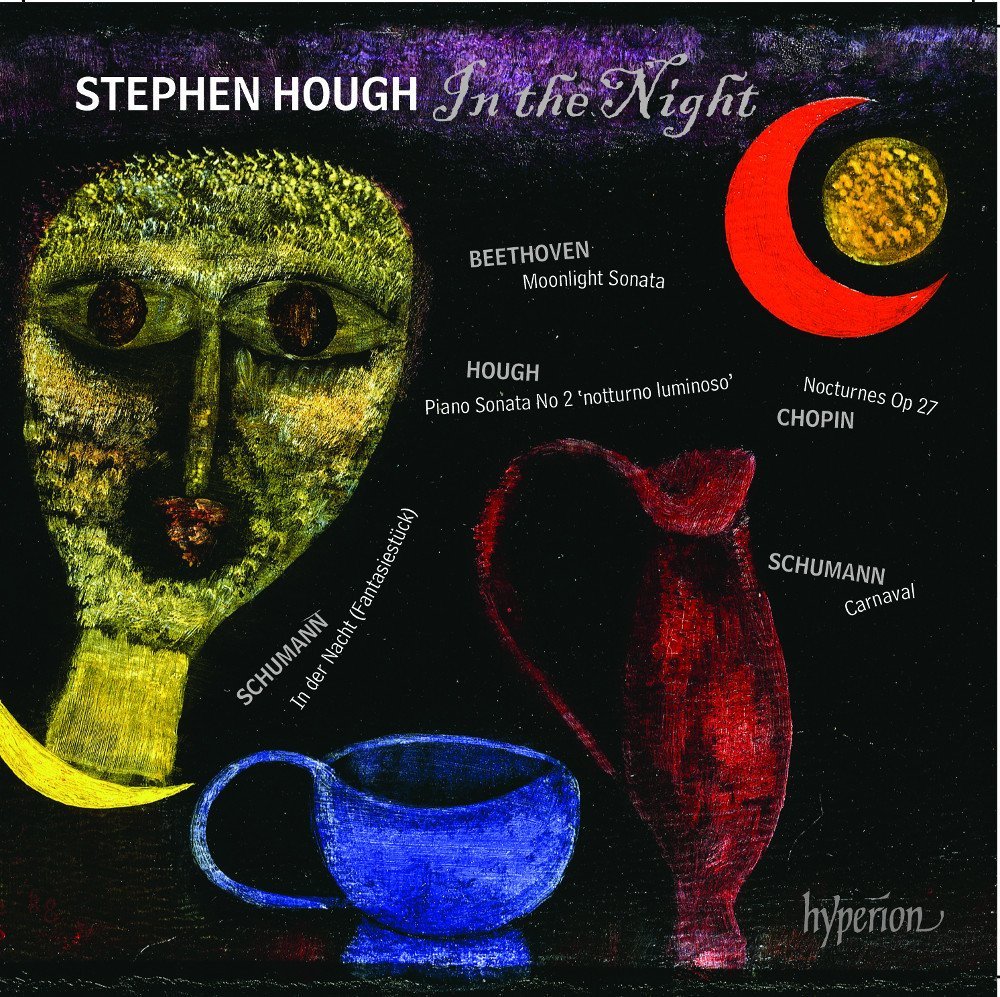 In the Night Stephen Hough (piano) (Hyperion)

If long hot days, relentless televised sport and hayfever are grinding you down, retreat into a cool dark room with this crepuscular anthology from the ever-resourceful Stephen Hough. He's among the most erudite and intelligent of contemporary pianists, and this recital is the sort of thing you'll happily consume in a single sitting. The frenzied whirrings of Schumann's In der Nacht have demonic intensity, and Hough follows the piece with a cobweb-free trot through Beethoven's Moonlight Sonata. The Adagio sostenuto's infamous triplets move the music on here, instead of dragging it into the mire. Hough's Presto will terrify newcomers who've not yet progressed beyond the opening. This Beethoven alone would justify the price of the disc. Hough's unsentimental approach also enlivens the two Chopin nocturnes which follow, moving us from an edgy C sharp minor to velvety D flat.

Hough's Piano Sonata No. 2 is concerned with "a different kind of night... the brightness of a brash city in the hours of darkness... the loneliness of pre-morning sleeplessness...". Unashamedly tonal, it's a cleverly constructed and entertaining work. Different keys are associated with different states, and Hough's penchant for juicy harmonies never palls over 18 rhapsodic minutes. There's a dazzling flash of bright light seconds before the sonata's quiet close. The CD closes in brighter mood with the masked partygoers of Schumann's Carnaval. Here, Hough is impetuous, extrovert and witty. "Papillons" and "Paganini" are especially brilliant, as is the flamboyant "Pause" before the closing March. A desirable disc is rendered even more attractive by the Paul Klee sleeve art.
The Society of Strange and Ancient Instruments: Nine Daies Wonder (SSAI Records)

The actor, clown and self-publicist Will Kemp was an acquaintance of Shakespeare. He was associated with the role of Falstaff, but parted company with the playwright for unknown reasons, eventually dying in poverty in 1603. This quirksome disc attempts to recreate musically Kemp's best-known stunt, his 'Nine Daies Wonder' – a journey on foot from London to Norwich, spread over nine days. Whilst morris dancing. What results could pass for a 17th century Now That's What I Call Music compilation. Kemp kept his adoring audiences entertained, though not all went smoothly – arriving in Norwich on March 8th 1600, he trod on a young lady's dress : "as I was fetching a leape, it fell out that I set my foote on her skirts ..... off fell her petticoats from her waste .... the poore wench was so ashamed .... now had she her cheeks all coloured with scarlet".

Clare Salaman's Society of Strange and Ancient Instruments (the name taken from a group of fin de siècle Parisian musicians) intersperse popular dance tunes with more highbrow items, and the arrangements consistently strike the right tone. Some details might not be authentic, but musically they feel right. Like an unexpectedly prominent Jew's harp in a rousing folk song called "Hard by a Mighty Pine Tree". It sounds like pounding bed springs, and it's played with such zeal by Keith McGowan that you fear for the enamel on his front teeth. Moving from that to a sublime pavane by Thomas Morley comes as a shock. Dowland's "Sorrow, Sorrow, Stay" is sweetly sung by Jeremy Avis, who's suitably understated in Francis Pilkington's "Rest Sweet Nymphs". The prevailing mood is raucous, earthy and high spirited. Hurdy-gurdy and bagpipes work their magic, and there's a rare chance to hear the unfortunately named viola bastarda. High quality production values enhance this disc's appeal - the added birdsong is a nice touch, and the digipack design is witty and imaginative.
There's a rare chance to hear the unfortunately named viola bastarda
Explore topics
Share this article