'There's not too many bald-headed cubic people' |

reviews, news & interviews
'There's not too many bald-headed cubic people'
'There's not too many bald-headed cubic people'
From 'The Long Good Friday' to 'Who Killed Roger Rabbit', Bob Hoskins remembered in his own words
Bob Hoskins in 'The Long Good Friday'
Bob Hoskins had one of those faces that was equally adapted to boyish bonhomie and something altogether more threatening. It helped explain the length and variety and sheer unexpectedness of his career. He could scowl for England, which is why he was so horribly convincing as a gangland boss in The Long Good Friday. But he also exuded vulnerability and even innocence in his Oscar-nominated turn as the henchman who falls for a prostitute in Mona Lisa.
Meanwhile his precision skills as a physical actor were a fine foil for the curvaceous Jessica Rabbit in Who Framed Roger Rabbit? – though he had a less happy experience playing opposite a cartoon on Super Mario Bros. There was very detailed character work in independent films like Atom Egoyan's Felicia's Journey, in which he humanised a serial abuser. In the BBC's David Copperfield, he delighted Christmas audiences in the ever cheerful guise of Mr Micawber.
The only thing he never quite conquered as an actor was clambering up England's class ladder. He was always a more convincing American – in the likes of Coppola's The Cotton Club and Nixon (in which he played Hoover) – than posh Englishman in, say, Mrs Henderson Presents or Vanity Fair, or the visionary professor he played in the BBC's version of Conan Doyle's The Lost World.
So there were more arrows in his quiver than that thickset frame would suggest. The first time I interviewed him he modestly attributed his popularity in Hollywood to the fact that "there's not too many bald-headed cubic people. It's me or Danny de Vito, innit, really?"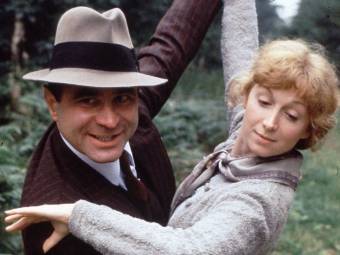 Bob Hoskins's breakthrough was in the Dennis Potter TV drama Pennies from Heaven (pictured left with Cheryl Campbell). Previously he had noticed "that if somebody had done a telly or a film, regardless of the talent around them, they always copped the lead. I thought, 'old up, I'm going to get myself a telly." He got it, grasped the opportunity, and everything flowed from there. He had a particularly fond memory of Potter saving him from embarrassment in one scene that required him to undress, put on his pyjamas and get into bed. "Piers Haggard [the director] wanted full frontal. Bill Cotton [of the BBC] said, 'If we show Hoskins's cock on the television we're going to get letters of complaint.' And Dennis immediately leapt in and said, 'We'll get letters of sympathy.' He was a very funny man, old Dennis."
Hoskins became fascinated by the technique of camerawork. "I always like to know what lens they're using. If you've got a wide-angle lens even if they're right up close you're separated from the background. A telephoto lens is crystal clear but very separated and you remember that you're 30 ft fucking high." He was nonetheless amazed when the director John Mackenzie proposed the final take of The Long Good Friday, which just holds the camera on a silent Hoskins as his character finally realises he has been caged by the bigger badder villains of the IRA. "I said, 'You've got to be fucking joking.' When we did it he said, 'There you go. Does that work or doesn't it work?' I discovered that a camera can actually see you think." The result was scintillating: perhaps Hoskins's finest minute on camera.
One of the things he learnt in front of a camera was not to be self-aware. "When I started I'd never had a fucking lesson in my life. I read Stanislavsky and thought, well, this is obvious, and I read Lee Strasberg and thought, this is bollocks. I noticed that drama is about those private moments that you don't see when you're dealing with something really inside. I realised that men are fucking useless at this. I just used to watch women. The way they react to things, the actual honesty… I've seen really good actors but their problem is their vanity. You see them aware of the actual shape that they're making and they've lost it. You think, forget yourself, for fuck's sake."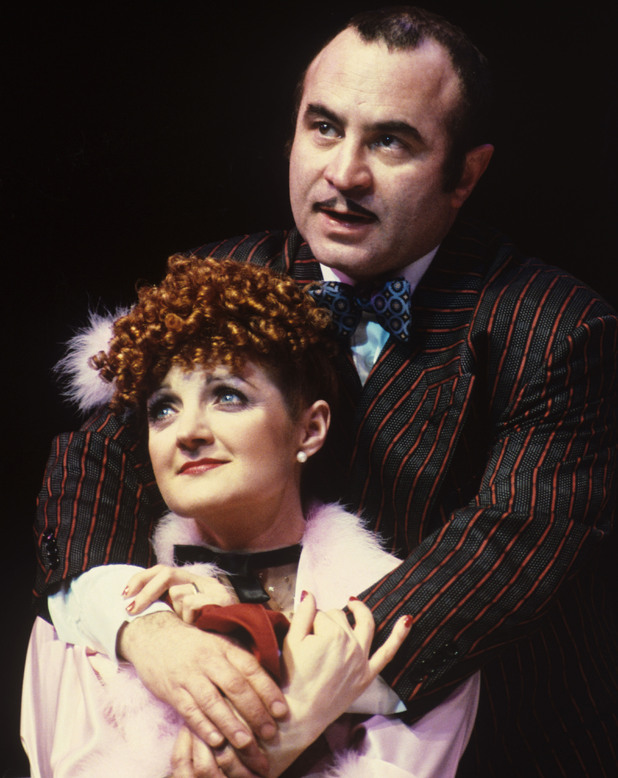 Later in his career, his days as a leading man behind him but before he started to suffer from Parkinson's disease, he was content to reach what he called "the age of a cameo. You turn up for a couple of weeks, everybody treats you like the crown jewels, they pay you a lot of money, and if the film turns out to be a piece of shit nobody blames you. Wonderful. I'm incredibly lazy. I do like being at home." His turn as Khrushchev in Enemy at the Gates was one such, brimming with a menace that bordered on parody. He'd be just as likely to crop up as a blind dwarf in Snow White and the Huntsman or a kindly union man in Made in Dagenham.
But he wasn't just a very fine screen actor. Those with long memories still hymn the praises of his Nathan Detroit in Richard Eyre's production of Guys and Dolls at the National (pictured above right with Julia McKenzie), and even before that his appearance in Sam Shepard's Geography of Horse Dreamer at the Royal Court Theatre Upstairs. Hoskins was first lured to acting because "as soon as I got on stage it was the most peaceful place on earth… There is something quite extraordinary about the theatre. On some nights – very rarely, and some people have never experienced it – actors say, 'Pan's in.' Whatever anybody does it works. Pan is sitting on your shoulders. He's with you. I had it a couple of times on Guys and Dolls. You just knew it was the business."
He last appeared on stage opposite Kristin Scott Thomas in Pirandello's As You Desire Me in 2005. I put it to him that it was the fear of never bumping into Pan again that kept him away from theatre. "Not really," he says. "It's not my life, it's my job. If a job comes up you do it. You win some, you lose some, you're up, you're down. Who the fuck wants to go sideways?"
Overleaf: watch some highlights from Bob Hoskins's career
The final take of The Long Good Friday
Hoskins and Jessica Rabbit
Hoskins as Khrushchev in Enemy at the Gates