The Double |

reviews, news & interviews
The Double
The Double
A doppleganger turns our hero's life upside down in writer-director Richard Ayoade's comedic second feature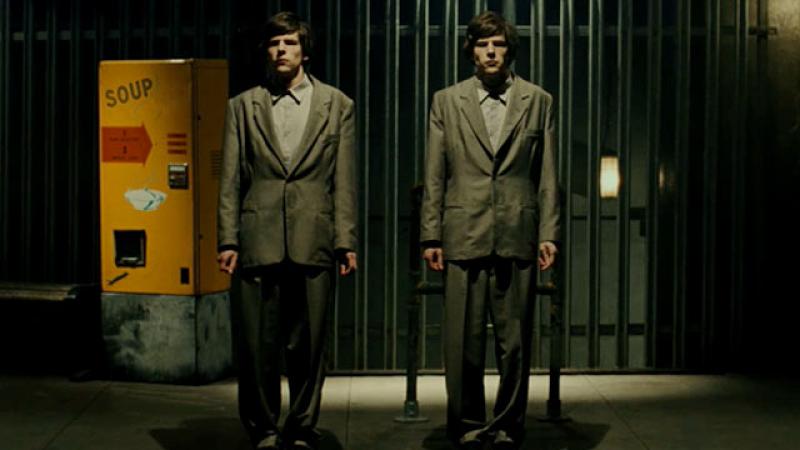 Jesse Eisenberg is twice as wonderful in opposite roles as James Simon and Simon James
Take some hot Fyodor Dostoyevsky, top it with two scoops of Jesse Eisenberg and stir with writer-director Richard Ayoade – and you'll have The Double, Ayoade's second feature after his successful Submarine. You know to expect freshness, quirkiness and quality from that far southwestern pool of the UK creative arts. Stylish and sharp, this is a quirky black comedy that clicks with serious undertones, aided by terrific sound design and Eisenberg acting himself off the screen.
It feels like Spike Jonze's
Being John Malkovich
meeting Kafka, with a bit of
Five Easy Pieces
thrown in.
It's the typical downtrodden hero story with a twist: timorous office grunt Simon James is ignored by lovely office mate Hannah (Mia Wasikowska) and virtually everyone else, from his boss (the wonderful Wallace Shawn) to the security guard who still makes him sign in twice every day after years of coming to the same place. Imagine the horror when another chap shows up with a reversed name looking exactly like him: James Simon (Eisenberg again) is his opposite in everything. Popular, successful and outgoing, he begins to bully Simon James, making his life into something like an outtake from Billy Wilder's The Apartment. Nobody thinks the two look alike. Go figure.
'The Double' is as much pleasure to watch as it seems to be for the actors on the screen
Thankfully, Eisenberg can play both good and crappy characters here, and the double role is excellent for showing his range. Wasikowsa and Shawn are typically resonant, as are cameos from Submarine cast members such as James Fox, Leigh/Allen muse Sally Hawkins, the solidly watchable Paddy Considine and the ever fabulous Noah Taylor. As an added treat, comedy icon Chris O'Dowd and funnyman Chris Morris also appear, both from Ayoade's The IT Crowd.
Wonderfully referential, Ayoade shows the fruit of years spent watching excellent films. Hence, he can throw us visual and audio bones to remind us of classics like Hudsucker Proxy and films by greats such as Kaurismaki and Hitchcock. As if anticipating Gravity's wonderful sound work, The Double also notes how intrusive noise can be, especially in kitchenware. Why don't they make quieter blenders?
Unusual and compelling, Ayoade's second feature is not the stumbling block some directors would have made it. Like that difficult second LP, an artist can either fly it or hasten sheepishly onwards to the third installment in his body of work. Ayoade can't help himself: The Double is as much pleasure to watch as it seems to be for the actors on the screen. It's absurdist noir crossed with awkward comedy for the entertainment of the common man.
Overleaf, watch the trailer for The Double
Wonderfully referential, Ayoade shows the fruit of years spent watching excellent films
rating
Explore topics
Share this article