Blithe Spirit, Gielgud Theatre |

reviews, news & interviews
Blithe Spirit, Gielgud Theatre
Blithe Spirit, Gielgud Theatre
Angela Lansbury rematerialises in the West End as Noël Coward's cranky medium
Charles Edwards (second left) and Janie Dee (second right) try to resist applauding Angela Lansbury (centre)
Maybe, just maybe, Noël Coward is scarier than you think. As a rule of thumb, when ghosts feature in plays, they're meant to be creepy as hell, calling for some horrid crime to be revenged, and/or a manifestation of the living characters' profoundly troubled thoughts. In Blithe Spirit – which opened last night, with Michael Blakemore restaging his 2009 Broadway production – Coward's protagonist, Charles Condomine, finds that he's prone to apparitions.
But he hardly seems mentally agonized by way of explanation.
Ensconced in the drawing room of his timber-framed country house, Charles (played here by Charles Edwards) is debonair as he lolls on the sofa and recalls his late wife Elvira fondly – though not too fondly. That's in reply to questions from his second spouse, Ruth (Janie Dee), who's gorgeously chic in her mauve, velvet evening dress.
They're awaiting two dinner guests (thankless bit parts) plus the eccentric local medium, Madame Arcati (a star turn by the octogenarian Angela Lansbury). We gather that Charles, far from believing in the occult, wryly intends to observe some tricks of the trade for his new novel. So, when Lansbury's eager-beaver Arcati (pictured below) gets a séance going, he is amazed to see a spectral Elvira suddenly skip into view. She has an impish gleam in her eye, played by Jemima Rooper all in white, with an ash-blonde bob and floaty, flirty négligée.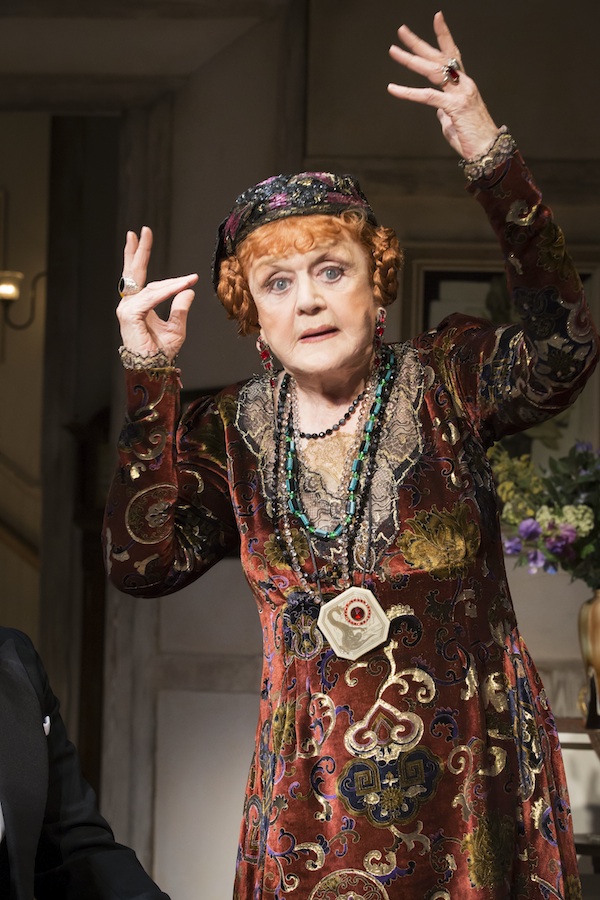 As this vision persists well beyond Arcati's first visit, Dee's exasperated Ruth reckons the workings of her husband's mind – insufficiently devoted to her – must have conjured up Mrs Condomine no. 1. And one might, at a push, argue this is the more hair-raising; if a brief casual chat, expressing little grief, can get a chap trapped with two bickering spouses in a Hui Clos-ish scenario.
To give him his considerable due, Edwards invests Charles with some flashes of serious panic and rage. He yells that Ruth has been a bully for years, before he switches back into amusingly petulance – flicking a speck of dust off his silk dressing gown as he mutters, "You won't even allow me to have a hallucination."
Personally, I'm still left hankering for more psychological depths in this play, which keeps skittering away from Coward's intimated interest in Charles' subconscious. Perhaps Dee's hints of glancing jealousy, at the off, could be sharper. Or should Charles be stuck in a less sexy second marriage more evidently?
That said, this production will almost certainly be a very successful crowd-pleaser, as upmarket light entertainment. And, of course, the clue's in the title. Blithe Spirit (written during the grim days of World War II) stays in the comic shallows in its dealings with death.
Blakemore's cast are all pretty top-notch. Edwards is charming, with consummate timing. He'd have been a matinee idol if he'd lived in Coward's era. Rooper keeps Elvira's manipulative brattishness sparky, while Dee's Ruth – unable to see her – farcically berates the wrong corner of the room. Patsy Ferran is definitely a name to watch, making her professional debut and nearly stealing the show as the pasty-faced, hilariously slapdash (and also briefly spooky) housemaid.
Meanwhile, Lansbury is on flamboyant fine form, bypassing the celebrity-idolising applause that greets her every entrance and exit. Reprising her 2009 Tony Award-winning performance, Lansbury eagerly chatters and snuffs for ectoplasm like a reincarnation of Richard Briers crossed with a Pekinese. Then she launches into a mystical, cod-Egyptian dance, resembling a tiptoeing burglar attacked by wasps. Batty fun.
Follow Kate Bassett on Twitter
Overleaf: watch a video of Angela Lansbury discussing her role