August: Osage County |

reviews, news & interviews
August: Osage County
August: Osage County
Family pain on the American plains
Wednesday, 22 January 2014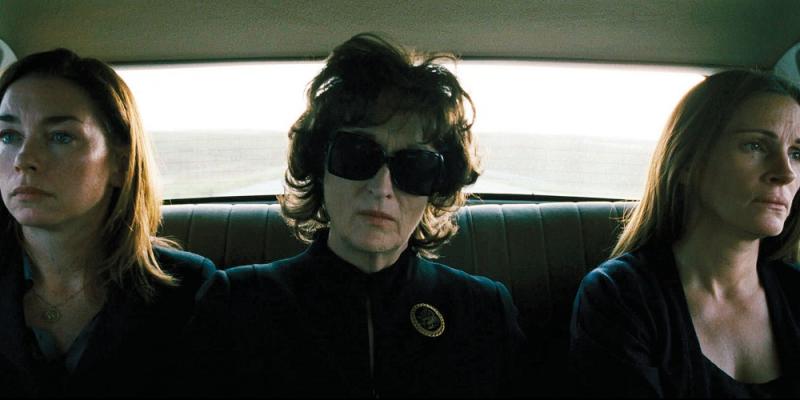 Julianne Nicholson, Meryl Streep and Julia Roberts relate in the familial drama August: Osage County
Anything planned as Oscar-bait never works – although the Pulitzer Prize-winning play that underpins the film August: Osage County has a pedigree to please the Academy. By some accounts, it began with a lunch between Harvey Weinstein and Emmy-winning director/producer John Wells (The West Wing).
Before you knew it,
Meryl Streep
and Julia Roberts were cast, along with Chris Cooper,
Ewan McGregor
, Juliette Lewis,
Benedict Cumberbatch
and Sam Shepard.
Tracy Letts's black comedy - seen on stage first in Chicago and then Broadway and the National Theatre in London - was a deft mix of funny and poignant. Captured on film, however, the ups and downs of its central characters are mostly downs - and whatever hilarity ensued onstage didn't make it to the screen. This doesn't mean Osage should be avoided. On the contrary, its flaws make it more accessible and less slick than it may have been: Osage is a failure that succeeds in parts and performances.
Streep is a mean mother who has passed her evil genes to daughter Roberts
With a hot summer baking the plains of Oklahoma, the Westons – Violet (Streep) and Beverly (Shepard) – do what they do best: not get along. She takes pills and he drinks and that's how it goes with their youth and passion passed. Template dysfunctional parents that they are, it takes a tragedy to bring the Weston family together: daughters Barbara (Roberts), Ivy (Nicholson) and Karen (Lewis) and extended family members sister Mattie (Margo Martindale), nephew Little Charles (Cumberbatch, here for his buzz and quite miscast), and brother-in-law Charlie (Cooper) arrive to mourn the departed and tend to a severely addled matriarch.
This is where "the fun" starts. Streep is a mean mother who has passed her evil genes to daughter Roberts. Watching them go head to head is a thrill mostly because it gives Roberts a chance to act with a worthy adversary. (Both actresses received Oscar nominations for these roles - Streep in Best Actress and Roberts in Best Supporting Actress categories.) Donning a wig sometimes and sometimes not, Streep has been accused of chewing the scenery. Really, she is acquitting an awful character – a mother who overplays her power, alienating everyone. Is Violet in pain or just a pain in the ass? Both, probably.
The pleasure of Osage is not, for once, Streep's mastery. Of all the fine performances here, Roberts finally is given the chance to show she is more than a movie star. (Both she and Streep are up for Oscars next month.) Along with the ever-solid Cooper and Martindale, there are exquisite supporting turns by Abigail Breslin, Dermot Mulroney and Ewan McGregor. Notable too is Misty Upham - stone-still and eternal in her role as the initially abused but ultimately pivotal Native American housekeeper Johnna.
August: Osage County succeeds as a collection of performances but not as a comedy. See it for its sensational smorgasbord of actors trapped in a juddering melodrama. It may be set in the wild west but its soul is deeply southern fried.
Overleaf: watch the trailer to Osage: August County
The pleasure of Osage is not, for once, Streep's mastery
rating
Explore topics
Share this article