Last Vegas |

reviews, news & interviews
Last Vegas
Last Vegas
De Niro, Douglas, Freeman and Kline occasionally act their age in a patchy pensioners' Hangover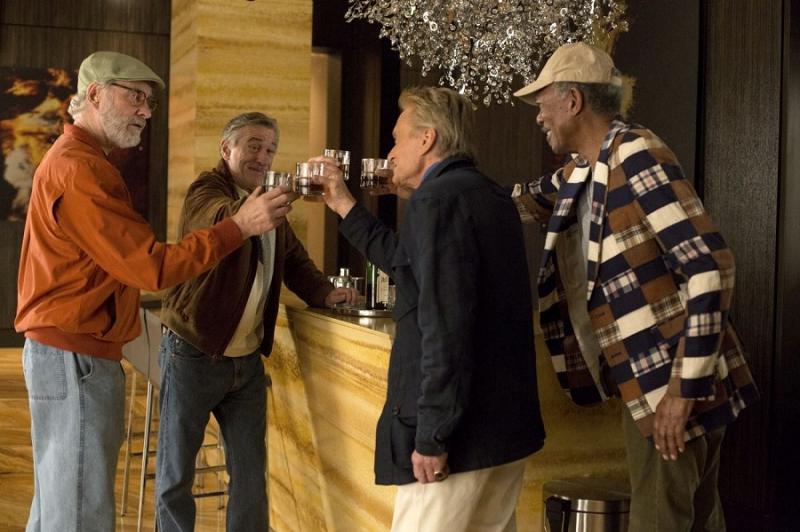 Senior service: Last Vegas quartet
Hollywood's sexism and obsession with youth half-hobble this lunge for the grey dollar. In a cast seemingly assembled by birth certificate more than likely chemistry, 69-year-old Michael Douglas is playboy businessman Billy, whose Vegas stag weekend before marriage to a thirtyish beauty requires the presence of childhood pals Paddy (Robert De Niro, 70), Archie (Morgan Freeman, 76) and Sam (Kevin Kline, 66, pictured below).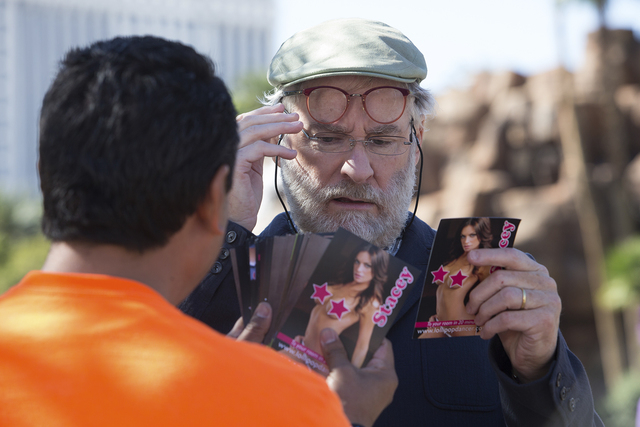 The four have mixed feelings as they ready their creaking bones for Sin City debauchery, and inevitable life lessons. Bored Kline's wife sends him off with a condom and her blessing; mourning widower De Niro is tricked into leaving his lonely flat to reunite with Douglas, who failed to attend his wife's funeral; and Freeman performs a gingerly mounted jailbreak from the custody of his censorius son. They then remake The Hangover, with added riffs on the personas and varying states of preservation of the stars.
Douglas gamely suffers near-the-knuckle lines about his blinding white teeth, unfeasible barnet and unwise marriage to a much younger woman, while De Niro mugs along expertly as the Godfather from back East a lippy youngster (Entourage's Jerry Ferrara, wasted) believes him to be, after an unlikely beating from the out to pasture ex-Raging Bull.
Kline, looking a decade younger than the vulnerably papery, post-cancer Douglas and attractively crumpled De Niro, and actually a decade younger than the sprightly Freeman, focuses on politely chatting up young women. Freeman, in a plot twist which doesn't even try to make sense, wins big at the casino of a hotel which responds to him pocketing their cash by insisting the friends stay in 50 Cent's palatial suite, with Excess All Areas VIP passes. The Hangover gang's luxury pad and visit to Mike Tyson answer which other movie this feels like it's wandered in from.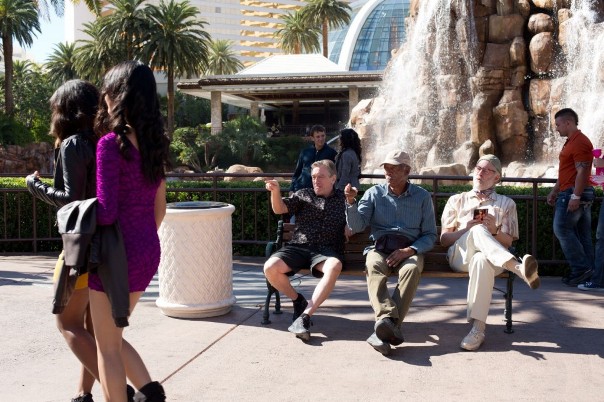 Compared to sedate British exercises in pensioner adventures (Quartet, say), Last Vegas has vigour. It's also slightly less condescending than Tough Guys, Douglas dad Kirk's ornery-oldsters hit at his career's equivalent stage. But the wet T-shirt contests and ogling of characterless young women which constitutes much of the age-defiance here reinforces juvenile and stunningly sexist Hollywood norms. The old-stagers have been handed a temporary pass to the same dumb frat party that's been running since American Pie.
Flashbacks to the friends' Fifties golden years are still less convincing. But De Niro's apparent winning of his future wife from Douglas then, and their renewed rivalry now over wryly wise jazz singer Diane (Mary Steenburgen, 60), throws De Niro emotional scraps he makes unfussily affecting. As the coiled, charismatic mystery of his prime has faded from his life and art, easy authority as a regular guy has been some autumnal compensation.
The frankly unlikely co-stars all stroll over the compromised script's bumps, and give its regular funny lines full value.They take moments of mature regret and acceptance in their stride, too. Last Vegas sends four big men to do boys' jobs. But at least they're having fun.
Overleaf: watch the trailer for Last Vegas