Beauty and the Beast, Young Vic |

reviews, news & interviews
Beauty and the Beast, Young Vic
Beauty and the Beast, Young Vic
An enticing cocktail of fairytale, puppet show, cabaret and burlesque
Tuesday, 10 December 2013
Mat Fraser and Julie Atlas Muz in 'Beauty and the Beast'
"My mum was given this new wonder-drug for morning sickness when she was pregnant with me," explains Mat Fraser at the start of Beauty and the Beast. "It was called Thalidomide. That's why I was born with arms like this."
This is the simple, straightforward opening to a show that is anything but. Husband-and-wife team Julie Atlas Muz and Mat Fraser have devised something here that is part fairytale, part puppet show, part cabaret and part burlesque – with a fair amount of wry comedy thrown in for good measure.
It ostensibly follows the well-known tale of Beauty and the Beast, with Muz (pictured, below right) playing the beautiful daughter sent to dwell with the beast (played by Fraser) to save her father from death. Part of the story is told with an overhead projector and a series of extremely intricate transparencies and shadows – an excellent reminder that lo-fi effects, if done well, can upstage all the fancy hydraulic scenery in the world. Gradually, Beauty wins the Beast around to her optimistic worldview, while the Beast teaches her never to be blinded by her preconceptions about people, and they fall in love.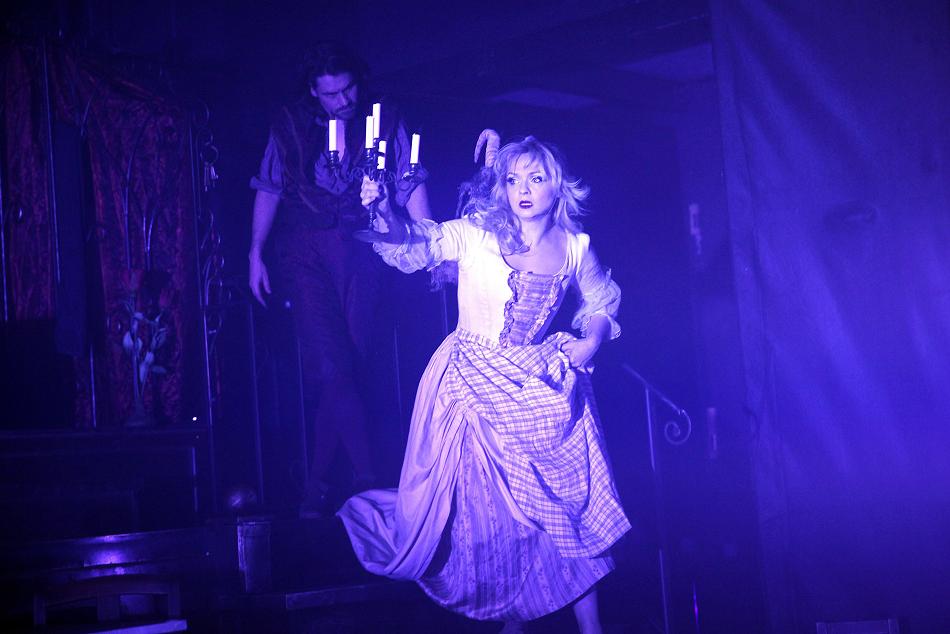 So far, this may be sounding something like a standard festive pantomime, but in reality it's anything but. The show is funny, but not in a hackneyed "he's behind you" way. Rather it employs a profane, dark kind of humour that humbles and surprises. Puppeteers transform sheets of tissue paper into gambolling rabbits, which then rut enthusiastically. The seduction scene is played out using fruit – bananas unpeeled seductively, cucumbers thrust graphically into melons, and so on. Beauty's sisters try and smother their father with a cushion while she enthusiastically practises kissing the pillow she has christened "Mat" on the other side of the stage.
this is a show of such wit and verve that you don't want it to endBut neither is this entirely the kind of bawdy, knowing burlesque that both Muz and Fraser are better known for. The show is shot through with short monologues, in which they each share their thoughts on life and describe the development of their relationship. Fraser describes what it was like going to a hospital when he was nine years old and being invited to select a pair of prosthetic arms from a room full of limbs. Having rejected them as a child, he went back years later, and describes here how his fake arms went on to help him win the 2007 award for "Best Male Striptease Artist". Muz relates how her Ukrainian-American mother reacted when she told him Fraser had proposed to her – "Are you sure you want to marry a cripple?" – and explains how she prefers that kind of overt prejudice, because at least once it is articulated, it can be overcome.
There's a lot of nudity in this show, and a fair amount of simulated sex, and yet such is the confidence and surety of the performers that none of it feels shocking purely for shock's sake. Muz and Fraser use their sexuality cleverly, challenging you to look away, while at the same time putting on a show of such wit and verve that you don't want it to end.
With its fairytale plot, this show might sound like a standard festive pantomime. In reality, it is anything but
rating
Explore topics
Share this article