Classical CDs Weekly: Prokofiev, Dame Janet Baker, Henning Kraggerud |

reviews, news & interviews
Classical CDs Weekly: Prokofiev, Dame Janet Baker, Henning Kraggerud
Classical CDs Weekly: Prokofiev, Dame Janet Baker, Henning Kraggerud
Spiky pianism, a tribute to a much-loved mezzo soprano and new music inspired by a famous painter
Saturday, 02 November 2013
Henning Kraggrud
Prokofiev: Works for piano 1908-1938 Roger Woodward (Celestial Harmonies)

You don't often hear this music articulated with such steely power and intensity. Recently I've spent too much time listening to Prokofiev's more romantically-inclined later output; a few minutes' exposure to this disc will remind you of this composer's ability to dazzle and shock. Many of the early works bristle with demonic energy – I'm thinking of the Suggestion Diabolique, or the four Sarcasmes. But the aggression always seems positive and open-hearted – this is music which demands to be liked, every grimace offset with grace and wit. You hear this in the Four Etudes; the swirling darkness of the first two leading to a crowd-pleasing Presto energico. And, just as you're about to typecast the young Prokofiev as a scowling showoff, Roger Woodward throws in the ecstatic, limpid Prelude in C, gleefully showing us its origins as a harp showpiece. Even in his rowdiest moments, Prokofiev found it impossible to avoid writing brilliant, singable tunes, and Woodward never lets us forget the fact. This is phenomenal playing, with weighty power combined with plenty of balletic grace. Be charmed by two extracts from the Musiques d'enfants, from 1935, and marvel at how the familiar March from The Love for Three Oranges sounds freshly minted.
Woodward closes the disc with the Visions Fugitives. His sleeve notes quote from the Konstantin Balmont poem which gave Prokofiev his title: "In each fugitive vision I see worlds, full of the changing play of rainbows." Woodward gets everything right, the essence of each miniature captured within seconds. The closing Lento irrealmente leaves us drained, devastated. A wonderful disc, captured in rich sound. As you'd expect, Woodward's own notes are scholarly and accessible, also touching upon his personal relationship with Prokofiev's widow Lina.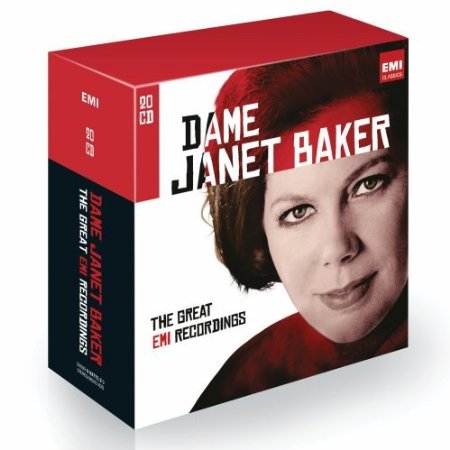 Dame Janet Baker: The Great EMI Recordings (Warner)

This weighty 20-disc set, released to celebrate mezzo-soprano Dame Janet Baker's 80th birthday, already feels like a historic artefact – as presumably one of the last box sets bearing the red EMI logo before the Warner Classics takeover. It contains everything you'd expect – the famous 1960s recordings of songs by Mahler and Elgar, and a dazzling selection of rarities – serving to demonstrate what a versatile artist Baker was. Her Mahler Rückert-Lieder remain among the greatest ever recorded – accompanied with humane sensitivity by Barbirolli and the New Philharmonia Orchestra. The Kindertotenlieder and Lieder eines fahrenden Gesellen are almost as good, and it's remarkable to hear Baker's equally rapt account of Urlicht from Mahler's Symphony no 2 – recorded in 1987 with Simon Rattle and an inspired CBSO. The Baker/Barbirolli taping of Berlioz's Les Nuits d'été still sounds good, as does the same pairing's version of Ravel's Schéhérazade, the myriad changes of direction in the first song neatly realised. We also get beautiful readings of orchestral songs by Chausson and Duparc, and a disc of French song accompanied by the wonderful Gerald Moore. Moore and Daniel Barenboim excel as pianists in Baker's earlier versions of lieder by Schubert and Schumann, and Baker is still in superb voice when singing in 1980 with pianist Geoffrey Parsons.

The first CD includes some splendidly inauthentic Monteverdi and Scarlatti, in 1960s realisations by Raymond Leppard. The Bach numbers still entertain – some conducted by Yehudi Menuhin and Neville Marriner, and there are three extracts from Otto Klemperer's massively proportioned B Minor Mass. You'll need several weeks to explore the treasures contained herein. How many artists are capable of tackling such a wide range of composers with such consistent generosity and musical intelligence? Where else would you find Purcell, Vaughan Williams, Respighi, Debussy and Schütz sharing disc space? Inevitably, you wish that the late John Steane's biographical note could have been longer, and that links to texts and translations could have been provided – but this remains an amazing bargain. Sound quality is consistently good
Munch Suite Henning Kraggerud (violin) (Simax)

I've a soft spot for classy presentation, and this Simax package is a thing of beauty. No jewel case, but a handsome, matt-black box, containing 15 glossy cards, each one bearing the reproduction of painting by Edvard Munch. Superficially it resembles a set of Top Trumps for Guardian readers. A planned 2010 exhibition of Munch's work prompted exhibition director Svein Eriksen and Norwegian violinist Henning Kraggerund to commission 15 short solo violin pieces from contemporary composers, each one to be inspired by a different painting. Kraggerud recorded the music two years later. Any project such as this throws up questions as to whether visual art can adequately be reflected in music. Comparisms with Mussorgsky's Pictures are inevitable, but here you've the luxury of studying each card as you listen. Some composers attempt literally to reflect what they see: Aaron Jay Kernis's The Dance of Love begins with hesitant waltz gestures, their chilliness matching Munch's image. Marcus Paus's The Ladies on the Bridge sounds restrained, formal, matching the stilted poses of Munch's figures. Others take a more oblique approach; Laurent Petitgirard's Trees on the Beach cleverly explores Kraggerud's high and low registers, attempting to mirror the contrast between Munch's gnarly, tightly-huddled trees and the wide expanse of sea behind them.
Veteran Norwegian composer Olav Anton Thommessen's Kiss on the Beach in Moonlight is an arresting, rapt nocturne, and Ståle Kleiberg's Ashes captures the painting's gloomy foreboding. Ondřej Kukal's melancholy Aftenstund is among the most readily accessible pieces. Listening to the whole disc in one sitting isn't recommended – you're much better dipping in and out over several days. Kraggerund's playing is consistently marvellous. And don't go looking for a musical response to Munch's The Scream – wisely, perhaps, we don't get one.
superficially this resembles a set of Top Trumps for Guardian readers
Explore topics
Share this article