The Selfish Giant |

reviews, news & interviews
The Selfish Giant
The Selfish Giant
Clio Barnard spins a compassionate tale of friendship and gut-wrenching folly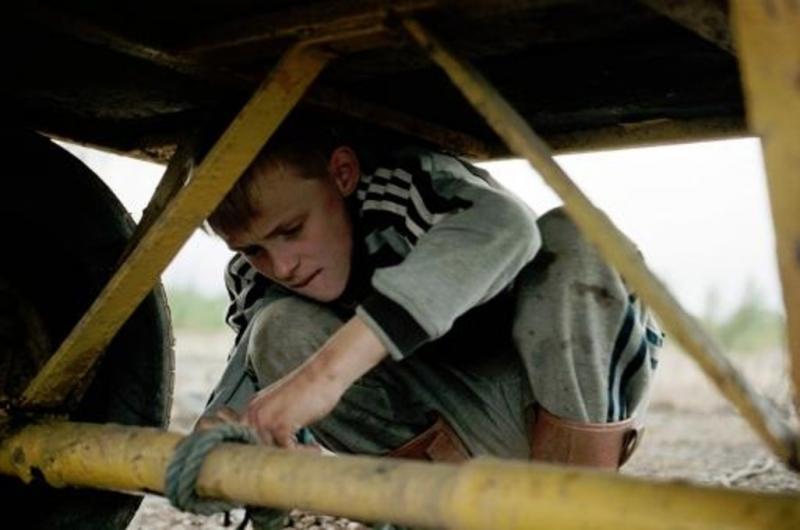 'If it ain't bolted down...' Conner Chapman is on the rob in 'The Selfish Giant'
Former video artist Clio Barnard's second feature - which took Cannes 2013 by storm with its stark and striking humanity - takes inspiration and its title from the Oscar Wilde fairytale. However that's not the film's only, or most significant, influence: The Selfish Giant is, by its director's own admission, a response to the continuing, corrosive impact of Thatcherism, an ideology that put selfishness ahead of societal needs and pushed millions to the margins.
And perhaps even more importantly than that, whilst making her first film, the ingenious documentary
The Arbor,
Barnard encountered two young boys whose friendship compelled her to make a film with platonic love at its core.
Talented newcomers Conner Chapman and Shaun Thomas (pictured below right) play Arbor and Swifty - two teenagers with dysfunctional domestic lives and poor prospects, getting themselves into scrapes in post-industrial Bradford. Arbor has hyperactivity issues and is consequently disruptive in class; as we begin the film he's already on his last life at school. His mother Michelle (Rebecca Manley) is up to her eyes in it, barely holding herself together, trying to control livewire Arbor and his older brother Martin (Elliott Tittensor), a drug addict who flogs Arbor's meds to fund his own addiction. Swifty's mother (Siobhan Finneran) is saddled with a feckless, aggressive husband - known as "Price Drop" (Steve Evets) - also an addict, who's selling the family's furniture out from under them.
The loyal, near feral Arbor and the soft, animal-loving Swifty are forced to be the men of their respective houses when no men are present or willing. To help their mothers make ends meet they begin scavenging for scrap which they sell to local scrap metal merchant Kitten (Sean Gilder); he's the titular selfish giant, a big lumbering beast of a man, by no means averse to dealing in illegally acquired goods (copper wire purloined from railway tracks is regularly brought to his yard) or, ultimately, allowing kids to do his dirty work.
Comparisons with Loach's Kes and Truffaut's The 400 Blows before it (both films Barnard admires) are inevitable and deserved, but in its story of folly and friendship (Arbor and Swifty may be isolated but they have each other), it also finds international counterparts in recent boys' own adventures Mud and The Giants. And in the visual vitality it ascribes to sometimes grim surroundings and circumstances (cinematography by Mike Eley) it finds a modern equivalent in the similarly fresh and non-judgemental work of the Dardenne brothers.
International comparisons aside, Barnard deserves to be grouped alongside the most exciting and elite British filmmakers who are putting the UK at the forefront of world cinema in terms of vision, if not box office: Andrea Arnold, Lynne Ramsay, Peter Strickland, Jonathan Glazer, Steve McQueen, Richard Ayoade, Shane Meadows and Joanna Hogg. These are filmmakers of real insight and daring, many of whom, like Barnard herself, have lit up the festival circuit this very year. The Selfish Giant will knock you sideways with its compassion - this is a film about a nation's shame so richly humane that it becomes, itself, a source of national pride.
Overleaf: watch the trailer for The Selfish Giant
Follow @EmmaSimmonds on Twitter

Barnard deserves to be grouped alongside the most exciting and elite British filmmakers who are putting the UK at the forefront of world cinema
rating
Share this article