CD: Blackmore's Night - Dancer and The Moon |

reviews, news & interviews
CD: Blackmore's Night - Dancer and The Moon
CD: Blackmore's Night - Dancer and The Moon
Erstwhile guitar god brings his Strat to the medieval fayre
Blackmore's Night: somewhere in Middle Earth
Blackmore's Night was once described as "the most ridiculous real-life Spinal Tap situation ever". It's easy to see why. The band play in medieval costumes, their musical style owes a debt to Clannad, and they came into existence as the result of guitar-god Ritchie Blackmore's romantic involvement with a blonde with a penchant for New Age.
Yet, if Blackmore's whimsy is a little ludicrous, it's still surely more interesting than anything his former band mates in Deep Purple are currently doing.
If you are not familiar with Blackmore's Night's oeuvre, it helps to start with what they're not. The band is not remotely heavy, expresses no anger, and they definitely do not want to rock you all night long. Ritchie's wife Candice Night wants instead to take you on a midsummer ramble through an enchanted forest in Middle Earth accompanied by Ritchie and his mandolins. The title itself, Dancer and the Moon, gives a pretty good idea of what's contained within. At least, in terms of style.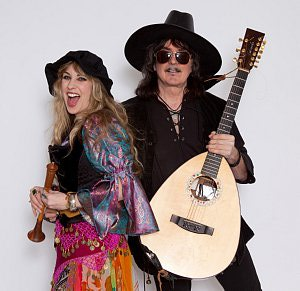 The songs themselves are a curious selection of originals and covers. Randy Newman's "I Think it's Going to Rain Today" has been stripped of any LA jazz and Uriah Heep's "Lady in Black" sounds predictably unrecognisable with the faerie treatment. "Temple of the King", however, which Ritchie originally recorded in 1975 with the warlock-obsessed Ronnie James Dio, simply pushes the mystical motif further.
Once you get over the shock of its oddness, the album actually makes for quite a charming experience. Where Blackmore straps on his Strat the lines are unmistakable and if the whole caboodle is unchallenging it's still full of love. The high point, however, is the one change of style - a Rainbow-style rock instrumental in memory of the late Jon Lord, called "Carry On… Jon". Could it be that he is gearing up for one final rock album?
Watch Blackmore's Night perform "The Moon is Shining (Somewhere Over the Sea)"
Once you get over the shock of its oddness, the album actually makes for quite a charming experience
rating
Share this article