Nick Cave and the Bad Seeds, Her Majesty's Theatre |

reviews, news & interviews
Nick Cave and the Bad Seeds, Her Majesty's Theatre
Nick Cave and the Bad Seeds, Her Majesty's Theatre
Anglo-Australian goth rockers launch possibly their most sophisticated album yet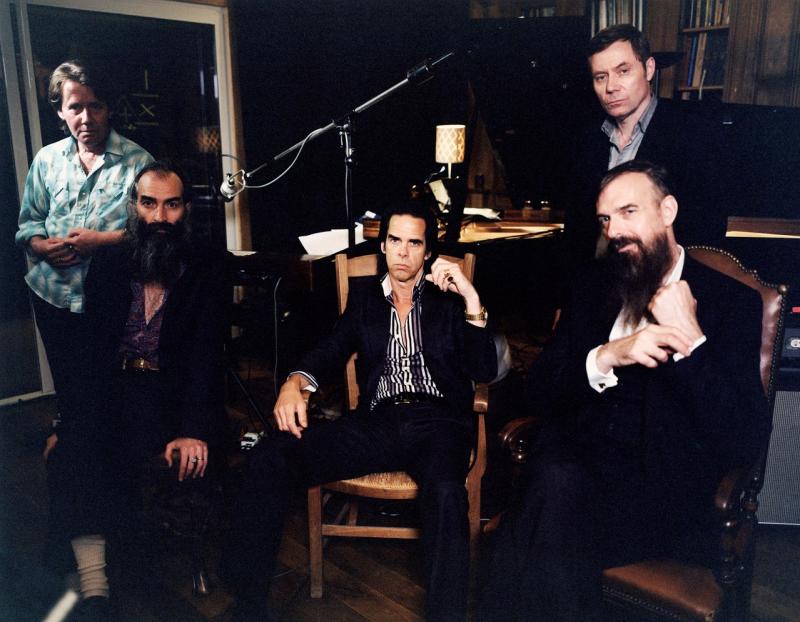 Nick Cave and the Bad Seeds: in search of the God Particle
"You grow up. You really do. You mellow out…Your rage ceases to need a name," Thus wrote Cave at 40, while moving out of his post-punk years. Ten years later the Australian goth returned to the wilder sounds of his youth. He started playing with the hard-rocking Grinderman. Fast forward to the present day and Grinderman is on pause. The Bad Seeds are back. Last night they launched Push the Sky Away, their first album for five years. So, what was it to be? Tender or tormented?
The answers came from parts one and two of a three-act night. First there was a short film about the making of Push the Sky Away. After that the new album was played in its entirety. Finally there was an hour or so of old favourites.
The first part, the documentary, was set in the grand Provençal mansion where Push the Sky Away was recorded. Cave felt he might be happy with just two really good songs; in the end he was thrilled with the lot.
Cave's 'yellow patent leather shoes' were rhymed with 'Caliphate forced on the Jews'He has good reason to be. This may become one of their most successful and loved albums. To claim it's unique may be a stretch, but the sound is ambitious.
Last night the Bad Seeds, set against a plain backdrop, were joined by a string quintet, a small children's choir and a couple of backing singers to fill in the gaps. The album was played in order, apparently to retain a sense of narrative. Any actual story, however, proved hard to discern. The piece felt like the fevered dream of a man looking back on a life of girlfriends, prostitutes and blackmail, while searching for God. A sophisticated mix of styles included loops and electronics. The sense of the baroque was still there, but with more subtlety.
Two centrepieces, both building to huge climaxes, gave form to the album. "Jubilee Street" started with a gentle rock-guitar figure and kept getting bigger. The absence, through illness, of Bad Seeds drummer Thomas Wydler could have been its undoing, but stand-in Barry Adamson did a fine job. "Higgs Boson Blues", although really about God and science, felt more reminiscent of those long Bob Dylan numbers which seem to comprise mainly a series of arresting images. Cave's "yellow patent leather shoes" were rhymed with "Caliphate forced on the Jews", while "Hannah Montana" went to "the African Savannah".
The lines were delivered in fine voice. Dressed in a black suit, and looking like a lanky spider, Cave stalked the stage with karate kicks. The band was also in good form, despite a couple of first-night bum notes. But the presence of the children's choir didn't add much.
The final section was a mixture of sweet, brooding piano ballads, grand gothic numbers and old punk rockers. On "Red Right Hand" and "The Ship Song", Cave's ornate metaphors for life were rapturously received. Notable amongst the gentler songs were "Love Letter Lyric" and "Your Funeral… My Trial". The room really started to rock with the post-punkers "Deanna" and "From Her to Eternity". Their power surely derives from an association with Cave in his prime, when we were all younger. What is exciting about Push the Sky Away is how easy it is to believe in. Even when singing about driving to Geneva in search of God, Cave's sentiments seem authentic. He's grown up, he really has.
Push the Sky Away may become one of their most successful and loved albums
rating
Share this article