12 Films of Christmas: Merry Christmas, Mr Lawrence |

reviews, news & interviews
12 Films of Christmas: Merry Christmas, Mr Lawrence
12 Films of Christmas: Merry Christmas, Mr Lawrence
David Bowie and Tom Conti wrestle with honour, identity and the burdens of the past in Japanese POW camp
Tuesday, 18 December 2012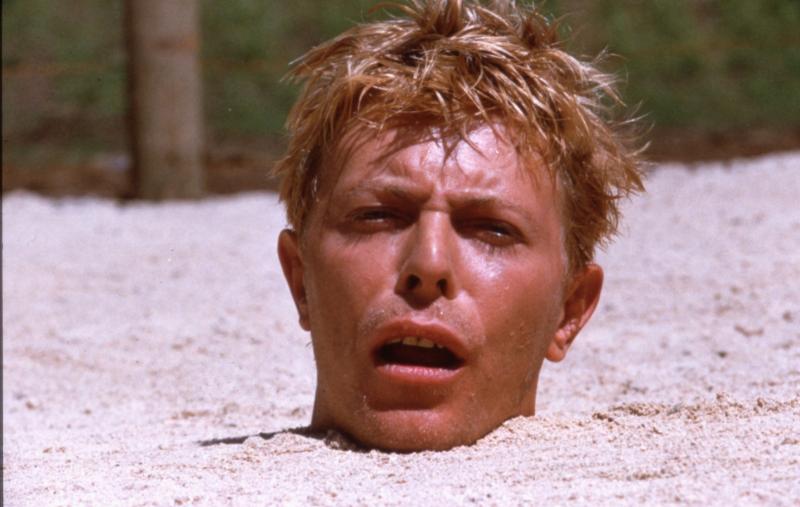 David Bowie as the charismatic, quietly rebellious Jack Celliers
David Bowie already had a bit of previous with Christmas, of course, after pa-rum-pa-pumpum-ing through the tinsel with Bing back in 1977. He plays a very different kind of drummer boy in Nagisa Oshima's uneven but oddly haunting 1983 film, in which he stars alongside Tom Conti (last seen in Miranda, of all things) and Ryuichi Sakamoto.
Bowie is Major Jack Celliers, one of four military men, each one trapped in very different ways, in a Japanese POW camp on Java in 1942. While Conti's John Lawrence is the film's moral compass, his rancour laced with decency and respect as he clashes with senior sergeant Hara (Takeshi Kitano), the quietly rebellious Celliers and conflicted Captain Yonoi (Sakamoto) play out a more complex, sublimated game of emotional and physical cat-and-mouse. Much is left unsaid or unexplained, as you might expect from Oshima, director of the infamous In the Realm of the Senses (1976), but the depth of emotional intent cuts through in a film exploring the nature of power, loyalty, honour, ritual and cultural identity, as well as the secrets of the past and the taboo of homosexuality.
The simmering tension comes to a head on Christmas Eve. The climactic kiss Celliers plants on Yonoi – a soldier's kiss, formal yet freighted with resonance – proves seismic. Later, Yonoi takes a lock of hair from Celliers, who has been buried up to his neck in the unforgiving sun and left to die.
Conti is terrific while Celliers remains Bowie's most convincing film role alongside Newton in Nic Roeg's The Man Who Fell to Earth. It's a far from flawless movie - the mixture of naturalistic Western acting and the overwrought, maxed-up Japanese style is an uneasy one, although that's partly the point - but it casts a dream-like spell which lingers long after the final frame.
Much is left unsaid or unexplained, as you might expect from Oshima
rating
Explore topics
Share this article