Elbow, O2 Arena |

reviews, news & interviews
Elbow, O2 Arena
Elbow, O2 Arena
Olympians from Bury banish cynicism, boost endorphins and spread love one last time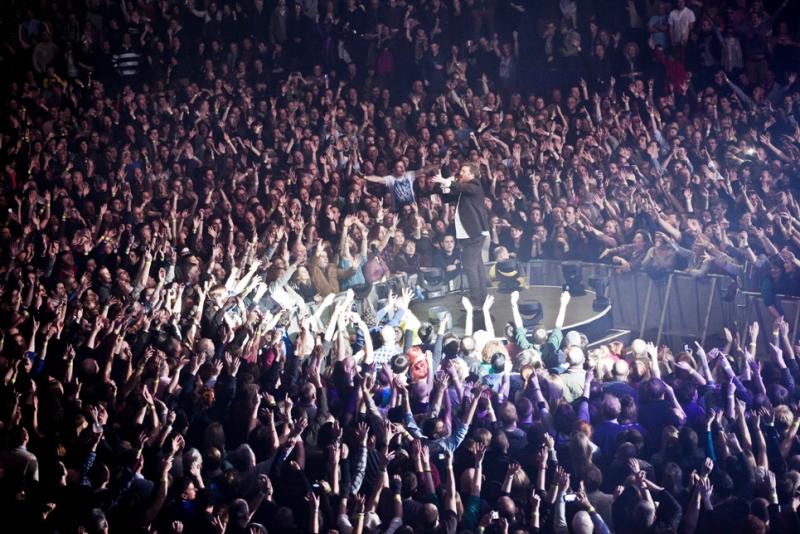 Dispensing a pure musical elixir: Guy Garvey works the crowd
Elbow are responsible for a remarkable conjuring trick. Earlier this year their song "First Steps" stirringly soundtracked the BBC's Olympic credit sequence, and then at the Closing Ceremony they serenaded the athletes into the London 2012 stadium with "Open Arms" and "One Day Like This".
Their musical message of harmony and celebration - of higher, faster, stronger, cheerier - ought by rights to sound like the most grating of bromides. But no, Elbow have found the secret recipe for banishing cynicism, boosting endorphins, spreading the love. It's no coincidence that their star has risen during a time of economic meltdown. At the O2, the last night in a national tour before they disappear for a bit, they distributed their inspirational cure-all to 20,000.
One says "they". Elbow may have five constituent parts, with two horns and four strings blowing or sawing onstage as occasion demands, but the focus of their charisma is of course the tubby, stubbly, physically goofy Guy Garvey, who has the look of a lager lout and the voice of a seraph. The O2 is effectively a football stadium with a roof, but Garvey last night contrived to turn it into an intimate snuggery, pulling the back row of the furthest and loftiest tier into a warm embrace. A call-and-response singalong in the style of Freddie Mercury to introduce the rowdy "Seldom Seen Kid" was laced with wit ("someone's out of tune"). A complex Mexican Wave further fostered a sense of inclusion.
These are the two poles of Elbow's worldview: shit happens, but one keeps buggering on
To facilitate this effect, Garvey made frequent sorties down a walkway onto a platform 10 or so yards out into the moshpit – approximately one trip per song. After "Leaders of the Free World", one lucky punter whose birthday is today was spontaneously presented by Garvey with his one and only Stratocaster (not that he needs it much, since this song featured its only appearance round the singer's neck). We were further advised that the band would return for an encore only if the recipient was serenaded with "Happy Birthday" at the end of the set. Another fan was invited to contribute his competent falsetto howls to "Weather to Fly".
So much for the "luv", as Garvey asked his audience to pronounce it in a vowel-flattening Lancashire accent. What of the actual music? The lion's share of the setlist came from Elbow's two step-change releases – The Seldom Seen Kid and Build A Rocket Boys! – and collectively offered a mission statement privileging optimism, hope and togetherness over the other stuff. "The Bones of You", a howl about love and loss, established an earnest, irony-free tone from which, at least when singing, Garvey would not depart. Powered by Richard Jupp's chuntering drums, "Grace Under Pressure" leaned the other way with its melody of nursery-rhyme simplicity: "We still believe in love so fuck you." These are the two poles of Elbow's worldview: shit happens, but one keeps buggering on.
The band are in fact buggering off for a bit – Garvey is due in New York to write King Kong the Musical, of all things - so the sense of seizing the day was palpable. The gorgeous "Mirrorball" sent spangly lighting effects around the room with a miraculous lack of naffness, to be followed by "Charge", a new song sung, Garvey explained, "from the point of view of an old man in a young person's bar." If this is Elbow's new direction, it's a shrewd move: their constituency, from the look of this audience, consists of as many of the former as the latter.
The band's acknowledged musical influences are Genesis and Peter Gabriel, but "The Loneliness of the Tower Crane Driver" was not alone in suggesting Floydish flavours – "Fugitive Motel" did too - but without any of the pomposity or remoteness. Imagine prog rockers from the 1970s squeezing onto the tiny outpost stage to toast their 70-strong crew or bash out a song on a double-sided keyboard. "The Night Will Always Win" was followed by "Weather to Fly" with Mark Potter alone on acoustic guitar. The beautiful "Puncture Repair" was introduced as "a story about friendship in a time of need," the tone only lowered when Garvey opened a crude card from the crew.
As it mounted towards the inevitable showpiece, the gig turned into a mass singalong. "Lippy Kids" had an entire crowd building a rocket before "The Birds" soared heroically and "Open Arms" did what such majestic songs do. The strains of "Happy Birthday" - to one Marcus - duly summoned the band back onstage. There was no "First Steps" (see video below), of course, no doubt for contractual reasons. Instead the encore brought an introspective interlude in the shape of "Starlings" and "Station Approach" before the massive group hug - the pure musical elixir - of "One Day Like This". There are others who say it like a doctrine, but when Elbow are doing their thing it's briefly - weirdly - possible to believe that we really are all in this together.
Watch "First Steps" with shamelessly manipulative Olympic montage
The focus of their charisma is the tubby, stubbly, physically goofy Guy Garvey, who has the look of a lager lout and the voice of a seraph
rating
Share this article