theartsdesk at the Shhh! Festival |

reviews, news & interviews
theartsdesk at the Shhh! Festival
theartsdesk at the Shhh! Festival
Scotland's premier underground artists take a walk on the quiet side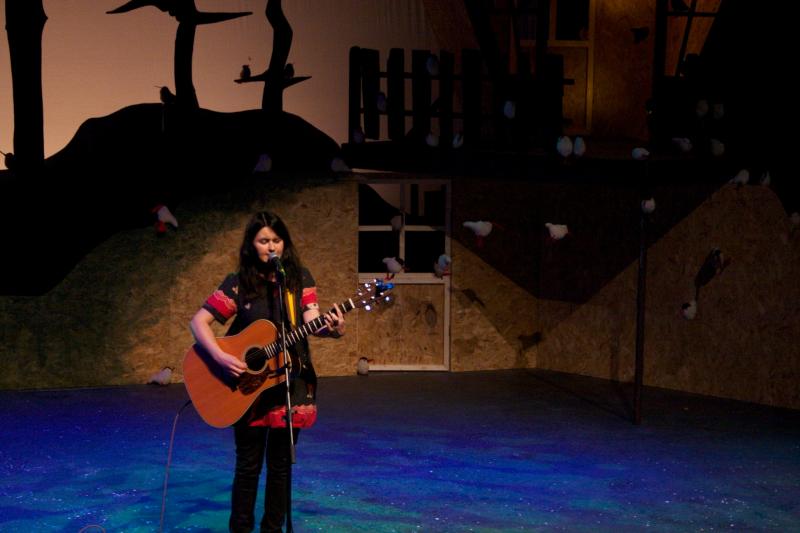 Emma Pollock: 'I wasn't sure it would be possible, but it turned out to be quite fun.'
Guitar virtuoso RM Hubbert is something of an unlikely champion of quiet music.
In fact, if you haven't yet heard the gorgeous
Thirteen Lost and Found
, the Chemikal Underground debut on which the guitarist invited friends including Aidan Moffat, Alex Kapranos and Alasdair Roberts to supplement the instrumentals with which he made his name, you might wonder what Hubbert - a heavily-tattooed onetime member of various Glasgow hardcore bands - is doing co-curating a festival with the unlikely label of Shhh!
Shhh! was created by London-based promoters The Local who - together with Hubbert and Alun Woodward, of both Chemikal Underground and chosen site Platform - brought the festival northwards for the first time. There's a little confusion over the spelling, which included four "h"'s on the poster and three on the Twitter account, but the latter is easier to type. There's nothing in the concept that forces artists to play quietly, although the two often go together - instead, what Shhh! encourages is an atmosphere of quiet engagement from audience members, who are encouraged to tell off those people who come to gigs for a drink and a gossip rather than to listen to the bands. Taking the show out of town, to Easterhouse's new multi-roomed arts centre, also helped to create an atmosphere that was different from the norm and more than a little bit special.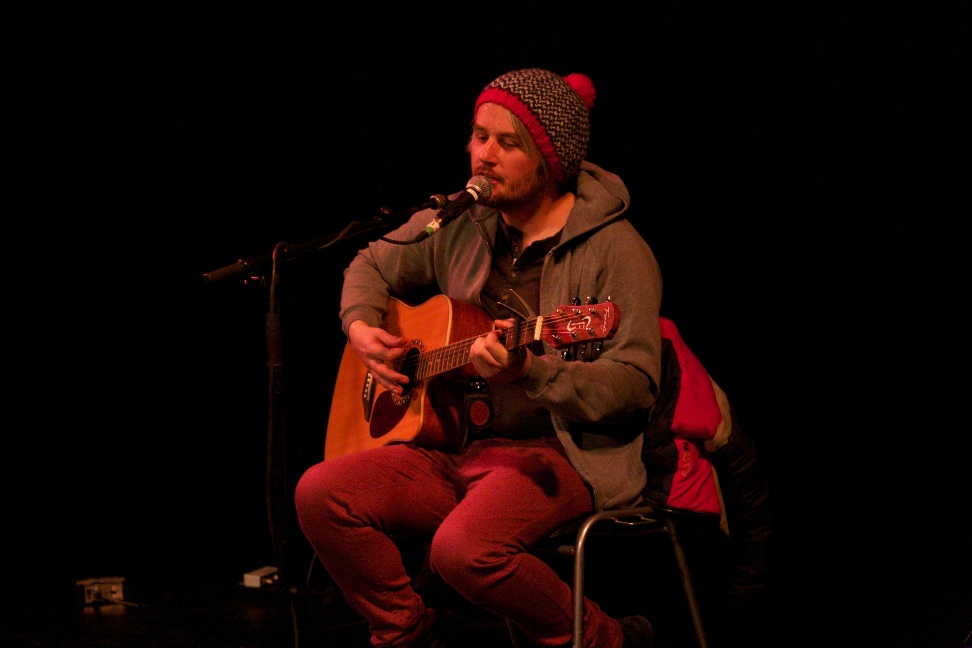 If curated badly, the concept behind the festival could potentially result in eight hours of man-and-guitar tedium. It was a testament to both the skill with which the lineup was put together, but also the depth and variety of Scottish underground music (predominantly, anyway - Scouse folk musician Laura J Martin and Bristol's Gravenhurst brought an exotic flavour to proceedings) that there was little chance of that happening, even if the first three acts could loosely be included under that umbrella. After Hubbert himself kicked off proceedings in the venue's main auditorium, it was the turn of I Build Collapsible Mountains (pictured above right) in the smaller room set up as the day's second stage.
Luke Joyce, the singer-songwriter who records under that name, produces intimate music for comfortably small rooms but even in this one he was dressed against the wilderness of a Scottish December in a body warmer and bobble hat. There was a wilderness present too in his sparse songwriting, from the delicate instrumental composed on the back of a ferry to Calais for an audience of slumbering truckers to the evocative lyrics of songs like "Burn" ("your eyes are graced with crosshairs and I am your kill"). The cheeky inclusion of a song from a forthcoming record he "wasn't supposed to talk about" hinted at plenty more to come - good news indeed, since there has been little new material since 2011's The Spectator and the Act.
Unlike the traditional festival set-up, Shhh! was organised so that attendees could experience every act if they so chose. The circular shuffling between Platform's three stages might have felt a little unnatural, but with such a strong line-up it was easily the lesser of two inconveniences. Upstairs to what was billed as the "Den" then, where the raspily-voiced Yusuf Azak (pictured left) was already getting underway. The songwriter, who just last week released his second album Go Native on Edinburgh label Song, By Toad, is prolific enough that he already had a new song to show off: the spare, haunted "Peace in the Underworld".
There was something magical, almost Mediterranean-flavoured, about the way in which Azak handled his guitar; notes tumbling over themselves to be heard in the allocated time which sometimes don't quite seem to fit. It may not always have been intentional, but when coupled with Azak's scratchy, unique voice it sounded magical - whether on his own material, or a cover of Bob Dylan's "One Too Many Mornings".
A rare solo set from Craig B of The Unwinding Hours was equally special, particularly considering that the band's material has never been made any less beautiful or intense by the volume that attaches to their live performances. With the mufflers on his acoustic guitar, B showcased the strength of his songwriting when stripped of the usual trappings. There was a fantastic cover of American Music Club's "I've Been A Mess" and an amusing on-stage reference to a review in which B was once billed as a "hairy magician" - as he seemed to have shaved his face it's not a metaphor that will stand up here, but he could certainly work some magic with a loop pedal.
Back upstairs, the singer known as Wounded Knee was reviving the sacred folk traditions of the "bawbaggers" of pre-industrial Lanarkshire. With this being the Shhh! Festival, giggles were not appreciated as he called for volunteers to "rummage in his bawbag" of numbered billiard balls, each corresponding to a song. It was certainly a novel way to pick a setlist. Armed with only a squeezebox and, typically, his own gorgeous baritone, this was the undoubted highlight of an already excellent day. The singer's material ranged from reinterpretations of traditional folk songs - and some of his own, complete with detailed bus directions to his favourite spots in the Pentland Hills - to lighthearted songs about breakfast foods, to contemporary protest songs.
The charming Emma Pollock, onetime Delgado turned solo artist, told us that these more understated shows were becoming a habit of late so she had gone back to rewrite older, full-band songs for acoustic guitar. "I wasn't sure it would be possible, but it turned out to be quite fun," she said. "Confessions", from her second solo album, was no less powerful battered out on the lower strings of her guitar, while a new version of "Paper and Glue" was as beautifully, understatedly rendered as those songs that were always quiet - like "Intermission", born when travelling between hospitals while her mother and father were ill last year.
Even with so much incredible music to process, Rick Redbeard (pictured above) - the solo alter-ego of the frontman of the critically acclaimed Phantom Band - was not an act to be missed. No Selfish Heart, Redbeard's first solo album, is set to become the first great album of 2013 when it gets its January release from Chemikal Underground, and a fair few songs from it got an airing. Much of Redbeard's solo material takes its cues from traditional folk songwriting, but take the time to listen to the lyrics and you'll hear a black, slightly menacing humour more redolent of somebody like Tom Waits. We were told that we were far too polite for Redbeard to introduce "Cold As Clay (The Grave)" with his usual spiel about it being inspired by the time he dug up a girlfriend's grave, but the song lost none of its spookiness.