Interview: 10 Questions for Herbie Hancock |

reviews, news & interviews
Interview: 10 Questions for Herbie Hancock
Interview: 10 Questions for Herbie Hancock
Joe Muggs discusses technology and progress with the perpetual innovator
Herbie Hancock: going solo at 72
Herbie Hancock has never stood still. He hit the ground running, joining Miles Davis's second great quintet on piano in 1963 at the age of just 23, and from that moment on demonstrated a Stakhanovite work ethic and appetite for the new which saw him on the crest of wave after wave of revolutionary music.
From bop and soul-inflected grooves of the 1960s, through jazz fusion in the early 1970s, the solid funk of his band the Headhunters later in the decade to his engagement with electro and hip hop going into the 1980s, he continuously produced music that appealed to both the intellect and the feet. He clearly hasn't lost his urge to explore, either, given that as recently as 2007, as well as recording with the likes of Leonard Cohen, Tina Turner and Norah Jones, he was jamming with Brian Eno and electronica maverick Squarepusher – and he has a co-production credit on a track on Kanye West's 2008 808s and Heartbreak album.
It's amazing, though, that given all the variety of his work, he has never played major solo shows before – but the Plugged In tour that brings him to the Royal Festival Hall as part of the London Jazz Festival this coming weekend is indeed his first without a band. It promises "a journey between piano and electronic innovation", so we were intrigued to know what this meant, and what had brought him to this point...
JOE MUGGS: Can you recall the first time you began to use technology to create music that couldn't have been possible before?
HERBIE HANCOCK: Well, I was an engineering major at college, and I've had that interest in science and technology all my life. When I was a kid I was always fixing clocks and things like that, I was always interested in how things work, and in a sense I'm still that kid – with these shows I have in the pipeline, I'm still doing just that, getting technology and seeing how it works and what it can do. Back at the beginning of the Sixties, when I began my professional career, synthesizers weren't on the scene yet – it was around that time that the electric piano entered the jazz scene, which gave us some new possibilities – but it wasn't until the end of the Sixties that we had what you'd really call synthesizers, certainly in the bop world. In fact, it probably wasn't until 1971 or the start of 1972 that I really took notice and began to use them, but even then I wasn't playing the synthesizers, I would hire people in my band to play them. Then in '73 I started playing the synthesizer myself.
It must have been a thrill to hear those sounds that didn't relate to any acoustic instrument – do you still get that thrill or shock of the new?
It really was, yes! And absolutely I feel that excitement still, because technology has continued to evolve. Now the possibilities are even greater still, there is just so much that can be done, so of course it is still thrilling. Once you go down that rabbit hole, it just gets bigger and bigger and bigger, and for me anyway that is very exciting.
Are you ever concerned that the dominance of technology has stifled the improvisatory spirit of people playing in a room together?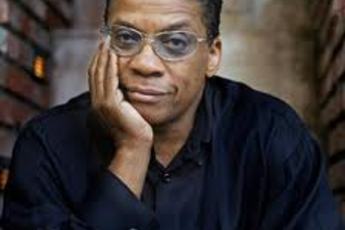 Well it's still human beings that make the music. The synthesizer doesn't do anything unless someone plays it or programmes it, so it's up to the human beings to have the good sense and the talent and the ear... to have the taste to make what comes out of it interesting and good. It's funny, though, sometimes I'll be with musicians and mention a band playing together to make a record, and they'll be like "wow, do they still do that?" Because overdubbing and heavy rearrangement through editing have become the norm in modern recording; of course when I started out, overdubbing was only ever done as an embellishment of music that was already recorded live. It's funny to me that people who come from the kind of background I came from are afraid to record live, they think it's fraught with all kinds of danger [hearty chuckle]. Personally I just love the interaction of musicians in the moment, and you can't get that when you're overdubbing one person at a time, there is no interaction, which is where so much of the magic can happen of people working together. This is why I was never particularly interested in doing solo piano or solo keyboard works in the past – but now, ironically, technology has developed in such a way that there's so many more possibilities of what you can do, so much flexibility that to me it's an exciting time, and the right time to do this kind of show.
Can you give us an idea of how the show will work?
Well there will be solo piano, for part of it. But for other pieces I will use synthesizers, and I've got a few computers, in fact four or five iMacs, with special programming that I've been working on for quite some time now. I'll have stuff that nobody else has. I'm gonna do some things that some of my fans will recognise but in a different context, but I'll also be able to create totally new stuff right there in front of people, take musical elements and manipulate them and really improvise a composition. I'll be using a vocoder on some pieces too, and I have a keyboard I can strap on – I guess what people call a "keytar" [laughs].
You've always seemed to be equally happy engaging with more experimental, even academic music on the one hand, and funk, electro and other club music on the other. Have you ever felt a division between these two sides?
If there is a line, it's getting thinner and thinner. Many of the DJs are now doing concerts, while the most interesting musicians can perform in the dance clubs – the scene is constantly changing like that. First of all, in many ways I'm a beginner with some of the technology I'll be using onstage, where some of the DJs and dance producers have been using similar things for quite a number of years. But on the other hand, not many of them can play instruments, or can play keyboards, so that distinguishes me from them.
And do you keep in touch with what those people are making? Do you feel it's healthy now compared to the days of Kraftwerk or Afrika Bambaataa, which you were heavily engaged with?
Well... I tend to have so many projects on the go at any one time now that no, it's a lot harder for me to keep in touch with everything that's going on. Maybe it's even the case that there's more going on anyway which makes it doubly hard. I'll be told by friends or people that I work with that, oh, I should check this out or check that out. But really it comes down to a choice that I gotta be working or I gotta be checking other people out, and I'd rather work. I can manage to check out YouTube videos, or I will meet some of these people in passing, so I know that there are these guys like Skrillex that are doing stuff with electronic production in a really big way but I certainly don't get time to get out to shows and experience it.
You talk about there being more music out there now – which is true, there's more new and old music, and also musicians have more competition for people's money from video games, phones, DVDs and so on. Would you like to be starting out as a musician now?
[firmly] No! [laughs long and hard] I'm very, very glad that I have established myself now and have a track record to be be able to get work off the back of.
Do you still have ambitions? Are there challenges, or things you'd like to master?
Oh there are a lot of things I'm still working on. I'm working on being a real two-handed piano player, not just one that plays chords with the left hand. Recently, over the last couple of years, I've rekindled my relationship with classical music, so that kind of connects with that. Then also more recently I've been working on this idea of doing a kind of global hip-hop-slash-electronics album, and actually doing this solo keyboard tour is a way of kind of kindling the fire for that global hip-hop-slash-electronic project. I've been talking to a few people already for this, but I want it not to be centred on America or Europe, that's the most important thing and that's where I think the most exciting opportunities are.
As a serial collaborator with other musicians, including some of the biggest names of all, is there anyone you regret never getting the chance to work with?
Duke Ellington! Stravinsky! Beethoven! Yeah, I'd have been very happy to have worked with those guys.
And looking forward, having followed musical developments over decades, what change would you like to see happen next?
More daring. More people daring to challenge this emphasis on fitting into existing formats. There's a lot that we don't hear on the radio, because radio formats, especially in the States, have gotten narrow – and the most interesting music doesn't fit into these existing formats.Yes, there are blogs, there is YouTube and iTunes, but nothing has the power that radio has to actually make people listen, and radio is stuck in those categories. I'd like to hear more of the stuff that falls through the cracks, and more people to make the music that falls through the cracks. It takes courage!
I know that there are these guys like Skrillex that are doing stuff with electronic production in a really big way but I certainly don't get time to get out to shows and experience it
Share this article