Our Boys, Duchess Theatre |

reviews, news & interviews
Our Boys, Duchess Theatre
Our Boys, Duchess Theatre
Laurence Fox disappoints as the fast-talking soldier in Jonathan Lewis's hospital drama
Thursday, 04 October 2012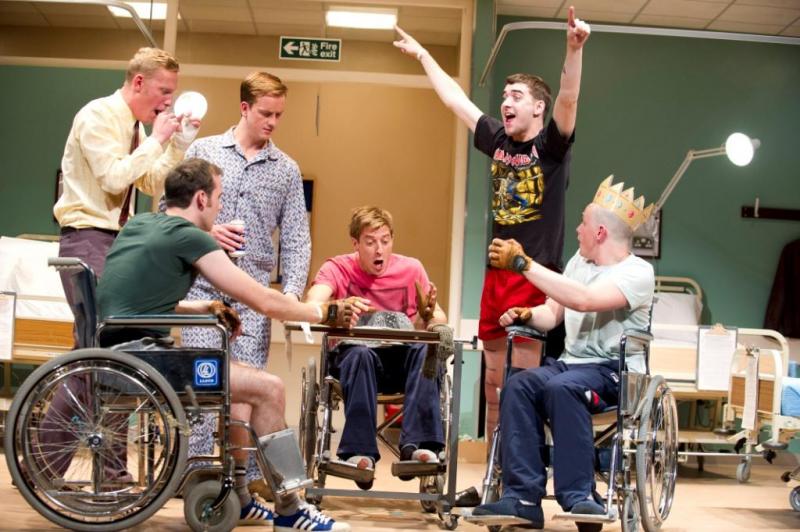 'Our Boys': Laurence Fox, Matthew Lewis, Jolyon Coy, Arthur Darvill, Cian Barry and Lewis Reeves
Our Boys shines a light on young war veterans in a military hospital in the early Eighties. A hit at the Donmar Warehouse in 1995, this new revival balances brash humour alongside some moving moments, but ultimately lacks punch.
Jonathan Lewis has based Our Boys on his experience as an army scholar. Just before he was due at Sandhurst he was diagnosed with a pilonidal sinus, an infected tract under the skin beneath the buttocks: the same condition is suffered by the officer-in-training in the play. Lewis spent time in a military ward, before leaving to become an actor. He never made it to the army, but his rounded characters draw from his time among patients. With insight and compassion, he shows that army bravado and sexist banter often mask fragility.
The patients, dressed in cardboard birthday hats, play Russian roulette with beer cans
The five veterans, including one caught up in the Falklands conflict and the Hyde Park bombing in 1982, display a deep camaraderie. When one has nightmares, another is quick to comfort him, tucking him up in bed so that he is "as snug as a bug in a rug". The lonely veterans clutch at any sign of affection, including letters from amorous female strangers. Off the field, they feel lost. Keith, played with spark and vitality by Cian Barry, feels abandoned by doctors who believe the pain in his knee to be psychosomatic; while able-bodied Joe (Laurence Fox, pictured below with Barry) seems to have no chance of getting out. Only Ian, the most severely paralysed at the start, recovers his health and his sense of worth.
Lewis shows great compassion for his characters. Even the pranks in the play are never malicious, and the potential officer who joins the ward ("the Rupert", as he is known out of prejudice that he is upper-class and stuck-up) turns out to be decent, if a little prissy.
The main action focuses on Ian's birthday party, when the veterans smuggle in beer. When they get caught, they assume that "the Rupert" (actually called Oliver) has snitched. The party involves a terrifically performed game of Beer Hunter, based on The Deer Hunter, the 1978 film about steel workers in the Vietnam war. Here, the patients, dressed in cardboard birthday hats, play Russian roulette with beer cans, shaking some of them before they pull open the rings, like triggers, close to their head. Sparking off each other, the actors are perfectly in-sync. The crude humour sings out.
Arthur Darvill, best known as Rory Williams in Doctor Who, is the real star as Parry, a veteran with frostbite. He often steals scenes with jokes, and has a real sharpness and presence. Lewis Reeves, as Ian, brilliantly shows his character's struggle to move with every twitch and conveys his mental anguish by his stares and his silence.
In contrast, the lanky Fox – the son of James Fox and cousin of Emilia – is a disappointment. Perhaps he is getting used to theatre after a six-year break, but in both movement and delivery he seems self-conscious. Even Joe's violent outbursts towards the end appear superficial and lack an internal strength.
David Grindley's fluid direction makes good use of a simple but detailed ward set, with its green walls, green-sheeted beds and white anglepoise lights. Grindley was assistant stage manager on the original production at the Cockpit Theatre in 1993; he knows the play well. Subtle touches, including a quiet, regular beep in an early night scene, help convey the bubble of the hospital setting.
Our Boys is funny, moving and, most of all, humane. It could just do with more fire to give it real impact.
Lewis shows great compassion for his characters. Even the pranks in the play are never malicious
rating
Share this article