The Best of Men, BBC Two
The Best of Men, BBC Two
The story of the creation of the Paralympics is told by the doyenne of drama-lite Lucy Gannon
The Best of Men: Dr Ludwig Guttmann (Eddie Marsan) and Corporal Wynne Bowen (Rob Brydon)
Lucy Gannon is the doyenne of drama-lite. Anyone who has seen Bramwell or Soldier, Soldier or Peak Practice will know her scripts, no matter how much suffering the characters undergo, will leave the viewer feeling better. She is in the reassurance game. The world is full of bad things and bad men but, generally, goodness wins out. All's well that ends well.
The Best of Men combines two of her favourite subjects: medicine and the military. It begins with a sepia-tinted flashback in which sweet William is lindy-hopping with his girl in a flowery meadow. Hands and feet appear in close-up. Parts of the body are going to feature prominently in the following 90 minutes. Cut to the present – well, 1944 – William is on a stretcher that looks more like a coffin. He was shot the day after joining his regiment on Easter Sunday. Fear not, though, for this son too will soon rise again.
It is disconcerting to hear the voice of Crunchy Nut Cornflakes asking for a handjob
The ward to which he is admitted – the spinal injuries unit at Stoke Mandeville hospital – is a waiting room of hell. Doped-up boys lie groaning and moaning – one entombed in plaster – staring at the ceiling. Their future looks very black. But wait – here comes Dr Ludwig Guttmann (a good man) – who signals his arrival by flinging back the curtains to let the sun shine in.
Guttman believes in medication not sedation. He removes the plaster of Paris to reveal a back covered in bed-sores (imagine a plate of Jammy Dodgers) and - gratuitously - a pair of lovely buns. The two nurses – Niamh Cusack (pictured below) and Leigh Quinn – are scandalised but soon won over. Resistance is futile. Guttman's twinkly determination and heroic indefatigability carry all before him. He even manages to run rings round his arch-enemy, cardiac specialist Dr Cowan (a fine portrayal of Blimpish ignorance from the much underrated Richard McCabe).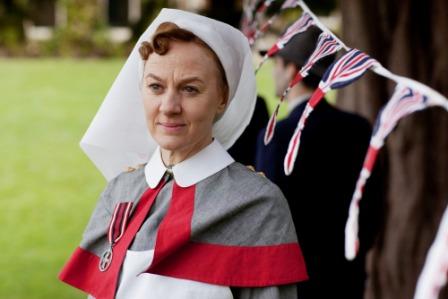 And so it goes. Dr Do-Much wangles more staff and supplies for his unit. His patients' rehabilitation proceeds in leaps and bounds – OK, fairy steps and tumbles. However, one of them has the effrontery to die. Just one. An impromptu round of wheelchair golf soon snowballs into a cavalcade of hockey, basketball, archery and spear-chucking that actually became the Parallel Games. William, who in the real world would have had no difficulty getting others into his bed, turns out to be a virgin. When his father learns that his beautiful boy will never walk again – and refuses to move into a geriatric home – he excommunicates him. Their estrangement lasts all of five minutes.
It's not George Mackay's fault that he has perfect teeth and gym-toned biceps – unlike any real Tommy Atkins. His face fits if nothing else. His performance ensures that you're rooting for him right from the off. Rob Brydon adds a little grit as a chippy Welshman – although it is disconcerting to hear the voice of Crunchy Nut Cornflakes asking for a handjob. Eddie Marsan as Dr Guttman – a bish-bash Boche – is simply wonderful but hardly stretched (compare his turn as Mr Vera Drake).
The feel-good factor prevents the drama being as moving as it could be. Director Tim Whitby takes every opportunity to lighten the gloom – conversations are conducted against a backdrop of cherry blossom or a mural where the word LIGHT is too conspicuous. One scene, in which a procession of pub-bound wheelchairs whizzes through sunlit green fields, is straight out of Last of the Summer Wine. That said, Joseph and Josephine, two well-past-retirement-date warblers brought in to raise the boys' spirits, are genuinely funny. If only Ms Gannon had let them sing "Always Look on the Bright Side of Life". Now that would have been inspirational.
An impromptu round of wheelchair golf soon snowballs into a cavalcade of hockey, basketball, archery and spear-chucking that actually became the Parallel Games
Explore topics
Share this article