Edinburgh Fringe: Camille O'Sullivan/The Road That Wasn't There |

reviews, news & interviews
Edinburgh Fringe: Camille O'Sullivan/The Road That Wasn't There
Edinburgh Fringe: Camille O'Sullivan/The Road That Wasn't There
Showstopping emotion from the Irish-French singer, and a charming theatre piece from New Zealand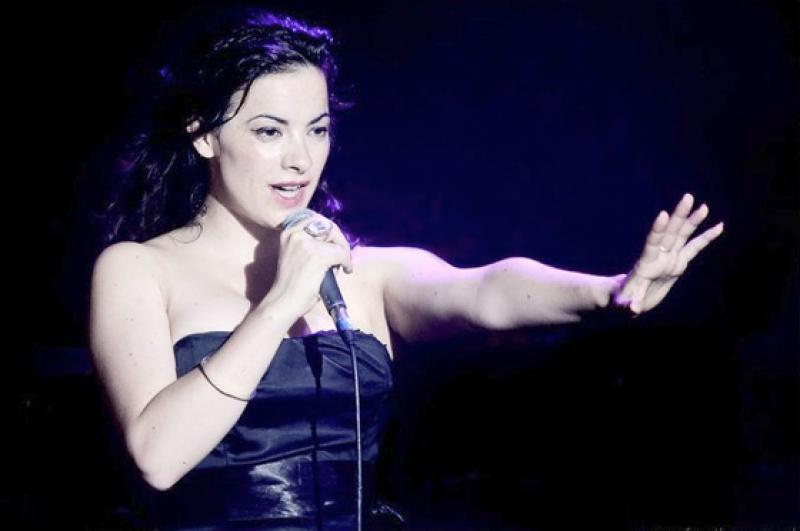 Camille O'Sullivan: 'hilarious and troubling all at once'
Camille O'Sullivan: Changeling, Assembly Rooms *****
The Assembly Rooms may have reopened for this year's Fringe following a very swanky refurb, but someone obviously forgot to put sufficient thought into the practicalities of getting people in and out during the festival.
The opening night of Camille O'Sullivan's brief sold-out run started 40 minutes late after a chaotic queuing system apparently devised in tribute to MC Escher left much of the crowd – which, thrillingly, included Les Dennis – more than a little testy.
It's testament to O'Sullivan's charisma and gifts as a performer that her arrival instantly transformed the atmosphere in the elegant Music Hall from simmering resentment to one of relaxed revelry.
At these moments O'Sullivan is coiled and controlled; at other times she seems wildly uninhibited
The Irish-French interpretative singer is a magnetic stage presence, meowing, roaring, bunny-hopping, shimmying and high-kicking her way through 90 minutes of material written by artists who tend to gravitate towards the dark stuff, among them Nick Cave, Tom Waits, Jacques Brel, Trent Reznor and Bob Dylan. She is as comfortable - and truthful - spreadeagled on stage with her skirt around her waist and her legs in the air as she is singing in a cracked whisper with her arms wrapped tight around her body.
For Changeling the stage is festooned with fairy lights, a swing, dresses suspended in mid-air, a mechanical bird and a glowing rabbit, but despite its atmospheric theatricality O'Sullivan's show is propelled by emotion rather than artifice: just as well, perhaps, as on Saturday there were a couple of technical hitches, most obviously when the starlight in her suitcase refused to twinkle. Disarmingly, she embraced the hiccups as warmly as she did members of the front row. Watching O'Sullivan is a mighty physical, inhibition-shedding experience.
Showcasing songs from her new album of the same name, Changeling's many highlights tend to come at either end of the emotional spectrum. Declan O'Rourke's dangerously delicate "Galileo" is spine-tingling, as is an undulating "True Love Waits", Radiohead's tender ballad now falling somewhere between a curse and a call to prayer.
At these moments O'Sullivan is coiled and controlled; at other times she is wildly uninhibited. Her raucous, unaccompanied "Port of Amsterdam" is a masterclass in living a lyric, conjuring the stench of beer, piss, loveless sex and rotten fish, while her Weimar-through-the-mincer version of Tom Waits's "God's Away on Business" is a clattering, unhinged catharsis, hilarious and troubling all at once. Although clearly there to provide light relief, against these heavyweights the winking "In These Shoes" seems a bit out of its depth, a rather slight excuse for O'Sullivan to cut a rug. An equally barnstorming "Don't Think Twice It's All Right", on the other hand, is an uncomplicated joy.
O'Sullivan is sometimes described as cabaret. She's not. She's a superbly versatile rock 'n' roll singer and a compelling performer who has the ability to divine the heart of the songs she sings better than almost anyone I've seen on stage. If she can harness that power on a record - and she hasn't yet - and perhaps tweak her set list ever so slightly to play even more to her strengths, the possibilities are limitless.
The Road That Wasn't There, The Free Sisters ***
Performed by Trick of the Light Theatre from Wellington, New Zealand, Ralph McCubbin Howell's The Road That Wasn't There is an odd, funny and rather haunting little family-friendly piece about the nature of place and memory.
As a young girl, Maggie stumbled on a "paper road" - one of the many dotted lines drawn by surveyors on NZ maps to represent a prospective street, often never actually built. Given counsel by the mysterious Blanket Man who lives in the graveyard, she accesses the road to slip in out of a dream-like paper world, where she discovers love but also fear, doubt and responsibility.
Using hand puppets, shadow theatre, live and recorded music and three likeable actors, the play slips between past and present, prosaic reality and the dark land of imagination with energy, charm and conviction. McCubbin Howell offers up an enjoyable repertoire of comic turns as Mr Panesh and Constable Goodwin, but it is Oliver de Rohan as Gabriel and Elle Wootton as his mother Maggie who give the play its heart and deliver its bittersweet ending. A happily hand-made, zero-budget affair, as part of Free Fest The Road That Wasn't There asks only that you invest a little time and your sense of wonder.
Despite its theatricality O'Sullivan's show is propelled by emotion rather than artifice
Explore topics
Share this article