Edinburgh Fringe: Adam Riches/ Kristin Hersh |

reviews, news & interviews
Edinburgh Fringe: Adam Riches/ Kristin Hersh
Edinburgh Fringe: Adam Riches/ Kristin Hersh
A surreal and physical comic and a Throwing Muse
From the moment Adam Riches bursts onto the stage, spewing his business cards around as a manic showbiz agent who wants to sign up everyone and everything - including even the venue's walls and floor - this is a show of hyper energy and absurdist comedy.
The character comic does a quick costume change to become Pedro, a Spanish Swingball champion, and what follows is a version of the game the manufacturers never dreamed of, a waterfight and all sorts of mayhem. There's a lot of audience participation, but anybody pulled up on stage is enjoying themselves thoroughly; at times there's such jollity and silliness in the room that it feels like being back at kindergarten.
It's not just physical comedy - although there's lots of that - but Riches also has a feeling for the surreal, as his Daniel Day-Lewis character - "the most successful actor ever to appear in nobody's favourite film" - shows. The actor is guyed mercilessly and a hapless youth from the audience plays out a scene from The Last of the Mohicans after Riches has given him a DD-L masterclass in "dracting" (drunken acting) and "smacting" (acting while using a smoke machine).
His last character is a crazy blind millionaire, in wheelchair with urine bag attached, who has a very weird relationship with his concubine Sunatra and who is obsessed with the board game Mastermind - who knew it had so many formats? It's a great creation but goes on too long, but overall this is a hoot of a show. Until 29 August Veronica Lee
Kristin Hersh, Cabaret Voltaire ****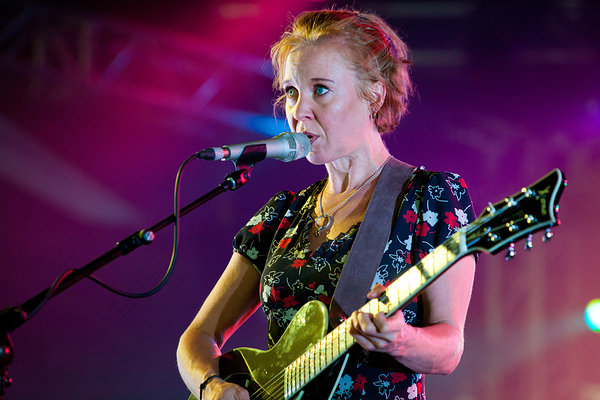 Kristin Hersh doesn't do relaxed. From the very start of the second of her two nights at the Fringe, the once, now and future Throwing Muse set the intensity levels to stun. It was an unconventional gig, mixing readings from her 2010 memoir, Paradoxical Undressing, with songs ranging from all stages of her 30-year career, including as an encore a thrilling rendition of the Throwing Muses classic "Pearl".
Though this was a solo acoustic concert it was a world away from sing and strum girl-with-guitar conventions. Each reading from her book revisited episodes from a childhood spent growing up with a Buddhist philosophy professor father called Dude and her hippie mother Crane. These brief, droll interludes, which were always diverting but which sometimes mistook the banal for the profound, slotted neatly between each song, offering a light counter-point to the dark swell of the music.
The acoustic format did little to tame Hersh's songs of their jagged strangeness. Rooted in the abrasive block chords of US post-punk but delving into the more mysterious sounds of America's traditional music, they came in odd shapes and sizes: shifting rhythm, rising then crashing into silence, at times they sounded almost extemporised.
Though occasionally the going became rather heavy, Hersh was never less than an utterly compelling presence. Slight and still, she sang each song as though in the grips of a possession (literally, in the case of sublime "Your Ghost"). On slower songs like "Sno Cat" her head swayed hypnotically like Kaa from The Jungle Book, while her voice – which is all her own but contains traces of Patti Smith and Marianne Faithfull – travelled every yard of the road between girlish whisper and hell-cat rasp. On the corrosive "Your Dirty Answer" she seemed to be speaking in tongues.
Hersh has talked frequently about her struggles with bipolar disorder, and her songs often come from a frighteningly dark place. Watching her revisit these shadowy corners of her psyche on stage made for a sometimes euphoric, sometimes uncomfortable, occasionally draining experience. But it was never less than powerful. Graeme Thomson
Explore topics
Share this article