Katya Kabanova, Longborough Festival |

reviews, news & interviews
Katya Kabanova, Longborough Festival
Katya Kabanova, Longborough Festival
Janáček's Russia as a house of the dead with a spotlight on emotion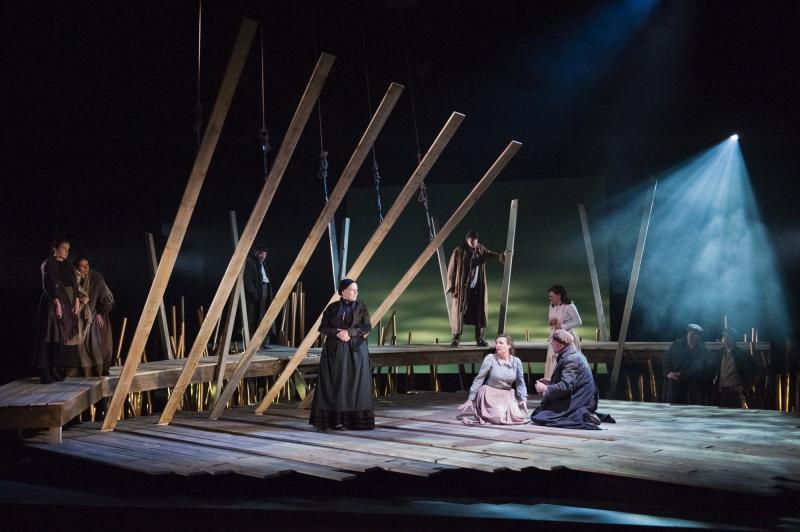 Katya Kabanova tormented as usual by mother-in-law while the world looks on
Janáček's obsession with Russia has always intrigued me: something to do with a shared Slav ancestry traceable to peasant roots being crunched to pieces by the modern world. Gone are the rolling paragraphs and the vast, empty fields and sky. In Katya Kabanova everyone is hemmed in by ancient attitudes and superstitions, and the music, with its abrupt, laconic gestures, is a part of the prison.
The work's most characteristic phrase is Katya's helpless, repeated "There's something else I wanted to tell you," and its typical moment Kudryash's useless attempt to explain lightning conductors to the pious obscurantist Dikoy.
At WNO recently, Katie Mitchell smartened all this up and updated it effectively if improbably by a century or so; but at Longborough, Richard Studer has gone right back to Ostrovsky at his most severe and stockaded, almost as if the whole of 19th-century Russia were a Siberian house of the dead. The Volga flows somewhere beyond a timber wharf and the Kabanovs' house and garden are nothing but a plank wall or two, a table and a chair. There is no excess: no superfluous baggage, certainly no greenery, and not much light – nothing to soften the emotional incarceration that everyone suffers but only Katya seems to notice.
It's a style that suits the music down to the ground, and one that allows the singers to control the flow of the drama. It gives them space and context. Katya's passion is a product of unhealthy dreams prompted by the aridity of her marriage and the psychological torture of her mother-in-law. The music zooms in on her like a spotlight, and everything hangs on her ability to hold our attention as she expounds her fantasies, her conflicting impulses and, in the end, her hellish guilt.
Lee Bisset (pictured right with Michael Bracegirdle) takes touching advantage of this clarity and austerity of approach. Hers is not always the most ingratiating soprano; it's apt to spread under pressure at the top. But it's a highly expressive instrument, intelligently used. She controls Katya's violent changes of mood beautifully: downcast with her wretch of a husband, dignified with his evilly possessive mother, suddenly, disturbingly radiant in recounting her dreams to Varvara – the happy voice of temptation, urging her into the sin from which there is no exit. She's also a clever actress who knows how to use facial and bodily expression to abet the music. This is a big asset in a small theatre with a dry acoustic that doesn't always let the voice do all the work it would like to.
Everyone else in the piece is really part of the frame: agents of Katya's destruction or helpless observers. Peter van Hulle's Kudryash is a reassuring figure with his simple, scientific view of life; but he's a mere child in the presence of these dark passions, unlit by electricity. Interestingly, the rational man knows folksongs and sings them sweetly: light love, true to Varvara (Jane Harrington's) easy-going view of such matters. In the end, all they can do is run off "to a new, jolly life", an exit worthy of Houdini.
Michael Bracegirdle's Boris, too, presents the inadequacy that surrounds Katya with discreet precision. We know in the end that his love is thoughtless (he, too, leaves on the next train); yet his scenes with her are extremely moving, thanks in no small measure to Studer's tactful, undemonstrative stage management.
Studer's one mistake, I think, is to make such a wimp of Tikhon Kabanov; weak he must be, of course, but there has to be something in him that Katya might once have fallen for. Christopher Lemmings' grovelling wreck has no past of that kind, though as far as it goes he sings the part well enough. His mother is the usual venomous Gauleiter, played and sung with relish but rather one-dimensionally by Louise Winter. Perhaps Janáček doesn't offer much more.
Jonathan Lyness conducts an intense, carefully paced performance. The playing, a shade scrappy at first, soon settles down. But Tony Burke's skilfully reduced score (double instead of triple woodwind, two horns down from four, and so on) seems to make blend trickier, while probably easing matters for the singers, who have to fight Janáček's orchestra less than usual. Sensibly, though the performance is in English, we get surtitles (and, if you're forward or to the side, a crick in your neck). A quick read of the compact libretto before curtain-up is probably the answer.