theartsdesk at the Buxton Festival: An Opera a Day |

reviews, news & interviews
theartsdesk at the Buxton Festival: An Opera a Day
theartsdesk at the Buxton Festival: An Opera a Day
A national treasure goes from strength to strength mixing neglected and new
An opera a day keeps boredom at bay. There's no danger of boredom in Buxton in mid-July. Set 1,000ft up in the Derbyshire hills, on the edge of the Peak District, and blessed with an Edwardian gem of an opera house, the old spa town is now well established with its own place on the festival map. And when the sun shines on it, as it did for most of the first day, it's a picture.
The Buxton Festival aims to keep you going from breakfast to bedtime (late) with nine operas, a programme of high-class music, a strong literary series bringing 30 well-known authors to flog their books, a touch of cabaret and music hall here and there, and a Fringe bursting with more than 500 events. Where else could one range from a Donizetti melodrama in the Opera House to a spooky take on Jekyll and Hyde in the blacked-out Pauper's Pit, buried in the bowels of the Old Hall Hotel, where Mary Queen of Scots was detained (but enjoyed the waters) in the 1570s?
The 19-day festival centres firmly on the operas and the Opera House, a 1903 masterpiece by Frank Matcham, begetter of such glittering palaces as the Hackney Empire and Blackpool's Ballroom, as well as the Coliseum in London. Lovingly re-restored in 2001, the 1,000-seater theatre sits at the entrance to the 23-acre Pavilion Gardens. Between shows, I strolled along the broad promenade in the gardens, alongside the Pavilion, chanced upon strolling players, listened to a brass band in the restored Victorian bandstand and enjoy Bradwell's award-winning ice cream (I recommend their rum'n'raisin).
All the main events are in or near the Opera House. Opera-goers mingle on the square outside the Opera House (pictured right) with punters enjoying a pie and a pint outside the Old Clubhouse pub adjacent. You can hardly distinguish one lot from the other, although the culture vultures are noticeably more grey-haired/white-haired/no-haired. As far as dress code goes, casual is certainly in for men, dinner jackets being a rare sight these days.
Speaking of DJ (as she is affectionately referred to here), Dame Janet Smith, the High Court judge who oversaw the Shipman enquiry and chairs the festival, tells me that she is keen to encourage more younger people to come. So, £5 tickets (top whack £57) are on offer to the under-thirties. "I'd like to make it under-forties," she says.
This year's festival, the fifth and last under its popular artistic director Andrew Greenwood, is the most ambitious so far. For the first time, there are two extra venues - a 350-seat theatre and a small theatre studio, following a £2.5 million development of the Pavilion Arts Centre. I turned up eagerly one evening at the studio to watch a wrestling comedy featuring Big Daddy versus Giant Haystacks. Alas, it was cancelled. That can happen on the Fringe.
Of the nine operas on offer, spanning five centuries from Monteverdi to Turnage, three – Donizetti's Maria di Rohan, Handel's oratorio Saul and Ambroise Thomas's Mignon (Ryan McPherson and Wendy Dawn Thompson in Mignon pictured left) – are original full-chorus home productions. By tradition, Buxton specialises in dusting down from the shelves of opera's old curiosity shop rarely heard and oft-neglected works, but Donizetti has been a successful favourite – the very first production in 1979 was Lucia de Lammermoor.
Mingling outside the Opera House, quaffing prosecco, I bump into the Manchester MP Sir Gerald Kaufmann, an old friend and an opera fan if ever there was one. Smartly besuited, he even sports a musical tie. At 7pm sharp (7.15pm curtain up) on the first night, our mingling and chatter is interrupted by trumpeters sounding a fanfare from the balcony of the circle bar. A call to arms. Let battle commence.
Going up the marble staircase, caressing the polished brass handrail, brings you to the breathtaking interior, a cream-and-gold palace, with an oval dome, with six beautifully painted panels representing the arts. The place is much embellished, with cherubs (one holding a real tambourine), flower garlands and crests.
We kick off with a significant revival of Maria di Rohan, with the award-winnng Donizetti team of conductor Greenwood, director Stephen Medcalf and the diminutive diva Mary Plazas in the title role, backed by the Northern Chamber Orchestra and Festival Chorus. Set in the court of Louis XIII, it's a gripping tale of intrigue played out against the clock, which dominates the stage, designed by Francis O'Connor. Alongside Plazas, William Dazeley's Chevreuse and John Bellemer as Chalais (pictured above with Plazas) also impress. A worthwhile and competent revival.
Next night was the show that really disturbed the natives, several of whom uttered unprintable short words in my ear: Olivia Fuchs's daring and controversial operatic staging of Saul. She sets it in America after World War Two, determinedly stressing its relevance today. Indeed, when it opened with the 20-strong chorus, like a line of commuters, reading newspapers, I thought it might be bang up to date. Could the News International controversy have so quickly reached the stage? Well, no. The newspaper headline was PEACE.
However, such is the relevance of Saul that it could apply to any power-crazed leader who thinks he's above the law ("With every law he can dispense", sings the text), plays dirty and gets his comeuppance. David (well sung by Ann Marie Gibbons) is given a hero's welcome with ticker tape and girls in scarlet Stetsons, boots and gloves, twirling red ribbons (pictured above). Saul (the imposing Jonathan Best, despite a cold), elevated on a white dais and dispensing justice to villains brought before him by NYPD-like officers, becomes self-destructively jealous, angry and wicked. Fuchs fully uses the excellent chorus throughout, although they are subjected to risible choreography. Harry Christophers puts the Orchestra of the Sixteen through their Handelian paces. It is a bold, if perhaps misguided, experiment, but Handel's great work may now be left as he intended – an oratorio.
Next morning I decided to walk up the road to Buxton's grand hotel, The Palace, to drop in on a "From Score to Stage" discussion, where Fuchs, Greenwood and Annilese Miskimmon, director of the third opera, Mignon, air their views. Fuchs explains that Handel had to use biblical passages as a cover for social comment and that she did not want go down the "beards and sandals" route. She also admits wryly that she would not have picked the same target had she been directing the opera in America.
The wines are the characters and sing for their reputation. An amusing concept, but I can't make out the words The hotel is so grand that talks, discussions and 40 or so international "Mainly Music" events, boasting the likes of soprano Susannah Glanville, violinist Tamsin Little and cellist Raphael Wallfisch, take place in a vast vaulted room, painted in a style reminiscent of an Arabian harem (not that I've ever been in one), with lights twinkling like stars from the soaring ceiling and vast stained-glass windows with long velvet drapes. Buxton's venues are special.
Miskimmon's Mignon, based on Goethe's romantic novel Wilhelm Meister's Apprenticeship, marks the bicentenary of French composer Ambroise Thomas, and proved for me to be the outstanding delight of the whole festival – tuneful, colourful, comedic and touching. Leading a strong cast, New Zealand mezzo Wendy Dawn Thompson impresses in the title role of the girl abducted by circus folk, caught up in the theatrical world and eventually reunited with her father. Gillian Keith twitters and sparkles coquettishly as the actress Philine. Greenwood is in his element in the pit.
Sadly, before curtain-up, the sudden death of the Earl of Harewood, long-time supporter and president of the festival, was announced from the stage and we bowed our heads in silent respect.
Once I get into the rhythm of things at the festival, shows come thick and fast. By way of a change, I opt for the Opera Unlimited production of Peter Cowdrey's one-act comedy The Lovely Ladies, based on the diaries of Michael Broadbent, Christie's wine expert (and a speaker at this festival). The wines are the characters and sing for their reputation. An amusing concept, but unfortunately I can't make out any of the words. I begin to worry about the acoustics of the new Pavilion Arts Theatre. Ever hopeful, I return there the next day for a bit of old-time music hall, The Girl I Left Behind Me, where the delightful Jessica Walker recreates the betrousered ladies of old, like Vesta Tilley and Hettie King, in an Opera North project devised by Neil Bartlett. It passes a pleasant hour or so.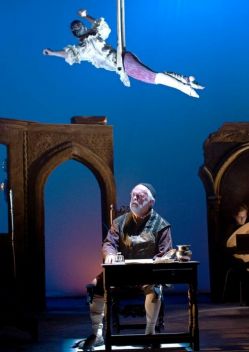 Back to the Opera House for Monteverdi's Flying Circus (pictured right); an irresistibly witty title, I suppose, but it does no favours to the content of this take on the last years of the composer's life, which is not riotously funny but seriously musical, albeit laced with wit, bawdy humour (Monteverdi complains about plans to bury him next to "that old fart" Titian) and sadness. Writer Kit Hesketh-Harvey, director Anna Tolputt and musical director Christopher Monks of the Armonico Consort, whose production this is, use excerpts from Monteverdi's operas, madrigals and vespers. It is very well performed by the nine singer/actors and beautifully played by the Consort, featuring Oskar Werninge on theorbo (I can't resist the name of this giant lute). The production builds up to a genuinely moving end as the irascible Monteverdi, now deceased, rises to make up for lost time and embrace his friends and wayward son.
My penultimate experience is the Music Theatre Wales's shocking and touching production of Greek, the opera based on Steven Berkoff's no-holds (or language)-barred take on the Oedipus tragedy. Mark-Anthony Turnage's plangent score runs as a reflective accompaniment to the action, which is confined to a strip in front of the onstage orchestra. But the brilliant director Michael McCarthy shows what can be achieved in a small space with a cast of four and a few chairs. Marcus Farnsworth (who also gave an excellent recital of Brahms, Barber and Britten songs at the Palace), is tremendous as Eddy, the foul-mouthed East End kid who unwittingly marries his mum.
Mingling outside, quaffing prosecco again, before the show I spot the foppish-looking Stephen Barlow, the conductor taking over from Greenwood as artistic director. He will bring to the festival his own style and his other half, Joanna Lumley. Indeed, Ms Lumley is making an appearance this time, taking over from the Dowager Duchess of Devonshire to chat in public to Alan Titchmarsh.
Finally, Sunday, starting with a matinee hour of fun. Buxton favourite Donald Maxwell and the delicious Rebecca Rudge in Telemann's romp Pimpinone or The Unequal Marriage. Set in the 1920s, it involves saucy chambermaid Vaspetta doing for a rich and foolish old bachelor, in more ways than one. Pure pleasure. From that to the Pauper's Pit to see Alex Moran, a remarkable young actor, in a riveting reworking of Jekyll and Hyde by Polis Loizou. Moran possesses rare talent, gifted with versatility and energy, able to switch from the respectable Dr J to the wide-eyed, violent Mr H in a trice.
There is an odd thing about Buxton. Unless you are in the tight little old part of the town - embracing the Opera House, the elegant Georgian Crescent (still sadly defunct but in the throes of "promises, promises" restoration and development), the Pavilion Gardens and the vast great-domed (bigger than St Pauls) pile that was built for the Duke of Devonshire's horses and carriages, but now houses part of the University of Derby - you wouldn't know the festival was happening at all. No flags or banners or decorations (although the hanging baskets are magnificent) in the main street, nothing to indicate amongst the charity shops, coffee bars, take-aways, M&S and Argos that a feast of talent is being unleashed just a few hundred yards away.
But the festival is a national treasure. And everybody here looks up to the chief executive, Glyn Foley, not just because he's over 6ft 5in, but because he runs a tight ship (staff of four, £1.4 million annual budget, income largely dependent on ticket sales) and deserves immense credit for steering the event to its present position.