theartsdesk in Hong Kong: Between the Devil and the Deep Weiwei |

reviews, news & interviews
theartsdesk in Hong Kong: Between the Devil and the Deep Weiwei
theartsdesk in Hong Kong: Between the Devil and the Deep Weiwei
Art, censorship, tourism and China at ART HK
Ai is everywhere. (That sounds almost Ali G-ish.) The Lisson Gallery stand at ART HK gave out posters and badges in support of him. An exhibition of contemporary Chinese art at the vastly under-visited Museum of Art in Kowloon, north of Hong Kong Island itself, had a photographic portrait of Ai as one of the four most important figures in Sinology abroad. The Asia Art Archive, comprehensive keeper of documents on contemporary art, has a small shrine to Ai. And at a billionaire's house party on the Saturday evening of the fair, the party favour was a T-shirt saying, in English or Chinese, "Where is Ai Weiwei?"
Is there something more behind this local outpouring of concern than the welfare of one artist? After all, many artists go missing in China, or lose their jobs, or freedom, or lives. Ai is internationally recognised, with smash exhibitions at the Lisson Gallery and the Courtauld Institute in London and the current Tate Turbine Hall installation of sunflower seeds, which makes his case much easier to highlight. Today is the 22nd anniversary of the Tiananmen Square massacre too, giving another push.
While the anger is genuine, there is a mercantile substratum to some of the protests. Hong Kong is set on turning itself into a regional hub for art (take that, Singapore), and the more China seems to dictate what it can and cannot say, the less appealing it will be to the rest of the world.
On my first morning in Hong Kong, I was treated to a boat trip into the bay to observe the West Kowloon Cultural District (proposed design pictured right). Currently, the WKCD is nothing but reclaimed scrubland with a few metal fences, but once the Government have spent HK$22 billion (£1.7 billion - Cameron and Hunt take note), it will have a museum, currently called M+, auditoria, galleries, studios, shops and a "city-park" landscape by Norman Foster. An instant Southbank, you see, beneath the towers which dominate the north (and indeed south) side of the strait.
Is there demand for such a complex? I asked Tobias Berger, curator of M+. "Was there a demand for Tate Modern in London?" he replied. Even if local artists prefer the industrial spaces of former factories, others will fill the WKCD - tourists, certainly. Having M+ will finally allow world-class exhibitions to tour to Hong Kong; the current exhibition space, the Museum of Art, is a hideous pink block with few facilities and fewer visitors. (It does have a fantastic show of contemporary ink painting at the moment, which I highly recommend.)
In the Central district on Hong Kong Island, the 1.4 hectare site occupied by the former Central Police Station, including a prison wing, police barracks and rec yard, is being artified too. Herzog de Meuron (more starchitects) are putting up two buildings in this prime piece of land, one a museum, the other an auditorium, said David Elliott, curator and adviser to the project. Once again, there is little point in doing any of this if your visitors don't believe the art is uncensored.
These galleries would presumably prefer not to be seen exhibiting in a fair whose contents were tightly controlled from Beijing
There are plenty of artistic institutions in Hong Kong whose concern is not tourism. Claire Hsu was studying for her MA in London when she founded the Asia Art Archive because there was no resource on contemporary Chinese art. Hsu has not just excelled in a traditional field, with acquisitions of artists' personal archives as well as monographs, catalogues and articles, but has challenged all other archives to follow her lead in digitising material. The AAA's 70,000 items will eventually be as accessible from Harrogate as Hong Kong, invaluable for promoting and deepening understanding of this field in the West. Many people know who Ai Weiwei is, but Zhang Enli, Yue Minjun and Zhang Xiaogang are as yet confusing syllables.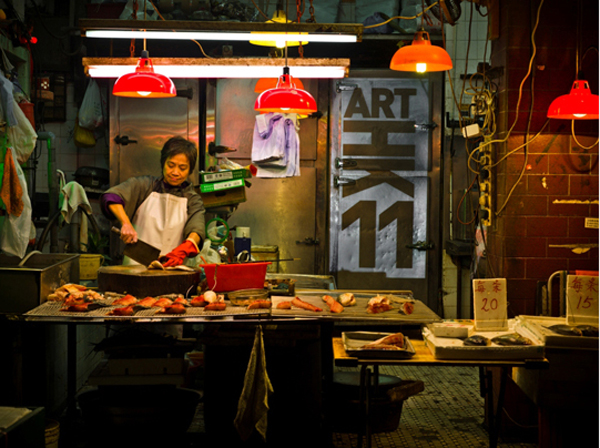 ART HK itself, now a massive affair with 260 galleries (from 101 in its first edition), has particular reason to want to re-emphasise Hong Kong's freedom of speech. Although Hong Kong is a regional hub, there were the great contemporary galleries from around the world at ART HK: White Cube, Acquavella, Gagosian. These galleries would presumably prefer not to be seen exhibiting in a fair whose contents were tightly controlled from Beijing.
The fair's sale this year to Art Basel, to add to its portfolio of Basel and Miami Beach, indicates that they believe that Hong Kong will retain its attractive freedom of speech and thus appeal to galleries. Plans, however, to move the fair to February in 2012 were embarrassingly scuppered following protests from mainland Chinese collectors that it was too close to the Chinese New Year holidays, and it has been left in May. It seems that the Chinese may be calling the shots sooner than expected.
Explore topics
Share this article