Frieze Week: Art, Parties, People |

reviews, news & interviews
Frieze Week: Art, Parties, People
Frieze Week: Art, Parties, People
London revolves around the art world
If there is one thing which I should impress upon you about the Frieze Art Fair, it is do not believe what anyone else says (a good principle for reviewing generally): go and see it yourself this weekend. It is a great day out: Regent's Park is beautiful, you can see a tremendous amount of good and not-so-good contemporary art, you can buy an expensive coffee and contemplate your fellow fair-goers. Frieze is the artistic cultural phenomenon of our time and it is worth seeing what the fuss (and there is fuss) is about.
This entire past week in London feels like it has been revolving around the art world, with almost innumerable gallery openings (more of which below), several world-beating parties (more of which below) and even some pretty pictures (more of which below). Frieze, now in its seventh year, has attracted 165 contemporary art galleries and has a sculpture park beside its vast white marquee, as well as a programme of projects, talks and films.
The main thing people have been saying about Frieze this year is how much more subdued the art is than previously: whereas a couple of years ago you would have multi-million-pound paintings by star names jostling against one another, full of bling and bravado, now the fair has adjusted to the economic times, with less expensive (but still not cheap) works which are not about excess or vulgarity. I would concur: instead of being overpowered, you are enticed by subtlety.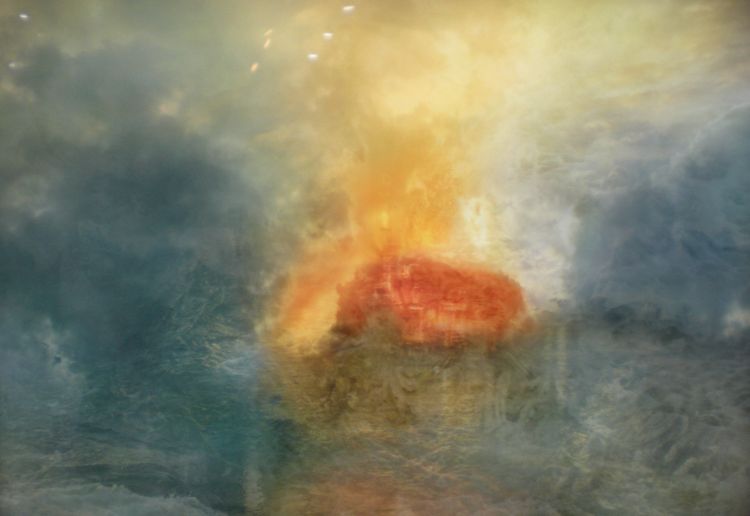 Among the work, there were plenty of pleasant discoveries for me, including Hiroyuki Masuyama's lightboxes layered with modern photographs which, taken together, recreate Turner's paintings; Jim Hodges' That day (Blue) I through X, 10 swirling blue pastels mixed with saliva which resemble Raphael's sketches for heaven; and Lucy Williams' Reading Room (seinajoki), a piece of craft truly, where bookspines in a bookshelf are slivers of paper.
One new aspect to Frieze is "Frame" (Frieze Frame, geddit?). This is dedicated to solo artist presentations from galleries less than six years old, curated by Daniel Baumann and Sarah McCrory, and is a genius way of drawing attention (admittedly, at the rear of the fair) to those who could not afford a White Cube-size stand or position. Gareth Moore at Lüttgenmeijer from Berlin had a field full of flags, where the flag was black zig-zag material or think pink sheeting or wooden sticks. It was a witty way of playing with nationalism and representation.
There are many other shows which have just opened: here are some I recommend you see.
The Age of the Marvellous (One Marylebone) In a deconsecrated Sir John Soane church just across from Frieze, there are some thrilling pieces of work from the collection of All Visual Arts. Not so much Paul Fryer's ape on a crucifix, which (if we're being honest) is rather obvious, but Ben Tyers' Breathe, an egg-shaped container wherein water falls and rises at the rate we inhale and exhale at. It is an understated, contemplative piece.
Alastair Mackie's Amorphous Organic is a chessboard whose pieces are small amber columns with insects suspended inside and a lightbox-board to illuminate them. It is a Darwinian version of the match with Death in The Seventh Seal. Indeed, Darwin's presence is very much felt: there are monkeys, feathered Möbius strips, Alyson Shotz's Helix (outside the church) and (the most beautiful work in the show) Paul Fryer's Venus and Mars, an orrery (look it up here) with just mythical lovers Venus and Mars orbiting yet never meeting.
Young Masters (Old Truman Brewery, Brick Lane) This show from Cynthia Corbett Gallery features contemporary artists who take inspiration, techniques or subjects from the old masters. There are the Renaissance pictures updated with modern young men by Hector de Gregorio, who paints and varnishes over posed photographs; Alice Evans' Easel, a lightbox which recreates a Vermeer-like aura; and Constance Slaughter's Invasion, a modern Bayeux Tapestry where soldiers are surrounded by assaulting pencils. It is noteworthy both because there are exciting talents on show and because the prize for the exhibition is sponsored by Trafigura, the oil-shipping company involved this week in a super-injunction dispute about a toxic chemical slick. They are, seemingly, trying to pour oil over troubled waters.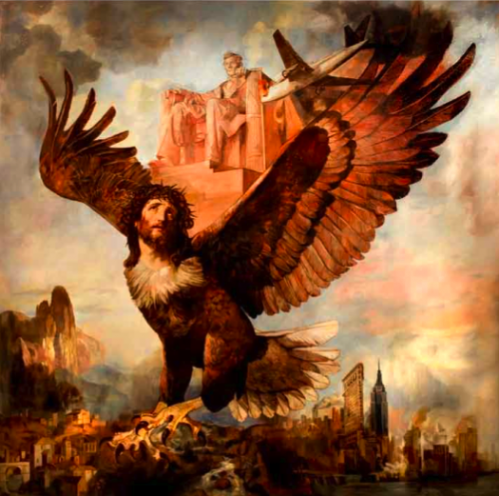 Embassy (33 Portland Place) Alex Dellal's 20 Hoxton Square gallery has installed a fictional embassy here. Alex told me that his idea was formed after hearing how modern embassies (such as some of those being built in Dubai) are using some of their premises to promote national artists. Alex wanted "to do the exact opposite by inviting artists from all over to recreate the national identity of an anonymous country". Instead of having an embassy defined by artists' nationality, the artists would define the embassy's nationality. The show is interesting if sometimes too easily anti-American.
No Love Lost (Wallace Collection) This is Damien Hirst's first solo show in a very long time, in the sense that he painted all of these himself, not letting his factory of assistants do it. You should see this show not because it's good (it really isn't) but because once you're in the Wallace Collection, you can see all the old masters it owns. I spoke to Hirst at his private view on Tuesday night and asked him about the very obvious influence of Francis Bacon: "Bacon? Who's he? Never heard of him. I prefer eggs and beans."
Hirst's party was the most desired of the week, both because people were keen to see how spectacularly his new work would succeed or fail, and because of the high celebrity count (this week isn't wholly about art, of course): Tracey Emin, one of the Chapmans, one of the Gallaghers, Alexander McQueen, Patrick Cox, Nicky Haslam, Jay Jopling, Lily Cole (looking like one of the baby-faced Gainsboroughs). Ivor Braka, the art dealer, was almost refused entry because he looked too scruffy.
There were also tremendous bashes held by Laurence Graff for his FACET charity, Vanity Fair at Christie's on Wednesday, Tatler (which is celebrating its 300th birthday), and at Skylon for Ed Ruscha, whose new show opened at the Hayward Gallery. The hot dinner to be invited to was Jay Jopling's, the founder of White Cube.
I hope this gives some sort of flavour of Frieze Week: the art is certainly paramount to it, and there is enough for everyone to find something to like or reject or think about. The fair is an invigorating experience, even among the crowds, because it challenges so much of what you know and like about art. Its pre-eminence in drawing the entire art world to London has also meant other exhibitions open simultaneously. But it has a rich social side to it, one which thousands of people have enjoyed this week. What more could you ask for?
Body pictures from top: Hiroyuki Masuyama, Gareth Moore, Hector de Gregorio, Wolfe von Lenkiewicz
Explore topics
Share this article